Draghi Ramps Up Stimulus Pledge on Weak Inflation Outlook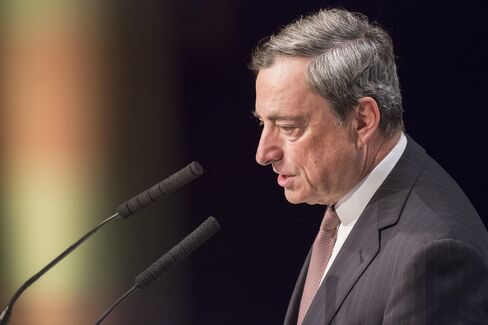 Mario Draghi strengthened his stimulus pledge for the euro area by saying the European Central Bank can't hold back in its fight to revive the economy.
"We will do what we must to raise inflation and inflation expectations as fast as possible, as our price-stability mandate requires," the ECB president said at a conference in Frankfurt today. Some inflation expectations "have been declining to levels that I would deem excessively low," he said.
With the next policy meeting less than two weeks away and the region remaining close to economic stagnation, Draghi may need to step up efforts to convince investors he's serious about reigniting growth and inflation. The euro fell and bond yields dropped on speculation the central bank is closer to buying government debt in a full-scale quantitative-easing program.
"Draghi is sending a clear signal that more stimulus is coming," said Lena Komileva, chief economist at G Plus Economics Ltd. in London. "If the ECB's current measures prove underwhelming and inflation expectations fail to recover, the ECB will act to expand QE."
The euro was down 0.9 percent at $1.2428 at 4:07 p.m. Frankfurt time. The Stoxx Europe 600 Index climbed 2 percent. The yield on Spanish 10-year government debt fell 7 basis points to 2.03 percent, approaching the record low reached last month.
Balance-Sheet Goal
The ECB is trying to boost the size of its balance sheet to early-2012 levels, signaling an increase of as much as 1 trillion euros ($1.24 trillion), to help revive the euro-area economy. Gross domestic product expanded just 0.2 percent last quarter and inflation is running at 0.4 percent, well below the ECB's goal of just under 2 percent.
Any new action would follow a flurry of activity since June that has included interest-rate cuts, long-term bank loans, and covered-bond purchases.
The central bank started buying asset-backed securities today as it acquired notes backed by Dutch home loans, according to three people familiar with the matter, asking not to be identified because they're not authorized to speak about it. A spokesman for the ECB confirmed it started buying ABS, while declining to comment on specific purchases.
Draghi has declined to rule out large-scale government-bond buying and reiterated today that ECB staff are studying further measures to boost the economy if needed.
Growth Potential
"There is a combination of policies that will work to bring growth and inflation back on a sound path," he said. "If on its current trajectory our policy is not effective enough to achieve this, or further risks to the inflation outlook materialize, we would step up the pressure and broaden even more the channels through which we intervene, by altering accordingly the size, pace and composition of our purchases."
Expanded measures may not win unanimous approval in the ECB's Governing Council. Governing Council member Klaas Knot said this week that he's "skeptical" about QE. Bundesbank President Jens Weidmann has argued that large-scale sovereign-debt purchases muddy the line between fiscal and monetary policy.
While Weidmann didn't address the question of asset purchases when he spoke at the Frankfurt conference two hours after Draghi -- instead focusing on banking regulation -- he did point to the limits of monetary policy.
"Mr. Definitely"
"More than just favorable refinancing conditions will be needed to stimulate credit growth," he said. The euro area needs "structural reforms which bolster competitiveness and boost economies' growth potential. A prosperous economy needs healthy banks, but the opposite is just as true: healthy banks need a prosperous economy."
Draghi has repeatedly expressed concern that insufficient structural adjustments by governments pose a downside risk for the euro-area economy. The ECB has signaled that it will reduce its macroeconomic forecasts for the region when it publishes a revised outlook after its Dec. 4 monetary-policy meeting.
"Draghi all but announced that the central bank will step up monetary easing soon," said Nick Kounis, head of macro and financial markets research at ABN Amro Bank NV in Amsterdam, who predicts the ECB will buy corporate and agency debt before sovereign bonds. "Mr. Maybe has become Mr. Definitely."
Before it's here, it's on the Bloomberg Terminal.
LEARN MORE