Biden Visits Ukraine as NATO Accuses Russia Over Weapons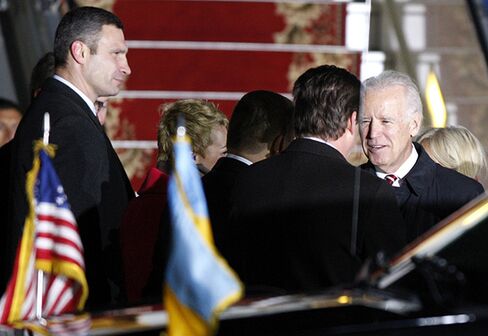 Russia's military intervention in Ukraine is "unacceptable" and rebel elections this month were a "Kremlin-orchestrated farce," U.S. Vice President Joe Biden said during a visit to Kiev.
Russia shelled Ukrainian territory for the first time since a Sept. 5 cease-fire agreement was signed in Minsk, Belarus, military spokesman Andriy Lysenko said in Kiev yesterday. Russia is moving tanks, artillery and air-defense systems into Ukraine "in blatant violation of international law," North Atlantic Treaty Organization Secretary General Jens Stoltenberg said during a visit to Kaunas, Lithuania.
Biden condemned "the threat to Ukrainian sovereignty and territorial integrity posed by Russian aggression," in a speech after meeting Ukrainian President Petro Poroshenko. "It is simply not acceptable in the 21st century for countries to attempt to redraw borders by force in Europe or anywhere, or to intervene militarily because they don't like decisions their neighbor has made," he said.
Biden's visit coincided with the first anniversary of the start of the "EuroMaidan" protests that ousted President Viktor Yanukovych in February and triggered the conflict. Authorities in Kiev named Nov. 21 a new national holiday, the Day of Dignity and Freedom. Poroshenko's political bloc and four other pro-European Union parties signed a ruling coalition agreement following Oct. 26 elections. The president reiterated an ambition to apply for membership in the block by 2020.
Fueling Conflict
"Reforms must be started immediately," Poroshenko said yesterday in a national address on state television. "Their aim is to reach European standards of living gradually so that in 2020 we will be able to apply for EU membership. That is what the draft coalition agreement is about."
Thousands of people gathered, many wrapped in Ukrainian flags and bearing candles and flowers, at a monument in central Kiev where about 100 protesters were killed in violent clashes with police before Yanukovych's ouster.
In the past 24 hours, four Ukrainian soldiers were killed and 10 were wounded, while pro-Russian rebel forces shelled government positions 79 times, the Ukrainian Defense Ministry said today on its Facebook page. Insurgents also shelled civilian areas in Donetsk, and Luhansk 18 times, the ministry said. One civilian was killed by mortar fire in the Luhansk town of Zolote, regional Governor Hennadiy Moskal said on his website.
'Orchestrated Farce'
Russia, which denies involvement in the conflict, is opposed to Ukraine deepening ties with the EU, while the government in Kiev and its U.S. and European allies accuse Russian President Vladimir Putin's government of supporting the separatists with cash, weapons and fighters.
U.S. strategy is "directed, not at the military defeat of the enemy, but more at changing regimes in countries carrying out politics that Washington doesn't like," Russian Foreign Minister Sergei Lavrov said today at Council on Foreign and Defense Policy assembly in Moscow. "It uses financial pressure, economic pressure" and "surely uses informational and ideological influence, supported by financed non-government organizations."
The conflict has intensified since rebels in the breakaway regions of Donetsk and Luhansk held elections earlier this month, which Biden condemned along with Russia's March annexation of the Crimea peninsula.
"They were not democratic elections," he said. "They were a Kremlin-orchestrated farce. Let me say as clearly as I can: America does not and will not recognize the Russian occupation and annexation of Crimea."
One Ukrainian soldier was killed and 9 wounded in exchanges of fire yesterday, the Defense Ministry said on Facebook. Stoltenberg called on Putin's government to "pull back its troops from eastern Ukraine."
More 'Provocation'
"This is very serious because it is totally against the Minsk agreement and it's fueling the conflict, and contributing to new violations," Stoltenberg said.
Biden also demanded Russia adhere to the cease-fire, remove illegal military formations and restore control over its border with Ukraine, all parts of the Minsk agreement.
"But that is not what has happened," Biden said. "Instead we've seen more provocative action, more blatant disregard for the agreement signed not long ago by Russia. As long as that continues Russia will face a rising cost and greater isolation. There is way to change all that. Do what you agreed to do, Mr. Putin."
Poroshenko's political party said that it had signed a coalition agreement with four other pro-European parties following the Oct. 26 parliamentary elections. Prime Minister Arseniy Yatsenyuk's People's Front, the Samopomich Party, the Radical Party, and Yulia Tymoshenko's Batkivshchyna party also signed the draft document yesterday, according to a statement on the Poroshenko Bloc's website.
Maidan Hecklers
Biden didn't join Poroshenko and other political leaders at a ceremony to honor more than 100 people killed in clashes with security forces in February near Kiev's Independence Square, known as Maidan. A group of people heckled the president, shouting "shame on you," and said they were relatives of the dead who wanted them recognized as national heroes.
Poroshenko left the event and then returned a short time later promising to "sign a decree tonight that those people are heroes of Ukraine," prompting applause and tears in the crowd.
Before it's here, it's on the Bloomberg Terminal.
LEARN MORE