Italian 'Invasion' Has Swiss Fuming as Foreigner Vote Looms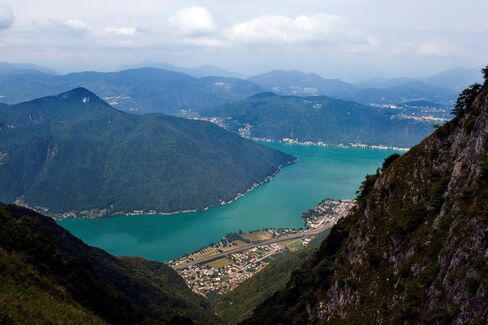 When Franco Agustoni stepped out on his balcony for a morning smoke in the Swiss border town of Bissone, he used to enjoy the view of Lake Lugano. All he sees now are rows of cars, motors humming as Italians cross into Switzerland for a day of work.
Just 10 months after voting to introduce immigration quotas, a Nov. 30 Ecopop ballot will decide whether to cap the annual net influx from abroad to 0.2 percent of Switzerland's population. The daily inflow from Italy into the Helvetian nation's Italian-speaking Ticino canton, which is not captured by the immigration debate, is only exacerbating the situation.
"There's an invasion of the service sector here," said Agustoni, 66, smoking Dunhill cigarettes with his espresso in front of Maru cafe on Corso San Gottardo in Switzerland's Chiasso, just a few meters from the Italian border. "People, especially young people who have university degrees, rarely find jobs anymore because employers prefer to hire Italians who don't cost as much."
Ticino counts about 60,000 commuters, or "frontalieri," who cross from Italy, making up roughly a third of its workforce. While 21 percent of Swiss citizens living in Ticino have foreign roots, the February vote to introduce unspecified quotas to "stop mass immigration" had the highest backing in the canton with 68.2 percent "yes" votes compared with just 50.3 percent for the country.
'War Among Us'
"The immigration problem is conceived very differently here in Ticino than in the rest of Switzerland," said Ignazio Cassis, a member of parliament in Ticino. "The main worry here is the job market -- being substituted for cheaper frontalieri, not the loss of Swiss identity that Swiss-Germans are worried about, that doesn't count for much here. For us, the situation is life-threatening."
In Ticino, where one in four residents doesn't have a Swiss passport, foreign workers and frontalieri primarily mean lower wages. The annual average gross wage in Switzerland was 71,600 euros ($89,650) last year, compared with just 29,700 euros in Italy, according to Eurostat data.
"It's not right of employers to pay some people less and some people more, it's wage dumping," said Ilaria Belloni, 27, an Italian citizen who works in customer service for a logistics company in Chiasso. She parks her car in Italy and takes a 15-minute walk across the border because of the high parking fees. "But on the other hand, I'm looking for a job that pays more and employers are looking for workers they can pay less, so there's a certain mutuality. I can understand Ticinesi who are upset about it. There's a war between us."
Daily Commute
As Italy, the euro-area's third-biggest economy, is mired in its longest economic slump since World War II, joblessness above 12 percent is the highest since records began in 1977. That compares with an unemployment rate of 4.5 percent in Ticino last year, above the Swiss average of 3.2 percent, based on national calculations using a different method than the Italian one.
"I was unemployed for a year and decided to apply where there are jobs," said Paolo Pini, a 30-year-old frontaliere from Como who works at a telephone company in Chiasso. "I live in Italy because it's cheaper and my salary in Switzerland is abundant. It only takes me 20 minutes to drive to work, but I would want to work here even if it took me an hour and a half."
The local population isn't impressed.
'Dramatic Situation'
"The situation is dramatic, in terms of work and not to put it on second place, but also in terms of traffic," said Claudia Bianchi, a 41-year-old Swiss, who works at a law firm in Chiasso. "I have many friends who have had to go all the way to Bellinzona to find jobs because they have no chance of finding anything in Chiasso. It's not because they're not competent, but because they have to compete with a cheaper workforce."
Nationwide, the number of cross-border commuters rose to 288,149 in the second quarter of this year, according to the Federal Statistics Office. That's a 4.3 percent increase from a year earlier. Ticino saw a 6.5 percent gain to 62,458.
Ticino companies say hiring foreigners is the only option.
"My challenge is to find the right personnel, preferably within Switzerland," said Enrico Schoch, who runs software-development company Singularity Software AG in Zurich and Lugano and has four employees -- two of whom are Swiss. "Unfortunately, the only active applicants have been foreign-based ones. Many Italians are willing to change their lives, make sacrifices and work hard. In Switzerland, job-seekers seem to make less of an effort."
'Real Disturbance'
The Ecopop vote would cut the gross number of foreigners moving to Switzerland by about a third and its supporters argue that immigration is ruining the country's postcard environment. While polls indicate that it's likely to be rejected on Nov. 30, the government is working on coming up with a system to meet the criteria of the February vote. It has said that new rules will feature quotas and a maximum number of new immigrants to Switzerland. Any proposal must be coordinated with the European Union as the right of free movement is part of wider Swiss-EU treaties.
"Foreign workers have made Switzerland rich, and being part of Europe means you have the pay the price," said Mario La Viola, a 68-year-old retired draftsman who has lived in Switzerland for more than 60 years. "You can't just pick and choose which parts you want, Europe and our relations with them come as a whole package."
Meanwhile in Chiasso, Agustoni is still fuming about the daily inflow of Italians.
"It's easy living in Italy while making money in Switzerland," he said. "The traffic ruins the streets, it ruins the environment. It's a real disturbance."
Before it's here, it's on the Bloomberg Terminal.
LEARN MORE