Halliburton Megadeal Sealed by CEOs Over Coke and Coffee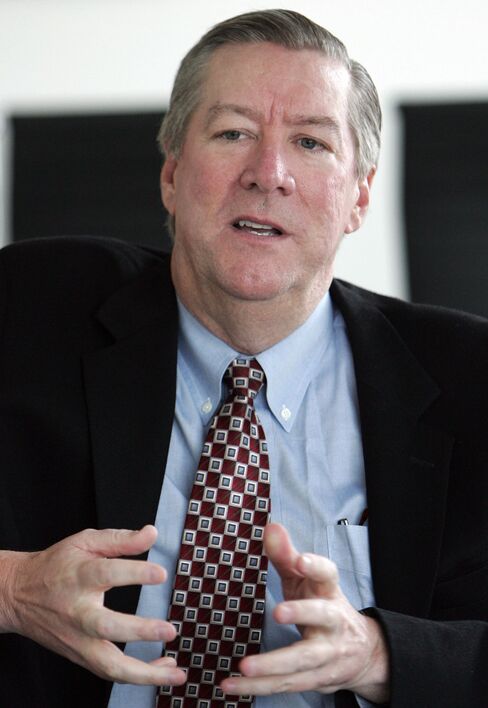 After a bitter two days, Dave Lesar drove out to Martin Craighead's headquarters Sunday, taking the final play in a tense merger negotiation straight to his counterpart.
It was cold and windy in Houston as the two chief executive officers entered the last stages of a bid that had almost led to a fight for board nominations. Lesar, 61, the 14-year leader of Halliburton Inc., and Craighead, 54, a Baker Hughes Inc. veteran in his first year at the helm, sat down over a coke and a coffee to seal the $35 billion deal, the two men said yesterday.
For Lesar, the meeting culminated a campaign that began almost a decade earlier when executives from the companies first broached a possible merger. A month ago, he took advantage of a 32 percent drop in Baker Hughes stock since July in the wake of falling oil prices.
"There was a bit of theater involved in the final negotiations," Lesar said yesterday after details of the agreement were announced. "Both companies were bargaining hard."
Halliburton first revealed its latest merger proposal to Baker Hughes on Monday, Oct. 13, the day before the U.S. crude benchmark price, drifting downward for months, suffered its biggest drop in two years.
According to a series of e-mails Craighead made public last week, Halliburton had engaged in "months of internal analysis and consideration," all completed in secret, before making its move. Weeks of talks ensued between the two companies over the potential price, and on the question of Halliburton's ability to get the deal past antitrust regulators.
'Speedy Negotiations'
By Nov. 12, two days before the deadline for new directors to be nominated for Baker Hughes' board, a key move if Halliburton planned to make a hostile bid, the companies arrived at an agreement on the concerns they believed would provide a basis for "speedy negotiations," Craighead wrote.
At that point, though, Lesar demanded that Halliburton's bid be accepted within four hours.
"You must improve the value of your proposal if there is to be an agreed transaction," Craighead said in one of the letters to Lesar. "Your intransigence is not a reasonable response."
For two days, negotiations broke down, resuming late on Saturday after the two Houston-based oil services executives agreed to meet face-to-face, Lesar sipping on his soda and Craighead with his coffee.
"Ultimately, they're both very practical people," said William Arnold, a former energy banker and White House appointee who now teaches at Rice University. "It was going to get done, and it played out naturally that way, on a Sunday. Rather than the bankers, these guys got together and made the decisions."
Embroiled in Controversy
Lesar, a former Arthur Andersen accountant who was groomed as a successor by his predecessor, former Vice President Dick Cheney, has led a company embroiled in controversy in matters ranging from fracking to the Iraq War to the 2010 Gulf of Mexico oil spill that was the worst in U.S. history.
Since the spill, Halliburton's shares had surged 69 percent before the potential deal with Baker Hughes was announced. During the same time, Baker Hughes rose just 7 percent, according to data compiled by Bloomberg.
"Lesar is a 'go big or go home' kind of guy, and it's not his style to acquire a few small companies over an extended period," said Tim Beranek, who helps oversee about $11 billion for Denver-based Cambiar Investors LLC, including more than 1 million Halliburton shares.
At the same time, "shareholders have been disappointed over the years in Baker Hughes in terms of the operations of the company and lower margins for many of the same business areas as Halliburton,'' he said.
Before it's here, it's on the Bloomberg Terminal.
LEARN MORE