FAA's Power to Police Civilian Drones Bolstered by Decision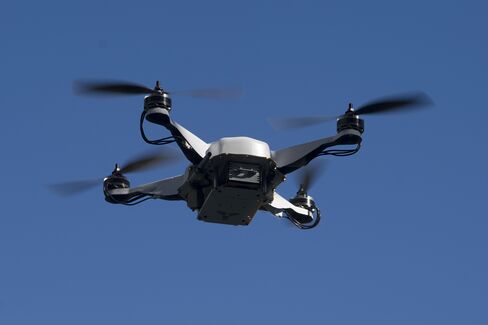 The Federal Aviation Administration's authority to regulate civilian drones was upheld today in a ruling that gives the U.S. government more power to police the fast-growing use of unmanned aircraft.
The law explicitly defines drones as aircraft subject to restrictions on unsafe flight activity, the U.S. National Transportation Safety Board found. The decision preempts a March 6 ruling by an administrative law judge for the agency who said the FAA has no authority over small unmanned aircraft.
The FAA, which oversees air traffic, has been trying to establish order on drones that are increasingly used by civilians such as surf photographers, Hollywood directors and real-estate agents. The March ruling had given the impression that the FAA had no authority to act, said Patrick Egan, an industry advocate who edits the website sUASNEWS.com.
"It definitely invalidates that illusion," Egan said in an interview. "People are running out of denial rope."
Even though commercial drone flights aren't approved by the FAA, they've been used to film scenes in the Martin Scorsese- directed movie "The Wolf of Wall Street" and sporting events for Walt Disney Co.'s ESPN. They've inspected oilfield equipment, mapped agricultural land and photographed homes and neighborhoods for real estate marketing.
Unresolved Questions
Even with today's ruling, there are still unresolved questions about how drone flights will be regulated and a community of users increasingly frustrated with the FAA's slow action, Egan said. At least three other court cases challenging FAA authority are pending.
The case today grew out of a $10,000 fine the FAA imposed against Raphael Pirker, who flew a small plane over the University of Virginia in 2011 to film a promotional video without the agency's permission. The case, in which the FAA said Pirker's flight was "careless or reckless," was the first fine against a drone operator.
Pirker's lawyer said his client is still reviewing options for how to respond to today's decision, which sends the case back to original Judge Patrick Geraghty to rule whether the flight violated FAA regulations. The ruling is "narrowly limited," said the lawyer, Brendan Schulman, in an e-mail.
The FAA said in an e-mailed statement that it continues to believe Pirker's flight was a safety hazard and the penalty should stand.
Congressional action that took effect after the Pirker case and new regulations the FAA is scheduled to release will limit the impact of the case, said Rebecca MacPherson, a former FAA lawyer who now works at the law firm Jones Day in Washington.
Symbolic Value
"It's an interesting decision and it clearly has great symbolic value," she said. "But at the end of the day, it's a footnote in the regulatory process."
Congress in 2012 ordered the FAA to craft rules to safely integrate drones into U.S. skies by 2015. The agency doesn't expect to allow all drone operations by then and will instead phase them into the system over a longer period, FAA Administrator Michael Huerta told a Senate hearing Jan. 15.
Proposed regulations governing commercial drones weighing less than 55 pounds are expected from the FAA before the end of the year.
Small unmanned helicopters and fixed-wing planes, which can be bought at hobby shops and online for less than $1,000 and require little training to fly, are testing the FAA's ability to police the skies.
Near Miss
Drones have been spotted in increasing numbers by pilots flying near airports, including an unmanned aircraft that almost struck a US Airways plane over Florida in March, according to the FAA. US Airways is part of American Airlines Group Inc.
Judge Geraghty initially ruled "there was no enforceable FAA rule" on the type of model aircraft Pirker used flying over the Charlottesville, Virginia, campus on Oct. 17, 2011.
Pirker flew under bridges, near statues and over pedestrians, as documented on video he shot that day. His plane weighed less than 5 pounds (2.3 kilograms) and was made with a foam wing.
Geraghty ruled the FAA's regulations didn't apply to people piloting a "model" plane. The FAA and Congress have exempted from regulation drone flights that are "solely for hobby or recreational reasons."
The NTSB overturned that decision, saying the FAA had authority over drones all along. Language in U.S. regulations says the FAA can police "any aircraft, manned or unmanned, large or small," the review panel determined in the ruling on its website.
More Suits
Unmanned aircraft hobbyists are still fighting, filing a lawsuit against the FAA in August that charges the agency's attempts to limit hobby flights were creating unjustified new regulations. Separate suits were filed by a Washington-based drone investment fund and universities seeking to use unmanned aircraft for research. Schulman also filed those suits.
"Most of our members believe that FAA's approach is onerous, overreaching and to an extent somewhat draconian," Richard Hanson, a spokesman for the Muncie, Indiana-based Academy of Model Aeronautics, said in an interview.
While the FAA hasn't yet proposed rules governing commercial operations of small drones, in September it granted the first waivers allowing such flights for six movie-production companies seeking to mount cameras on small aircraft.
The agency has also given permission for two oil companies to use drones in the Arctic regions of Alaska for inspections.
Before it's here, it's on the Bloomberg Terminal.
LEARN MORE