Yahoo's Mayer Faces Choice Between Investors, Herself on Alibaba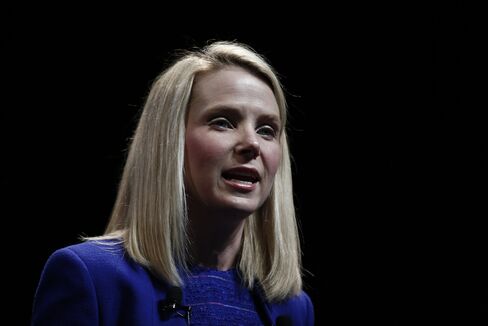 Yahoo! Inc. Chief Executive Officer Marissa Mayer may find ducking a multi-billion-dollar tax bill forces her to choose between making impatient shareholders happy or running a larger company.
Yahoo and its advisers have spent well over a year coming up with a viable option to sell off an Alibaba Group Holding Ltd. stake that is worth about $44 billion -- and avoid or minimize a potential $15 billion tax bill.
An approach favored by some shareholders would be to spin off the Alibaba shares into a separate company in a tax-free transaction, with the value going to Yahoo investors. The downside for Mayer: She would be CEO of a company roughly one-fourth of the $49 billion Yahoo is valued at.
"It's the best outcome for shareholders, but it's not necessarily the best outcome for Marissa, if her intention is to be the CEO of a much larger company," said Eric Jackson, an activist investor whose Toronto-based Ironfire Capital LLC owns shares in Yahoo. "That's probably the biggest question mark."
Mayer is free to speak about her plan for divesting the stake as soon as this week, after a 60-day restriction tied to the timing of Alibaba's IPO is lifted. She plans to give an update no later than the next earnings call, early next year. Yahoo may still come up with a solution to avoid a large tax bill that analysts and investors aren't anticipating.
Yahoo's Alibaba shares can't be sold until September 2015 under an agreement in the Chinese e-commerce company's initial public offering. Representatives for Sunnyvale, California-based Yahoo and Alibaba, based in Hangzhou, China, declined to comment.
Tax Experts
In an Oct. 21 conference call, Mayer said the company had the "best tax experts in the country working intensively on structures to maximize the value to our shareholders of our remaining stake in Alibaba."
JPMorgan Chase & Co. and Goldman Sachs Group Inc. were hired to help Yahoo find a tax-efficient way to dispose its stake in Alibaba, people familiar with the matter said. Advisers have been working with Yahoo on the matter for more than a year, the people said, who asked not to be named because the details are private. Yahoo has nearly decided on the structure it would pursue, the people said. Representatives for Goldman Sachs and JPMorgan declined to comment.
The relationship between Alibaba and Yahoo dates to 2005, when the U.S. company acquired a 40 percent stake in exchange for $1 billion and ownership of Yahoo's Chinese operations. In 2012, Yahoo sold back about half of the stake to Alibaba, and in Alibaba's IPO in September, it sold another 140 million shares.
While Yahoo reaped $9.4 billion after fees from that transaction, it paid about $3 billion in taxes, according to company filings. Typically, a U.S. company can expect to pay taxes at a rate of 35 percent on the gain when it sells stock in another company for cash. After the sale, Mayer pledged to sell the remaining stake in a tax-efficient way.
Investors Optimistic
Investors are betting that Yahoo will resolve the tax issue in their favor. Bullish options giving investors the right to buy Yahoo shares at $53 on Nov. 22 and $55 on Dec. 20 were the most traded contracts Nov. 14, according to data compiled by Bloomberg. Those options can be exercised if Yahoo rises from the $51.75 it closed at last week.
"There has been a significant amount of near-term, out-of-the-money call buying, suggesting investors may be positioning for a move higher during the next several weeks or so," Kurt Ayling, a technology, media and telecom analyst at New York-based Susquehanna Financial Group LLP, said in an interview Nov. 12. Susquehanna is a market maker in Yahoo options and beneficially owns 1 percent or more of the security.
In late September, Starboard Value LP founder Jeffrey C. Smith released an open letter to Mayer, saying that Yahoo should separate its big Asian investments -- Alibaba and Yahoo Japan -- from its Web business. After the spinoff, Yahoo's core should explore a tax-free combination with AOL Inc., said Smith. He said the market is undervaluing the core business.
Cash-Rich Splitoff
While the proposal to dispose of the Alibaba stock could mean Mayer is left with a company a fraction of the size she's currently running, it may be in the best interests of shareholders, said Pennsylvania State University's Samuel Thompson.
"I would advise them at a minimum to do a spinoff and do it quickly," said Thompson, who teaches about taxes and is the director of the center for study of M&A at the Penn State Law School. "They just need to get on with running the business and eliminate the huge inefficiency in the market."
Another tax-free alternative, known as a cash-rich splitoff, could leave Mayer with a bigger company to run. This transaction would require Alibaba or another affiliated company to provide cash and an active business into a new unit, which it would give to Yahoo in exchange for its Alibaba shares.
Buffett Move
Last week Warren Buffett used a cash-rich splitoff to turn over about $4.7 billion in Procter & Gamble Co. stock in exchange for P&G's Duracell battery business, which will be infused with about $1.7 billion in cash.
In January 2012, Yahoo listed The Weather Channel and WebMD Health Corp. as potential businesses it could own in conjunction with a cash-rich deal, people familiar with the matter said at the time.
However, this option would require Alibaba or another company to participate. In Alibaba's case, that may be difficult because it isn't focused on Yahoo's divestiture, people familiar with the matter said.
Alibaba may have another reason to avoid getting involved, according to Ironfire's Jackson.
"They would be fearful that it would be a political issue and that they'd be called in front of D.C. and asked why a big Asian company is helping Yahoo avoid taxes," he said.
Before it's here, it's on the Bloomberg Terminal.
LEARN MORE