Volvo Said to Near Deal to Deliver Parcels to Parked Cars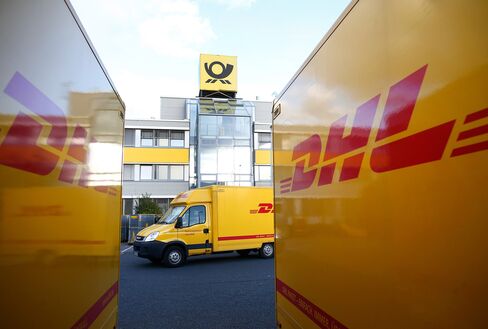 Working households may soon have an alternative to the modern dilemma of how to take delivery of stuff ordered online: have it dropped off in your car.
Deutsche Post AG's DHL unit is in talks Volvo Car Group on a partnership that would allow the parcel-delivery service to remotely open autos made by the Swedish manufacturer, according to people with knowledge of the matter who asked not to be identified because details are private. Discussions with other automakers are also ongoing, and a program that enables one-time access by a delivery agent may be announced in the coming weeks, one of the people said.
The offering would follow a pilot project in Sweden that used Volvo's GPS-linked On Call service to enter vehicles. DHL would only get access after the owner accepts delivery via text message. Volvo Cars and Deutsche Post declined to comment on any talks.
The program could help Volvo set itself apart from upscale brands like BMW, which sells more than three times as many cars. The unit of billionaire Li Shufu's Zhejiang Geely Holding Group Co. targets doubling sales to 800,000 vehicles by 2020. Meanwhile, Deutsche Post is trying new ways to make sure goods are delivered safely on the first attempt, a crucial part of maintaining profitability of such operations.
Missed Deliveries
Missed deliveries are the bane of online shoppers, and a profit-sapping cost burden to package handlers such as Bonn-based Deutsche Post. Europe's biggest mail carrier needs more than one attempt on more than 50 million shipments in Germany each year.
Traditional shippers are also under pressure as online retailers build their own delivery networks, with Amazon.com Inc. testing a same-day grocery service.
Volvo, the maker of the XC90 sport-utility vehicle, ran a pilot program in late 2013 with 100 participants in its base city of Gothenburg, dropping off groceries in their car trunks. Swedish online retailer Linas Matkasse AB and Norwegian mail operator Posten Norge AS's Bring unit collaborated, using the On Call remote-control technology for access to the vehicles.
To reduce the time wasted by delivery employees ringing doorbells of deserted apartments, Deutsche Post has installed automated streetside kiosks across Germany where consumers can pick up parcels at any time. The company has also started scheduled deliveries of medication and other urgent goods by drone helicopter to the island of Juist in Germany's Wadden Sea wetlands.
Volvo's On Call smartphone application is offered in 20 countries. The delivery service is potentially available in any of those markets where DHL also operates, including China, one of the people said.
Deutsche Post's namesake mail brand and DHL handled more than 1 billion items in Germany last year. That gave them a market share exceeding 42 percent of parcel deliveries by value in Europe's biggest economy. As online commerce grows, Deutsche Post estimates that delivery volume in Germany may double by 2022.
Before it's here, it's on the Bloomberg Terminal.
LEARN MORE