Halliburton to Buy Baker Hughes for $34.6 Billion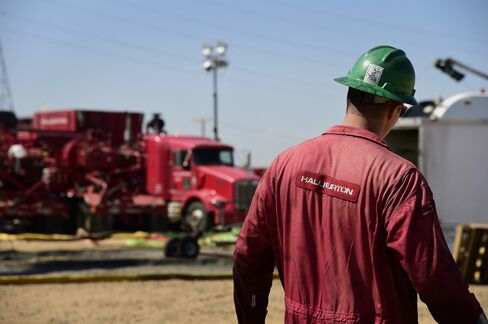 Halliburton Co. the second-biggest oilfield services provider, agreed to buy No. 3 Baker Hughes Inc., taking advantage of plunging crude prices to set up the biggest takeover of a U.S. energy company in three years.
Baker Hughes shareholders, whose stock since July had dropped 32 percent to $50.98 before reports of the deal surfaced, will receive 1.12 Halliburton shares plus $19 in cash for each share they own, the companies said in a statement today. That values the shares at $78.62 apiece, representing a 31 percent premium to Baker Hughes's Nov. 14 closing price.
With the agreement, Halliburton eliminates a chief rival and expands its business portfolio and reach at a time when falling oil prices have pushed the industry into a downturn. The merger will likely draw intense antitrust scrutiny, especially where North America businesses overlap.
"We have the best antitrust counsel available on this," Halliburton Chairman and Chief Executive Officer Dave Lesar said on a conference call today. "We are absolutely confident that we're gonna get this thing done."
Halliburton has agreed to sell businesses that account for as much as $7.5 billion of revenue, should regulators demand it. The company has said it expects the required divestitures will be significantly less. Even so, traders are hedging the regulatory risk, leaving a wide gap between Baker Hughes's share price and the value of the cash-and-stock offer.
The spread was about 14 percent as the close in New York. Baker Hughes climbed 8.9 percent to $65.23.
"We really haven't had a chance to get in front of our shareholders yet," Lesar said in a phone interview. "The deal is complicated. I am highly confident when we get a chance to talk to our shareholders, they see the benefits of this, that they will like this deal."
Termination Fee
Halliburton will have to pay Baker Hughes a $3.5 billion termination fee should it fail to secure regulatory approval. That's equal to about 10 percent of the takeover value, before accounting for debt. There hasn't been a breakup fee that high in about five years, according to Sachin Shah, a special situations and merger arbitrage strategist at Albert Fried & Co.
Halliburton fell the most in more than four years, dropping 11 percent to $49.23, the biggest decline since June 2010.
Lesar will lead the merged companies, according to the statement, which didn't address the future status of Martin Craighead, the Baker Hughes CEO. Craighead said in the joint interview with Lesar that he was focused on completing the deal. The combined company will be a little more than half the size of larger competitor Schlumberger Ltd.
Cost Savings
Both companies are hired by oil and natural gas explorers to drill wells and provide services such as hydraulic fracturing, or fracking, which cracks rock to let petroleum flow more freely. Together, the companies will dominate the $25 billion U.S. market for onshore fracking.
The merger also gives Halliburton access to Bakers Hughes technology to boost production in aging wells and its prized oil tools business.
The two companies restarted talks after initial discussions fell apart late last week, a person familiar with the matter said yesterday. Baker Hughes confirmed the takeover talks on Nov. 13 after media reports of a potential deal.
Talks collapsed a day later, and Baker Hughes released letters in which Craighead took Halliburton's Lesar to task for refusing to raise his offer and pressuring for a hasty decision by threatening a proxy fight.
"At the end of the day, the stars always have to align correctly for big transactions to come together, and they did," Lesar said in the interview. "It's also no secret when you go through these kinds of things that there's a bit of theater involved in the final negotiations."
'Fracking Overlap'
One area of scrutiny for regulators will be an overlap in fracking services provided by both companies, Bill Herbert, an analyst at Simmons & Company International, said in an interview before the statement was released. "It's safe to say the Justice Department scrutiny of this deal is going to be pretty deep."
Another area will probably be offshore drilling services in the Gulf of Mexico, said Andrew Cosgrove, an energy analyst with Bloomberg Intelligence. Deep-water operators like Petroleo Brasileiro SA will see the "big three" they rely on -- Halliburton, Baker Hughes and Schlumberger -- turn into two.
"That potentially increases pricing power for the service companies," Cosgrove said.
Before it's here, it's on the Bloomberg Terminal.
LEARN MORE