Dollar Gains as Treasuries Drop With Oil; Stocks Advance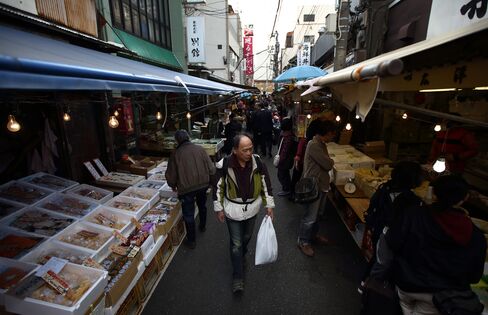 The dollar rose and Treasuries fell on speculation the U.S. economy is robust enough to withstand higher interest rates and a recession in Japan. Stocks in the U.S. rose as corporate deals offset declines in energy shares.
The Bloomberg Dollar Spot Index added 0.4 percent by 4:19 p.m. in New York. Yields on 10-year Treasuries rose two basis points to 2.34 percent, while the Stoxx Europe 600 Index climbed 0.5 percent. Earlier, bonds gained and European shares followed Asian stocks lower amid concern over the strength of the global recovery. The Standard & Poor's 500 Index rose 0.1 percent to a record, while the Russell 2000 Index of small-cap stocks slipped 0.8 percent. Brent crude fell 0.1 percent to $79.31 a barrel as U.S. natural gas surged. Gold retreated.
While U.S. data today showed industrial production unexpectedly fell, rising consumer confidence and the drop in gasoline prices are brightening the outlook for holiday sales, indicating factories may get a boost. European Central Bank President Mario Draghi said the expansion of stimulus could include government bonds. Japan's economy, the world's third largest, shrank for a second straight quarter in the three months to September, stoking concern over a global slowdown.
"There's a hope that monetary policy will stay accommodative across the board, which has emboldened risk-taking," Chad Morganlander, a money manager at St. Louis-based Stifel Nicolaus & Co., which oversees about $160 billion, said by phone.
Nasdaq Retreats
About $3.5 trillion has been added to the value of global equities since Oct. 16 amid signs the U.S. is weathering a slowdown in Europe and Asia, and after the Bank of Japan expanded its own stimulus program.
The S&P 500 closed at a fresh all-time high of 2,041.32 after rising 0.4 percent last week in a fourth week of gains. The Dow Jones Industrial Average added 0.1 percent to 17,647.75, while the Nasdaq 100 Index of technology stocks fell for the first time in six days, losing 0.3 percent from a 14 1/2-year high.
Halliburton Co. fell 11 percent today after agreeing to pay $34.6 billion for Baker Hughes Inc., which surged 8.9 percent. Actavis Plc added 1.7 percent after reaching a deal to buy Allergan Inc. for $55 billion. Allergan jumped 5.3 percent.
U.S. industrial output slipped 0.1 percent last month after a 0.8 percent increase in September that was smaller than previously estimated, data today showed. The Federal Reserve Bank of New York's Empire Index of manufacturing and business conditions increased less than forecast in November.
Bonds Reverse
Benchmark U.S. 10-year bonds reversed gains after yields dropped to 2.28 percent, the lowest level since Nov. 10. Japan's economy contracted an annualized 1.6 percent last quarter, after sliding a revised 7.3 percent in the second three months of the year. Economists had predicted growth of 2.2 percent.
"The Japanese news weighed on the market earlier, but risk sentiment has improved with the U.S. economic data being decent," said Adrian Miller, director of fixed-income strategies at GMP Securities LLC in New York.
The euro retreated 0.6 percent to $1.2451 after two days of gains, while the yen appreciated 0.5 percent to 144.98 per euro, after earlier sliding to as weak as 146.53. Bloomberg's dollar gauge, which tracks the greenback against 10 major peers, extended last week's 0.1 percent advance, its fourth straight weekly climb.
Fed Governor Jerome Powell said he expects the U.S. central bank to raise its main interest rates next year, saying that the exact timing would depend on the pace of the economy's recovery.
Powell Commentary
"This year is on track to be the best year in job creation since 1999," Powell said in an interview today on CNBC. "It makes sense to raise rates in 2015, perhaps in mid-2015."
The Fed has kept the target for the federal funds rate, which banks charge each other on overnight loans, in a range of zero to 0.25 percent since December 2008. Higher borrowing costs would boost the appeal of assets denominated in dollars. Draghi presented European lawmakers with a list of policy resolutions for 2015, insisting the ECB alone can't fix the euro region's economy.
"2015 needs to be the year when all actors in the euro area, governments and European institutions alike, will deploy a consistent common strategy to bring our economies back on track," Draghi said in Brussels today. "Monetary policy alone will not be able to achieve this."
Merck Gains
Other "unconventional" stimulus measures deployed by the ECB may include "the purchase of a variety of assets, one of which is government bonds," said Draghi, speaking to lawmakers in Brussels.
The Stoxx 600 erased an earlier slump of 0.8 percent to rise 0.5 percent, the most in a week.
Merck KGaA jumped 3.2 percent after saying it will receive $850 million and could get as much as $2 billion in regulatory and commercial milestone payments to develop and commercialize a tumor treatment with Pfizer Inc.
The MSCI Emerging Markets Index lost 0.6 percent, as the Hang Seng China Enterprises Index of mainland Chinese shares traded in Hong Kong sank 1.9 percent, the most since Sept. 10. The Shanghai Composite Index slipped 0.2 percent.
International investors purchased 13 billion yuan ($2.1 billion) of Shanghai shares in the first day of trading via an exchange link with Hong Kong, triggering a halt in buy orders for the rest of the day. Mainland investors used about 1.7 billion yuan of their 10.5 billion yuan quota in Hong Kong.
Sales Tax
China's bad loans jumped by the most since 2005 in the third quarter, China Banking Regulatory Commission said in a statement Nov. 15.
Japan's second straight drop in gross domestic product, which matched the textbook definition of a recession, followed a revised 7.3 percent contraction in the second quarter that coincided with an increase in the national sales tax from 5 percent to 8 percent. Media reports over the past week have stoked speculation that Prime Minister Shinzo Abe will postpone another increase in the levy and call an early election.
"The prime minister in all likelihood is going to say, look, we're going to reduce the likelihood of Japan falling into recession again next year by taking away the VAT hike," Jesper Koll, the head of Japan equity research in Tokyo at JPMorgan Chase & Co., said in a Bloomberg TV interview.
Brent fell for the fifth time in six days, after rebounding 2.5 percent Nov. 14. West Texas Intermediate crude dropped 0.2 percent to $75.64 in New York, after also surging more than 2 percent at the end of last week.
OPEC Meeting
Members of the Organization of Petroleum Exporting Countries are stepping up diplomacy before their Nov. 27 meeting, which will see a discussion over production levels. Iran's oil minister is preparing to visit the United Arab Emirates this week, according to Shana, the Tehran-based ministry's news service.
U.S. natural gas futures rose 8 percent to $4.34 per million British thermal units, the biggest jump in nine months, amid colder American weather. The fuel rose more than 2 percent in the U.K. after supply disruptions from the North Sea.
Gold slipped 0.2 percent to $1,186.55 an ounce in the spot market, following a 2.3 percent jump Nov. 14. Silver was down 0.9 percent to $16.1589 per ounce after soaring 4.1 percent at the end of last week.
Before it's here, it's on the Bloomberg Terminal.
LEARN MORE