Putin Stares Down G-20 Storm of Criticism With Ukraine Mantra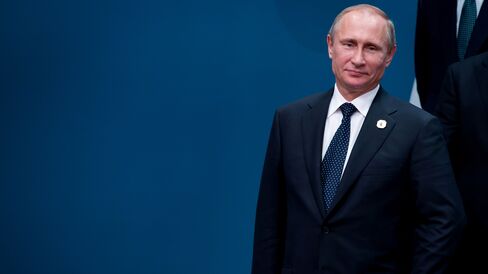 President Vladimir Putin weathered a barrage of criticism from world leaders at a summit in Australia, repeatedly facing them down with the same line -- Russian troops are not operating in Ukraine.
Leaving the Group of 20 summit in Brisbane early to get some sleep on the flight home before Monday meetings, Putin was unrepentant in his mantra that it's the leadership in Ukraine's capital Kiev that needs talking to.
In a briefing before he left for the airport, Putin said he was pleased with the summit's atmosphere and felt G-20 leaders better understood each other. After Canadian Prime Minister Stephen Harper told Putin "I guess I'll shake your hand but I have only one thing to say to you: you need to get out of Ukraine," Putin's spokesman Dmitry Peskov said the conversation had been "within the bounds of decency."
While European leaders berated Putin for the crisis in Ukraine, they also held a series of bilateral meetings with him to seek a way forward and avoid further sanctions. The meetings reflect the dilemma facing heads of state in dealing with Putin; even as he was seated at the far end of the room in talks on the opening day and ate lunch at a table away from the likes of U.S. President Barack Obama, leaders couldn't afford to shun him completely.
"Russia is geopolitically important - not just with regard to Europe and the West, but to Eurasia and the Pacific," said Rosita Dellios, an associate professor of international relations at Bond University on Australia's Gold Coast. "The G-20 in terms of international relations failed to be inclusive. It not only marginalized, and helped to further demonize, Vladimir Putin, but sharpened a new East-West divide."
Fine Line
Obama, European leaders including U.K. Prime Minister David Cameron and G-20 host Australian Prime Minister Tony Abbott all assailed Putin during the weekend meetings, even as Abbott's actions showed the fine line leaders walked. While he accused Putin of "trying to recreate the lost glories of tsarism or the old Soviet Union," and Putin was at the far right of the front row in the official photograph, Abbott also posed next to Putin as they cuddled koalas.
"When all is said and done President Putin was a guest in our country," Abbott told reporters yesterday. "President Putin was a member of the G-20 and I was happy to treat him with respect and courtesy while he was here in Australia."
'Fully Integrated'
Abbott has accused Russia of supplying the weapons used to shoot down Malaysian Airline System Bhd. Flight 17 over Ukraine in July, leading to the deaths of all 298 people on board including 38 Australians.
Russian officials reject the assertion that, having annexed Crimea from Ukraine in March, they're supplying men and materials to rebels who have carved out people's republics in eastern Ukraine. NATO Secretary General Jens Stoltenberg has accused Russia of bringing artillery, tanks, and rockets over the border into Ukraine, and the rebels of repeatedly violating a September peace accord.
"It is not our preference to see Russia isolated the way it is," Obama told reporters in Brisbane yesterday. "We would prefer a Russia that is fully integrated with the global economy."
Discussions with Putin had been "typical" of prior interactions, Obama said, "which are businesslike and blunt."
Ukraine is threatened with a return to open warfare, as seen before the Sept. 5 truce that's being violated on a regular basis. More than 4,000 people have died in the fighting, according to United Nations estimates. It's the worst standoff between Russia and its former Cold War foes since the Iron Curtain fell 25 years ago.
Russia's Interests
"Putin is only going to be motivated by what's in Russia's strategic interests and part of that is keeping Ukraine under its control," said Ben Rich, a researcher into political violence at Monash University's School of Social Sciences. "Authoritarian leaders have shown a willingness to wear sanctions if the trade-off is for a long-term national objective, and Canada's prime minister telling Putin 'you're a bad man' isn't going to change his thinking."
In Brisbane, Putin spoke with German Chancellor Angela Merkel for almost four hours during a late night meeting that included European Commission President Jean-Claude Juncker. The Russian leader gave a "detailed" explanation of his country's position on Ukraine, spokesman Peskov told reporters. Earlier, Merkel told reporters the situation in Ukraine "is not satisfactory."
European foreign ministers meeting today in Brussels will discuss expanding the list of individuals targeted as part of sanctions on Russia, Merkel said.
Making Fuss
"What's been lost in all the brouhaha about the G-20 pressuring Putin is that it's just the Anglosphere making a fuss and calling him names," said Kirill Nourzhanov, a specialist in Russian and Eurasian politics at the Australian National University. The reception Putin received at the meeting of Brazil, Russia, India, China and South Africa was different, he said.
"The BRICS meeting gave Russia the thumbs up, not on Ukraine, but over economics it was business as usual and Russia was accepted," Nourzhanov said. "If the aim of western leaders in the G-20 was Russia's economic isolation then it failed. Putin is not going to change his behavior one iota."
The U.K.'s Cameron and Putin had a robust exchange during one-on-one talks that lasted 50 minutes, a U.K. official said, asking not to be identified because they aren't authorized to speak publicly.
No Change
"A very clear message has been delivered by the countries of the European Union and America to Russia about how we're going to approach this in the months and years to come," Cameron told reporters yesterday in Brisbane. Putin needed to know there is a "real unity of purpose" between the U.S. and Europe over Ukraine, Cameron said.
"I don't think the criticism of Putin was in vain as it conveyed the extent of the strong feeling of western nations," said Graeme Gill, a professor at the department of government and international relations at Sydney University. "But it's not going to lead to any change in his policies. That will require sitting down and having a calm discussion. But there is a real sense of distrust from both sides in this."
The British prime minister told Sky News in an interview aired Nov. 15 that Russian warships that sailed toward northern Australia ahead of the G-20 meeting were symbols of "international machismo," while NATO fighter jets intercepted two Russian military jets over the Baltic Sea the same day.
'Doesn't Care'
"Putin has shown a willingness to do nasty things to shore up his strategic interests -- you only have to look at his willingness to sacrifice Russian troops during the war in the breakaway republic of Chechnya," Rich said. "He doesn't care too much about the cost to protect Russia's key interests."
At his final press briefing before leaving Brisbane, Putin seemed most concerned with getting some rest.
"We have to fly from here to Vladivostok 9 hours and then from Vladivostok to Moscow, another 9 hours," he said. Putin added he needed at least 4 to 5 hours of sleep so he could "go to work early" on Monday.
Before it's here, it's on the Bloomberg Terminal.
LEARN MORE