Fracking Boom Spurs Demand for Sand and Clouds of Dust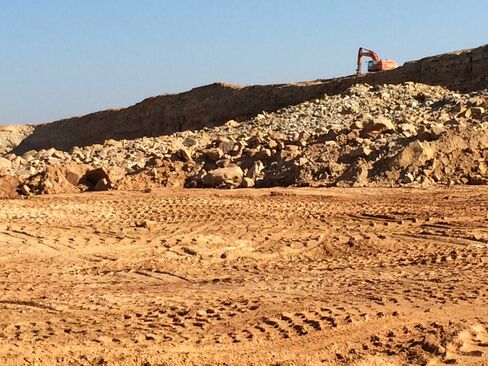 A little sand mine down the road didn't seem like a big deal 17 years ago, when Alphonse Dotson picked the site for a vineyard in the Texas Hill Country.
Today he's surrounded by four mines blasting sand from the earth, filling the air with a fine dust that drifts across acres of sensitive grape vines. A fifth will open soon, and he says he's worried.
"I don't want us to be smothered to death," he said.
Add sand mining to the list of industries transformed by the U.S. oil boom. The tiny grains of silica are what keep frackers fracking, propping open cracks punched into rock so oil and natural gas can flow. As drilling surged, so has demand for sand.
Sand production has more than doubled in the U.S. over the past seven years. By the end of 2016, oil companies in North America will be pumping 145 billion pounds (66 billion kilograms) of it down wells annually. That's enough to fill railcars stretching from San Francisco to New York -- and back.
That's triggering complaints from local communities, according to a Grant Smith, senior energy policy adviser at the Civil Society Institute. Dust from sand can penetrate deep into lungs and the bloodstream; mines consume massive amounts of water; sand-laden trucks are damaging roads; and property values can be affected.
The surge in mining is a "little-understood danger of the fracking boom," Smith said in a September call with reporters.
Higher Prices
Energy companies are paying 6 percent more for sand this year at a time when oil prices are plunging. While low prices may slow down drilling, that won't make up for a supply bottleneck, said Samir Nangia, a principal at the Houston-based research company PacWest Consulting Partners.
Fracking companies are struggling to get enough sand because there aren't enough trucks and railcars to deliver it. Higher transportation costs are eating into profits at oil-services companies like Schlumberger Ltd., Halliburton Co. and Baker Hughes Inc.
Halliburton CEO Dave Lesar said the world's biggest provider of fracking services has had to delay work waiting for sand.
"We did in fact miss some jobs, as did nearly every other service company," Lesar said on a conference call last month.
Halliburton created a Frack-Sand War Room in Houston. Three giant screens with graphs and maps dominate the office, while workers try to procure sand.
Delayed Train
Some challenges are tough to predict for Billy Smith, senior director of North American operations, who oversees Halliburton's nerve center. One recent Sunday he had to track down an entire train of sand, 20 million pounds on 100 rail cars, that had gotten stuck in Lincoln, Nebraska, and was 12 hours behind schedule. Turns out, one rail crew was getting off the day before and their replacements were delayed, attending a University of Nebraska football game. Smith now avoids routing sand through college towns.
Soaring demand has been a windfall for sand companies. Energy-company executives call U.S. Silica Holdings Inc. constantly begging for sand, said Michael Lawson, a spokesman for the Frederick, Maryland-based producer.
Ten companies supply half the sand mined for fracking in the U.S., according to PacWest. U.S. Silica, the third-largest producer, was the first to go public, in 2012. Its shares have gained 22 percent this year and third-quarter profit climbed 93 percent from a year earlier to $41 million.
Hi-Crush Partners LP shares have more than doubled since going public in 2012. Third-quarter profit more than doubled to $37 million.
White Sand
White sand from Wisconsin is especially strong, great for propping open underground cracks, and the most highly prized for fracking, said Darin Turner, a fund manager at Invesco Ltd. Prices this year are $55 a ton, up from $52 last year, according to PacWest.
After Wisconsin's 38 mines, Texas is the second-largest state with 16 pits producing a slightly softer, brown sand that's also valued by the oil industry.
Danny Neal, county judge for McCulloch County, Texas, said brown sand from the region has been shipped as far away as the Middle East. "That's like selling ice to Eskimos," he said.
Sand companies are working to mitigate the dust. At a mine in the central Texas town of Voca, U.S. Silica workers use a vacuum to suck up dust and a filter to capture even more while trucks are loading. Roads within the mine are watered to keep vehicles from kicking up dust, said Shane Owens, a manager at the plant.
Dotson, the Texas vintner, would like to open a wine-tasting area, but worries customers would choke on the dust. The Texas native is familiar with the oil industry, and doesn't expect the demand for sand to die down anytime soon.
"Nothing is indefinite," he said. "This might be one of those situations where you have to ride it out for 15 years."
Before it's here, it's on the Bloomberg Terminal.
LEARN MORE