China Slowdown Deepens as Targeted Stimulus Fails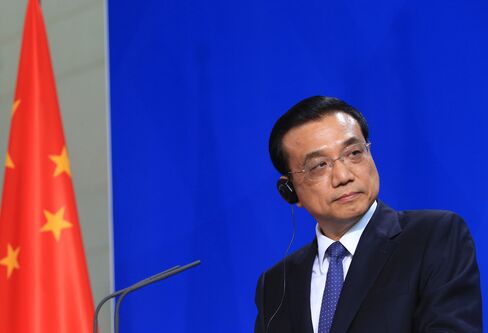 Credit growth in China weakened last month, adding to signs that the world's second-largest economy slowed further this quarter and testing policy makers' determination to avoid broader stimulus measures.
Aggregate financing in October was 662.7 billion yuan ($108 billion), the People's Bank of China's said in Beijing yesterday, down from 1.05 trillion yuan in September and lower than the 887.5 billion yuan median estimate in a Bloomberg survey of analysts. Earlier this week, reports showed deceleration in industrial output and fixed-asset investment.
The evidence underscores concern that, outside the U.S., the global economic outlook is deteriorating. For Premier Li Keqiang, the question is whether to stick with targeted liquidity injections or embrace nationwide monetary or fiscal easing that reignites the risk of a jump in debt.
"The key is not to further expand credit, given the weak credit demand, but to lower funding costs," said Wang Tao, chief China economist at UBS AG in Hong Kong. A benchmark interest rate cut "is more urgent."
The central bank has added liquidity while refraining from broad-based interest rate or reserve requirement ratio cuts. China's benchmark money-market rate fell for a second week on speculation it will conduct more targeted fund injections.
New local-currency loans were 548.3 billion yuan, and M2 money supply grew 12.6 percent from a year earlier. New yuan loans, which measure new lending minus loans repaid, compared with economists' median estimate of 626.4 billion yuan, while the M2 figure compared with the median estimate of 12.9 percent.
Soft Growth
"Sluggish domestic demand and risk-aversion among commercial banks dragged credit growth," said Zhou Hao, a Shanghai-based economist at Australia & New Zealand Banking Group Ltd. "Disappointing monetary data suggest overall growth will remain soft in the last quarter."
Historically, lending wanes through the year as companies' need for capital slows and banks brush up against lending quotas.
The economy's slowdown deepened in October, data Nov. 13 showed. Factory production rose 7.7 percent from a year earlier, while investment in fixed assets such as machinery expanded the least since 2001 from January through October. Retail sales gains also missed economists' forecasts last month.
The PBOC last week confirmed it pumped 769.5 billion yuan into select banks in the last two months and twice lowered the rate it pays lenders on 14-day repurchase agreements.
Policy Lag
"While a lag is possible, generally I believe that targeted easing so far are not effective enough to support China's slowing growth momentum,'said Shen Jianguang, chief Asia economist at Mizuho Securities Asia Ltd. in Hong Kong. Shen said he expected conventional instruments such as RRR or interest rate cuts as soon as December.
China's central leading group for financial and economic affairs has discussed lowering the 2015 economic-growth target, according to a person with knowledge of the talks, giving more room to push structural changes aimed at lowering financial risks. China is headed for its slowest full-year expansion since 1990.
Despite recent liquidity injections, the PBOC is ''seeking to keep credit growth on a downward trajectory," said Julian Evans-Pritchard, China economist at Capital Economics Ltd. "The central bank's current targeted approach remains consistent with its goal of keeping borrowing costs low while at the same time addressing credit risks and slowing the pace of overall credit growth."
— With assistance by Xiaoqing Pi
Before it's here, it's on the Bloomberg Terminal.
LEARN MORE