Brent Rises Amid Speculation OPEC Will React to Oil Price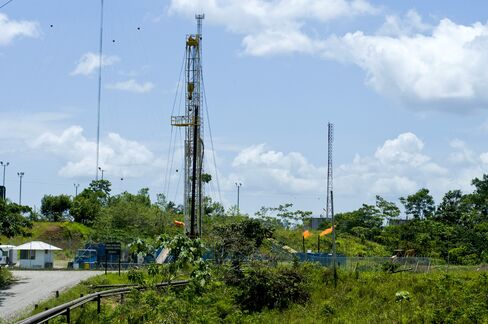 Brent crude rose for the first time in a week amid speculation that the drop in prices below $80 a barrel increases the likelihood that OPEC will cut production. West Texas Intermediate was little changed in New York.
Futures gained as much as 1.5 percent in London. OPEC producers have stepped up their diplomatic visits before the group's meeting in two weeks, potentially seeking a consensus on how to react to oil prices that have plunged to a four-year low. Prices could slide further in the coming months as the market enters a period of weaker demand, the International Energy Agency said today.
Oil has collapsed into a bear market as leading members of the Organization of Petroleum Exporting Countries resisted calls to cut production and the U.S. shale boom lifted output to the highest level in three decades. Brent is heading for its eighth weekly decline, the longest retreat since the contract began trading in 1988.
"I think the market is basically coming to the conclusion today that this latest price drop has actually increased the likelihood of action from OPEC," Ole Sloth Hansen, an analyst at Saxo Bank A/S, said by phone from Copenhagen. "If there's anything that can motivate some action, it's these oil prices."
OPEC Diplomacy
Brent for January settlement climbed as much as $1.19 to $78.68 a barrel on the London-based ICE Futures Europe exchange and traded for $78.57 at 12:54 p.m. local time. The December contract expired yesterday after losing $2.46 to $77.92, the lowest since September 2010. The European benchmark traded at a premium of $4.08 to WTI for the same month on ICE.
WTI for December delivery climbed 32 cents, or 0.4 percent, to $74.53 a barrel in electronic trading on the New York Mercantile Exchange. That's about half of its record high at $147.27 in 2008. The contract lost $2.97 to $74.21 yesterday, the lowest close in more than four years. The volume of all futures traded was about twice the 100-day average for the time of day. Prices have declined 24 percent this year.
Libya Prime Minister Abdullah al-Thani flew to Riyadh yesterday just as Iraq President Fouad Masoum left the kingdom after a two-day visit where he met with King Abdullah, the official Saudi Press Agency reported. Rafael Ramirez, Venezuela's foreign minister and representative to OPEC, held talks in Algeria and Qatar. Saudi Arabia Oil Minister Ali Al-Naimi toured Latin America.
Price Rout
"The Saudis will not walk the road alone, they want to see everyone share the burden with them," Kuwait-based analyst Kamel al-Harami said by phone. Saudi Arabia, the world's biggest oil exporter, is trying to build consensus among fellow OPEC members before they meet Nov. 27 in Vienna, he said.
Supply-demand balances suggest that the price rout has yet to run its course, the IEA said in its monthly report today.
"Downward price pressures could build further in the first half of 2015. Pressure on OPEC to reduce production is building," it said.
The 12-member group would need to reduce production by between 1 million and 1.5 million barrels a day to shake off the negative sentiment in the market, BNP Paribas SA said yesterday in an e-mailed report.
Russia is preparing for a "catastrophic" slump in oil prices, which it can weather thanks to a cushion of more than $400 billion in reserves, President Vladimir Putin said.
"We're considering all the scenarios, including the so-called catastrophic fall of prices for energy resources, which is entirely possible, and we admit it," Putin said in an interview with the state-run Tass news service before attending this weekend's Group of 20 summit in Brisbane, Australia, according to a transcript e-mailed by the Kremlin today.
WTI, which is heading for the longest run of weekly declines since 1986, may extend its drop next week, said 11 of 22 analysts and traders in a separate Bloomberg survey. Seven respondents, or 32 percent, predicted that futures will gain while four expected little change.
Before it's here, it's on the Bloomberg Terminal.
LEARN MORE