Ukraine Tensions Rise as U.S., EU Weigh More Sanctions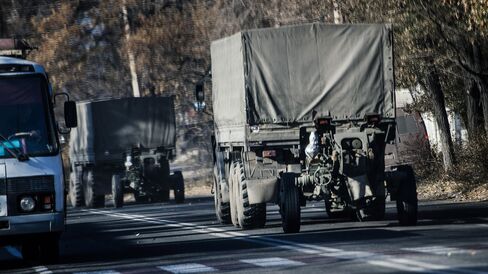 The European Union and the U.S. will weigh further sanctions against Russia's economy and Ukrainian separatists, after the reported movement of tanks, artillery and combat troops into eastern Ukraine.
Representatives of the EU's 28 member states and the U.S. are meeting today in Brussels to discuss imposing new penalties on individuals or on the Russian economy for the country's interference in Ukraine, according to diplomats close to the talks.
While no consensus has been reached yet, officials will prepare options for an EU foreign ministers meeting in Brussels on Nov. 17, when the group could move to expand penalties, said the diplomats, who spoke on condition of anonymity because they weren't authorized to be quoted.
"The situation on the ground is very tense," Ukrainian Foreign Minister Pavlo Klimkin said in an interview with Bloomberg Television today. Asked whether he expects an attack, Klimkin said: "We are of course prepared."
Klimkin said that de-escalation and a real political solution are needed.
Russian Columns
"We have seen columns of Russian equipment, primarily Russian tanks, Russian artillery, Russian air-defense systems and Russian combat troops entering into Ukraine," U.S. Air Force General Philip Breedlove, NATO's top military commander, told reporters in Bulgaria. "We do not have a good picture at this time of how many. We agree that there are multiple columns that we have seen."
Hours later, Russia's defense minister announced yesterday that his country will send long-range air patrols as far as the Gulf of Mexico and the eastern Pacific Ocean.
Despite a cease-fire agreement signed Sept. 5 in Minsk by both sides, Ukraine's government and pro-Russian separatists in the country's east accuse each other of preparing a fresh military assault. The conflict in Ukraine has claimed 4,000 lives since fighting began in mid-April, in what's become the worst geopolitical standoff between Russia and its former Cold War foes since the Iron Curtain fell 25 years ago.
Soviet Republic
Ukraine, a former Soviet republic, says Russian President Vladimir Putin is fueling unrest to thwart its efforts to deepen ties with the EU. Putin says he supports expanded rights for Russian speakers in Ukraine and denies that his country is involved militarily.
Nationalist sentiment has stoked the Russian leader's popularity at home since the conflict began. Stephen Sestanovich, a former top Russia policy maker at the U.S. National Security Council and State Department, said it remains to be seen whether sanctions will persuade Putin to stop his interference in Ukraine.
"No one knows the answer to that question, but Russians are really beginning to ask it in a more nervous way because the impact of sanctions is becoming clearer and more real," Sestanovich, now a professor at Columbia University in New York, said on Bloomberg Television yesterday.
At an emergency meeting of the United Nations Security Council meeting on Ukraine yesterday, U.S. Ambassador Samantha Power said Russia "talks of peace, but it keeps fueling war" in Ukraine. "What we need to do is keep ratcheting up the pressure" on Russia until it "chooses the path of de-escalation."
Brussels Meeting
When officials from the EU and U.S. meet in Brussels today, they'll be considering options to tighten the economic noose, according to the diplomats close to talks. The likeliest first step, they said, is to blacklist Ukrainian separatists and Russians involved in the Nov. 2 elections in eastern regions, which the Ukrainian government considers illegitimate.
A second possibility is broadening the existing sanctions on Russia's financial, defense and energy industries by banning business with additional companies or further tightening limits on EU or U.S. involvement in those sectors, they said. A third, though unlikely, possibility would be to expand sanctions to sectors that are as yet untouched, the officials said.
The aim of any new sanctions would be to pressure Ukrainian rebels and Russia to implement the Sept. 5 cease-fire, the diplomats say. Another issue officials will study is extending the EU sanctions beyond their scheduled expiration next year.
State Department spokeswoman Jen Psaki confirmed yesterday that the U.S. and its European allies are "prepared to broaden and deepen existing sanctions."
As Ukraine's leaders warned that the conflict in the east has returned to the brink of open war, Russian Defense Minister Sergey Shoigu said his country's military will start conducting regular long-range air patrols along Russia's borders and U.S. coasts and over the Arctic Ocean.
Open Skies
Army Colonel Steve Warren, a Pentagon spokesman, downplayed the significance of such Russian patrols, saying Russian Navy vessels have patrolled the Gulf of Mexico in the past. Warren said every nation has the right to conduct operations in international waters and international airspace. "We conduct operations in international waters, international airspace, as well," he said.
"What's most important is that nations who conduct these types of operations in international air and sea conduct them in accordance with international standards and that they conduct them safely," he said.
In Moscow, Russian Defense Ministry spokesman Igor Konashenkov said there's no evidence confirming the North Atlantic Treaty Organization's assertion that Russia has sent troops into Ukraine, news service RIA Novosti said.
If Russia did move in troops "it would be another example of Russia's blatant disregard for international law," Warren told reporters in Washington.
Estonia Exercises
Warren said today that next month an Air Force F-16 fighter unit will be training with the Estonian air force in an exercise that practices close air support tactics.
With the conflict pushing the hryvnia weaker and spurring inflation, Ukraine raised its discount rate by 1.5 percentage point to 14 percent, the highest level since 2014, the central bank said in a statement yesterday.
Before it's here, it's on the Bloomberg Terminal.
LEARN MORE