Davos Says 'Da' to Russia Amid Ukraine War, Sanctions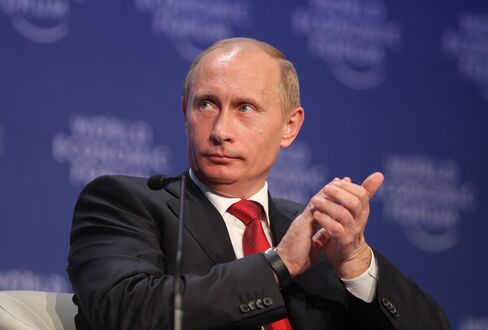 Russia's international isolation over the conflict in Ukraine doesn't include the World Economic Forum in Davos, Switzerland.
As the U.S. and European Union impose asset freezes and visa bans on some of his closest allies, President Vladimir Putin has received his annual invitation to the event in January, according to three people familiar with the situation.
Russia's presence at Davos shows no sign of ending after Putin initiated the biggest international crisis since the Cold War with the seizure of the Crimean Peninsula. Russian companies throw some of the glitziest parties at the ski resort and two banks under sanctions, OAO VTB Bank and OAO Sberbank, are "Strategic Partners" of the World Economic Forum.
Some attendees say there's no point in shying away from inviting potentially controversial guests. This year, Davos hosted Iranian President Hassan Rouhani, whose country is subject to sanctions over its nuclear program.
"There's no harm in inviting a leader like Putin because you have to keep the dialogue open, especially in difficult times," said Kasper Rorsted, the chief executive officer of German manufacturer Henkel AG.
Putin most recently attended Davos meetings in 2009 and has been invited by the World Economic Forum annually throughout his presidency, the people said, asking not to be identified discussing a private matter. He isn't planning to attend the 2015 meeting, his spokesman Dmitry Peskov said.
Medvedev Instead
Prime Minister Dmitry Medvedev may go instead, according to a Russian official who asked not to be identified in line with government policy. A representative of the World Economic Forum declined to comment.
Russian business leaders, politicians and Olympic figure skaters have been prominent at the Davos conference, which has been used to promote events like the country's Group of 20 presidency in 2013. Among the first parties at this year's event was a Russian-themed evening of cocktails devoted to the Sochi Olympics.
State-controlled Vnesheconombank, which has seen its activities curtailed by the sanctions, is planning to send its chairman, Vladimir Dmitriev, and his deputy, Andrey Sapelin, to Davos, the lender said in a statement.
As partners of the World Economic Forum, VTB Bank and Sberbank are part of a group of 100 companies with annual membership fees of 600,000 Swiss francs ($622,000).
St. Petersburg
U.S. and European leaders are trying to punish Russia for what they say is aggression in Ukraine. White House officials urged executives to skip a conference in Russia in May, the St. Petersburg Economic Forum, to protest the conflict, and the country has been excluded from the Group of Eight industrialized nations, though it remains in the broader G-20.
Pro-Russian rebels in eastern Ukraine this week continued to clash with government troops in and around the city of Donetsk despite a nominal cease-fire. Russia denies all involvement in the conflict, which so far has claimed more than 4,000 lives according to the United Nations.
EU governments are divided over further sanctions, limiting any moves to asset freezes and travel bans on additional Ukrainian separatists, according to EU officials and a planning document today.
"At the moment the environment is so volatile," said Eugene Nivorozhkin, a professor of economics at University College London, adding that any Russian politicians and businesspeople in Davos will want to tread carefully to avoid inflaming tensions. "It's hard to talk about long-term partnerships and that's what Davos is all about."
(An earlier version of this story corrected the spelling of Andrey Sapelin at Vnesheconombank.)