China's Hungry Infants Sought in Rinehart Formula Switch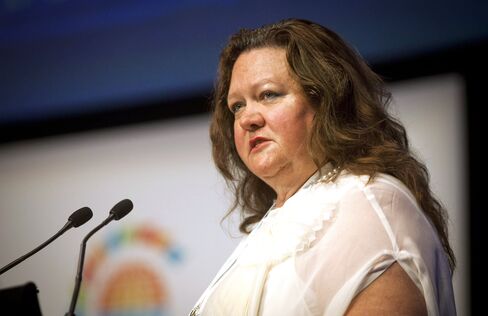 Gina Rinehart, the Australian billionaire who built her fortune on iron ore, is planning a A$500 million ($435 million) investment to supply infant formula to a Chinese market forecast to almost double over three years.
Hope Dairies Ltd., controlled by Rinehart's closely held Hancock Prospecting Ltd., is seeking to acquire about 5,000 hectares (12,400 acres) of farmland in Queensland state and is targeting first production in the second half of 2016, according to co-investor and director Dave Garcia.
The move comes as Australian miners including Fortescue Metals Group Ltd.'s founder expand into food production to tap rising demand from Asia's middle classes. It positions Rinehart, the richest woman in Asia, to compete in an infant formula market in China forecast to swell after the world's most populous nation loosened its one-child policy last year.
"There's another 50 million mouths probably coming online," Garcia said. "There's room for everyone in this right now."
Hope Dairies, named after Rinehart's mother, is seeking pasture in Queensland's South Burnett region and a processing facility in Mary Valley. The dairy farm, which is planned to be among Australia's biggest, may produce as much as 30,000 metric tons of formula a year, Garcia said by phone from Hong Kong. The facility will also supply UHT milk.
Chinese Investor
All the output is intended to be exported to China and the company will have investment partners including China CAMC Engineering Co., according to a person familiar with the deal, who asked not to be identified as the information isn't public.
Meng Ning, a securities affairs representative at the company, couldn't immediately comment when reached by phone.
Hope Dairies will be 70-percent owned by Rinehart, Jason Morrison, a spokesman for Hancock Prospecting, said today in a Bloomberg Television interview. Details of partners will be confirmed at an official announcement tomorrow, he said.
A free-trade deal with China, seen boosting dairy exports, may be signed next week, Australia's Prime Minister Tony Abbott said in a Nov. 10 interview.
"There is an enormous opportunity for the processors here," Michael Harvey, a Melbourne-based analyst at Rabobank International said by phone. "Offshore markets for infant formula are growing rapidly and China is the standout given the size of the population and the birthrate they have."
The market in China for infant formula may grow to NZ$33 billion ($26 billion) by 2017 from about NZ$18 billion ($14 billion) now, according to Fonterra Co-operative Group Ltd., the world's biggest dairy exporter.
Tighter Standards
Rinehart's planned operation would employ about 400 people, adhere to stringent biosecurity standards and produce about 70 to 75 percent of its own milk from a herd of about 16,000 Holstein cattle, including 10,500 milkers, according to Garcia. The Van Diemen's Land Co. has Australia's biggest dairy operation, milking about 19,000 cows on holdings in Tasmania, according to its website.
China in May tightened standards on imported formula following concerns over contamination. Fonterra had exports of two products suspended for 15 months from August 2013 after a botulism scare that was later proved to have been a false alarm. In 2008, locally-made milk powder contaminated with the chemical melamine killed at least six infants in China.
Rinehart's dairy will seek to use labeling that would allow customers to check the specific animals that produced milk used to create each package of powder, Garcia said.
Unique Opportunity
Demand in China may rise further as the birthrate increases by 2 million a year due to the easing of the one-child policy, according to the National Health and Family Planning Commission. Urbanization may also bolster demand for formula, with mothers in towns and cities less likely to breastfeed than women in rural areas, according to the World Health Organization.
Australian investors should seize on the example of Rinehart and Forrest and fund projects aimed at meeting demand in China, India and Japan for premium food and dairy products, Agriculture Minister Barnaby Joyce said today in a phone interview.
"Smart people who have made money before are investing in soft commodities," said Joyce, who met today with India's Prime Minister Narendra Modi. "We have a unique opportunity."
Childhood Ranch
Rinehart, Hancock Prospecting's chairman, has long ties to agriculture and spent part of her childhood growing up on the Mulga Downs station in Western Australia. Her father Lang Hancock's discoveries of iron ore in the state from the 1950s spurred the nation to become the world's biggest exporter of the steelmaking ingredient and helped make his daughter the country's richest person, according to the Bloomberg Billionaires Index.
Hancock in July purchased a 50 percent share in two cattle ranches in Western Australia's West Kimberley, while Andrew Forrest, the billionaire founder of iron ore producer Fortescue Metals in May acquired Harvey Beef, Western Australia's only licensed beef exporter to China.
Rio Tinto Group, Rinehart's partner in the Hope Downs iron ore mine, is one of Australia's biggest cattle ranchers, with Chief Executive Officer Sam Walsh identifying agriculture as an opportunity in July.
Milk producers are also expanding exports, with Norco Co-operative Ltd. agreeing to more than double fresh milk sales into China and Bega Cheese Ltd. striking a distribution deal to supply UHT milk to the nation.
Expansions by domestic infant formula producers in China risk moving the market into oversupply, UBS AG analysts led by Christine Peng wrote in a June 7 note. Total consumption in China may peak in 2018, according to Macquarie Group Ltd.
Murray Goulburn
Still, exports of whole milk powder, which includes infant formula, from Australia to China almost tripled to 17,592 tons in the 12 months through July 2013 compared to the previous year, according to data from Dairy Australia, an industry researcher. Australia is the third-largest whole milk powder exporter, according to U.S Department of Agriculture data.
Australia produces at least 70,000 tons of formula a year, according to Dairy Australia calculations. Murray Goulburn Cooperative Co., Australia's biggest milk processor, declined to disclose its annual output. Bega Cheese has added a new plant to produce as much as 16,000 tons of formula a year, it said in October.
Fonterra shares rose 0.7 percent to NZ$6.16. Bega Cheese advanced 0.9 percent to A$5.35 in Sydney trading.
"They are going to be reliant on imports for a good while and they are looking to get clean material, and material that is identifiable into the market," Garcia said. "The Chinese government wants to be in business with us."
Before it's here, it's on the Bloomberg Terminal.
LEARN MORE