Twitter CEO Defends Service With New User Reach Numbers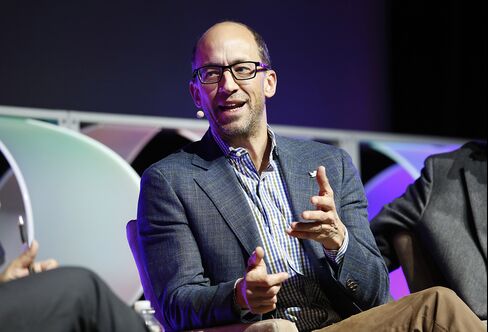 Twitter Inc. Chief Executive Officer Dick Costolo said that 500 million people come to the microblogging service each month without logging in, mounting a defense of the company's reach amid slowing user growth.
The CEO said today at Twitter's first analyst day that the service is accessible to more than its regular user base, with the 500 million people coming to the site each month to check out profiles or individual tweets. About 125 million people also go to Twitter's home page each month and decide not to sign up, presenting an opportunity to create features to add users, the company said.
To help capture that potential audience, Costolo said Twitter plans to roll out an "instant timeline" to let consumers see what's happening on the site without having to first follow people. The company is also working on new mobile applications, executives said, and will simplify the sign-up process and better organize content around geography and events.
"They did a good job to highlight what's happening to improve user growth," Rob Sanderson, an analyst at MKM Partners, wrote in an e-mail. "This was the most important thing management had to deliver on for investors at this event."
Costolo's Rebuttal
The presentation was Costolo's comeback to investors after shares plunged 33 percent this year. Twitter is on a mission to explain its prospects after several quarters of slowing user growth and questions about whether it can reach the scale of Facebook Inc., which has 1.3 billion members, or about five times the users. The CEO used the opportunity to show how Twitter extends beyond those logged into the service and to underline that innovation is on the way.
"Anyone should be able to come to Twitter and feel deeply immersed in that world," Costolo told analysts at the Four Seasons Hotel in San Francisco.
Shares rose 7.5 percent to $42.54 at the close in New York. The company went public at $26 a share last November.
Twitter's monthly active user count rose 23 percent to 284 million in the third quarter, down from 24 percent growth the prior quarter. Costolo has replaced several top lieutenants this year, including ousting his chief operating officer and appointing a new chief financial officer and head of product.
Twitter's Ambitions
New CFO Anthony Noto used his presentation today to spotlight Twitter's ambitions. He showed charts that displayed Twitter with an audience of 2 billion in 2020, along with $14 billion in annual revenue 10 years after hitting $1 billion. The company is projected to generate $1.38 billion in sales this year, according to data compiled by Bloomberg.
Noto said the numbers aren't a forecast, yet help to show investors "what we strive to do."
James Cakmak, an analyst at Moness, Crespi, Hardt & Co., said Twitter still faces numerous challenges.
"They are certainly saying all the right things, introducing a number of products, and setting lofty goals," said Cakmak, who rates the company the equivalent of a hold. "The key word, however, is 'aspirational.' We see a clearer focus on product and strategy, but no silver bullet."
At the event, Twitter said that by next year, it will introduce the ability for users to take, edit and share video in real time through the service. The company also said it will let people share public tweets through private messages.
For its regular users, Twitter said it is releasing a new product called "highlights." The feature will pick a handful of the most important tweets that appeared on people's timelines while they were away, and display them when they log in, to aid discovery in a firehose of content.
"We're beginning to make some bold moves around organizing the 500 million tweets we see every day," said Kevin Weil, Twitter's head of product who was appointed to the role last month. "It's our opportunity to unlock this and deliver an experience that literally no other platform can provide."
Before it's here, it's on the Bloomberg Terminal.
LEARN MORE