Ruble Weakens on Oil as Ukraine Sanctions Risks Grows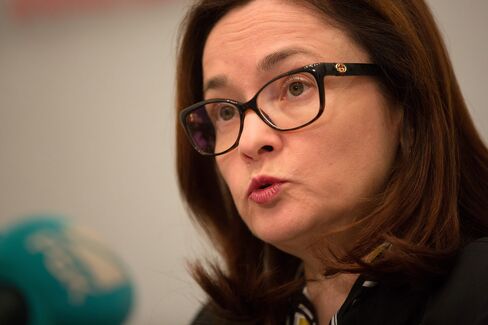 The ruble ended two days of gains as an oil rout and threats of tougher sanctions against Russia over Ukraine undermined central bank steps to shore up the currency.
The ruble weakened 1.8 percent to 46.6980 per dollar by 8:05 p.m. in Moscow. It rallied 1.7 percent yesterday following a central bank pledge to limit funding to ward off speculators. While offering the least seven-day loans, or repos, in a month today, the Bank of Russia also told lenders reeling from U.S. and European sanctions it wasn't planning a drastic squeeze on cash. Interbank rates rose, and 10-year government yields climbed to five-year highs.
Russia's currency resumed the worst drop in emerging markets as oil, a key export earner, fell to a four-year low and the U.S. joined European peers to threaten more penalties as a truce in Ukraine crumbles. Since Oct. 31, central bank Governor Elvira Nabiullina has struggled to defend the ruble with higher interest rates, steps to allow it to trade more freely and promises to boost dollar funding.
"No matter how many measures the central bank takes, the ruble won't recover while oil is falling and tensions in Ukraine persist," Sergey Vakhrameev, a money manager in Moscow at AnkorInvest LLC, said by phone.
Brent declined 2.1 percent to $80.60 a barrel, the lowest since September 2010. The slide is weighing on the ruble because the world's largest energy exporter gets about half of budget proceeds from energy industries.
Funding Limits
The central bank has announced steps to stem the currency's decline since bringing forward plans for a free-floating ruble last week. Nabiullina spurred gains yesterday by saying she would limit liquidity to prevent speculators from using central bank cash "for games on the currency market."
Policy makers reduced the size of a seven-day repo offering to 2.7 trillion ($58 billion) today, 8 percent less than at its auction two weeks ago. Bids for the contracts exceeded the amount placed by 12 percent, the most since September, while the MosPrime rate rose four basis points to 10.22 percent, within 26 basis points of a five-year high.
While the ruble stayed lower following the auction, it pared declines after the Bank of Russia said it would limit the amount of rubles it provides through swap operations to "stabilize the situation on the currency market."
"There's a panic among market players who are concerned about the central bank's plans to cut ruble liquidity," Andrey Mishko, a foreign-exchange trader at National Standard Bank in Moscow, said in e-mailed comments. "It's better to be safe and stock up on rubles."
Banks Exposed
Any limits on ruble liquidity won't be "sharp," Alexei Simanovsky, the first deputy governor, said at a meeting with bankers in Moscow, allaying concern the cash squeeze will choke off credit and worsen the nation's economic slump.
With sanctions blocking some of Russia's biggest companies from foreign debt markets and 400 basis points of interest-rate increases since March stifling lending at home, the country is on the verge of its second recession in five years.
Risks to banks should be manageable unless "deposit dollarization" accelerates, Fitch Ratings said today. The central bank said Nov. 7 that "feverish demand" for foreign curencies entailed a risk to financial stability.
Ukraine 'Factor'
It said the same day it was ready to intervene in the ruble market "at any moment." The previous policy required the central bank to buy rubles every time it weakened beyond a prescribed trading band, a predictable system that drained reserves and spurred traders to bet on further weakness.
Pressure is also building on Russian assets as the U.S., the U.K. and the European Union threaten to tighten sanctions on Russia, which they accuse of continuing to arm rebels in its neighbor's east. Rebels and the Ukraine military are "making renewed preparations for violent conflict," German Foreign Minister Frank-Walter Steinmeier said today.
Russia's Finance Ministry canceled its third ruble-bond auction in a row as the yield on 10-year government bonds increased nine basis points to 10.13 percent.
"Ukraine remains the main factor for the Russian market," Igor Akinshin, a foreign-exchange trader at OAO Alfa Bank, said by e-mail. "While the shooting continues, the normalization of the situation is unlikely."
Before it's here, it's on the Bloomberg Terminal.
LEARN MORE