No Sign of Thaw in Obama's Brief Encounters With Putin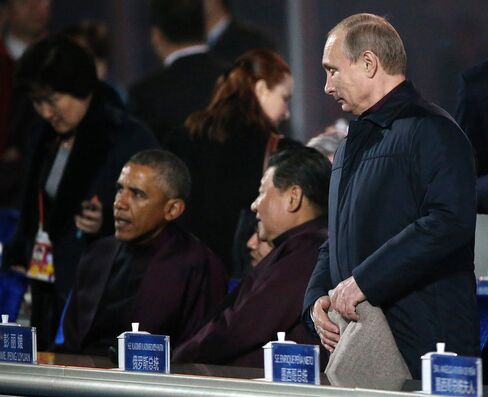 U.S. President Barack Obama and Russian President Vladimir Putin had multiple informal encounters during a meeting of Asia-Pacific leaders in Beijing that opened the way to at least brief discussions of issues that have frozen ties between their two nations.
The two leaders greeted each other last night during a session of the Asia-Pacific Economic Cooperation forum and then crossed paths several times today as they joined other heads of state at working sessions hosted by Chinese President Xi Jinping.
"On three occasions throughout the day, for a total of approximately 15-20 minutes, President Obama had an opportunity to speak with President Putin. Their conversations covered Iran, Syria, and Ukraine," White House National Security Council spokeswoman Bernadette Meehan said in a statement.
Putin's spokesman, Dmitry Peskov, provided a similar readout of the discussions. Meehan and Peskov provided no other details, and there were no signs the differences between the countries were bridged.
The U.S.-Russia relationship has grown increasingly tense over Russia's annexation of Crimea and its support for separatists battling the Ukrainian government. The U.S. and its allies have escalated economic sanctions that combined with low oil prices have pushed Russia to the verge of its second recession in five years.
Sanctions Threat
The U.S. joined the European Union yesterday in threatening to further tighten sanctions. U.S. State Department spokeswoman Jen Psaki blamed Russia for continuing to arm separatist rebels in eastern Ukraine, where a cease-fire has crumbled over the past week.
Ben Rhodes, Obama's deputy national security adviser, said said the sanctions so far haven't yet forced Russia to alter its actions and that will force an additional international response if Putin doesn't alter his course.
Obama and Putin last met in June in France at ceremonies to mark the anniversary of the D-Day invasion during World War II. Remarks at the time were brief and didn't cover substantial issues as relations between the two nations worsened.
Obama and Putin also are scheduled to attend the G-20 summit of developed and developing nations in Brisbane, Australia, later this week.
The strains from the conflict in Ukraine were evident for Putin during other parts of the summit.
Malaysia's Plea
In an emotional meeting with Malaysian Prime Minister Najib Razak, Putin reiterated Russia's condolences to the families of those killed in the MH17 air crash in eastern Ukraine in July. The U.S. and other nations have accused Russia of supplying the missiles that shot down the Malaysian airliner.
Najib said a cease-fire was essential to allow investigators access to the crash site in rebel-held territory, but the truce "doesn't appear to be respected by either side."
"We hope we can count on you to help us to conclude what happened with flight MH17," Najib told Putin. The Russian president replied that "we feel together with you" and he blamed Ukraine for the continued violence, saying that separatist militias "do not shoot at themselves."
There were 38 Australians among the 298 people killed in the crash and Prime Minister Tony Abbott also met with Putin today on the sidelines of the Beijing meeting. Peskov said Putin and Abbott "talked briefly."
'Real Investigation'
Both men "quite decisively called for a real investigation of this catastrophe, for expediting this investigation," Peskov said. "Putin said that the situation when experts can't access the crash site is unacceptable."
The lack of access is caused by Ukrainian forces, Peskov said. Abbott said during the 15 minute meeting with Putin that Russia and other countries should fully cooperate with the investigation, according to a statement from his office.
— With assistance by Ilya Arkhipov, and Phil Mattingly
Before it's here, it's on the Bloomberg Terminal.
LEARN MORE