Nintendo Says Super Smash Bros. Orders Set Wii U Record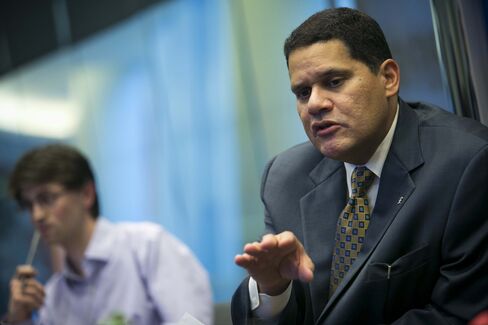 Advance orders for Nintendo Co.'s coming Super Smash Bros. video game are at a record and may lift sales of the company's struggling Wii U console during the holidays, Americas President Reggie Fils-Aime said.
Presales of the fighting game for Wii U, which reaches stores on Nov. 21, surpassed Mario Kart 8, Fils-Aime, president and chief operating officer of Nintendo of America, said yesterday in an interview at the New York headquarters of Bloomberg News. Interest in the game has generated optimism at Nintendo, which relies on popular titles to draw players to its consoles.
"The launch of Mario Kart 8 has essentially doubled our Wii U sales year-on-year," Fils-Aime said. "Our expectation is that the sell-through for Smash is going to be very strong, certainly on par with what we saw with Mario Kart 8. We think the impact on hardware will be similarly dramatic."
A strong holiday would generate crucial momentum for the Wii U, which trails Sony Corp.'s PlayStation 4 and Microsoft Corp.'s Xbox One. Getting more consoles into homes could generate support for the Wii U from outside publishers of top-selling shooter games like Activision Blizzard Inc.'s "Call of Duty" franchise and "Destiny," Fils-Aime said. Those titles aren't now made for the Wii U.
"Consumers buy the hardware so they can play the software," Fils-Aime said. "When you have a robust library of games, that's when consumers jump in."
Wii U Gains
Nintendo differs from its competitors because, with characters like Zelda and Mario, it makes many of the most popular titles for its hardware. While third-party game publishers have so far been cautious, the Wii U posted its first consecutive quarterly sales gains in the June and September periods.
Mario Kart 8 has sold 3.49 million units, including 2.74 million outside Japan, the company said with its earnings release last month. Wii U sales more than doubled from a year earlier to 1.12 million devices in the six months ended September, Kyoto, Japan-based Nintendo said in its results.
Nintendo advanced 1.5 percent to 12,560 yen at the close of trade in Tokyo, paring this year's decline to 10 percent.
Trailing Sony
So far this year, Nintendo has sold 2 million Wii U units, according to VGChartz.com. By comparison, Sony has sold 8.1 million PlayStation 4s, and Microsoft has tallied 3.3 million Xbox One sales, VGChartz said.
Super Smash Bros. is the first Nintendo title that will also support Amiibo, the interactive figurines that the company is also introducing for the holidays. Amiibo will compete with Activision's Skylanders franchise and Walt Disney Co.'s Infinity in a category Nintendo calls "toys-to-life."
Such interactive toys are set to pull in about $1 billion in sales this year in the U.S., according to Fils-Aimes. The ability to use Nintendo's figurines in multiple games may draw fans to the $12.99 Amiibo figures, which will later be brought to the 3DS handheld console, he said.
The company will experiment with a mobile application next year, Fils-Aime said, without providing more detail. The company has mostly used mobile phones -- increasingly popular for game publishers -- for non-game marketing, he said.
For Nintendo, the goal is to fill up people's days, Fils-Aime said.
"Each one of us has the same amount of time every day. We eat, we sleep, our kids go to school, we go to work," Fils-Aime said. "Everything else is entertainment time. And we focus on that time."
Before it's here, it's on the Bloomberg Terminal.
LEARN MORE