Japan Lawmakers Prepare for Abe to Announce Snap Election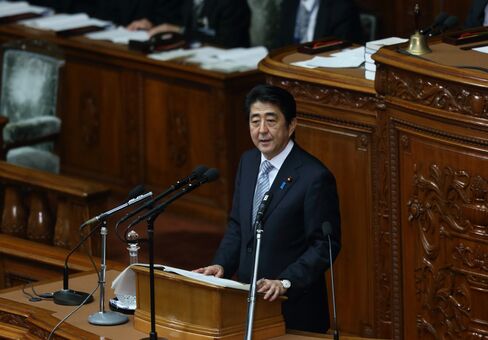 Japanese lawmakers began preparations for a potential snap election, the clearest signal yet that Prime Minister Shinzo Abe is considering dissolving parliament to shore up support.
Hiroyoshi Sasagawa, a ruling Liberal Democratic Party lawmaker, said in an interview today that preparations have begun, though only Abe can call a general election. Local LDP constituency offices are getting ready for a poll, according to three other people with knowledge of the matter.
"I have decided nothing about the timing of a dissolution," Abe said at a press conference at the Asia-Pacific Economic Cooperation meeting in Beijing. "I have heard that there are domestic reports based on speculation. I won't respond to those. But as you know I have never mentioned dissolving parliament."
While Abe's support has slipped in recent weeks, the dip hasn't lifted the opposition and opinion polls indicate his ruling coalition would return to power in a new vote. With the economy struggling to gain momentum and the government considering unpopular measures to contain the world's biggest debt burden, Abe may be seeking to strike before his support softens further.
"They may think the economy is going nowhere, so better now than later, also the opposition is in bad shape," Robert Dujarric, director of the Institute of Contemporary Asian Studies at Temple University in Tokyo, said by e-mail. "Snap elections are generally advantageous for the ruling party since they can prepare for them in secret, dissolve the house, and leave little time for the opposition to get ready."
Abe's Decisiveness
Robert Feldman, head of Japan economic research at Morgan Stanley MUFG Securities Co. in Tokyo, sees a more than 50 percent chance of a snap poll, basing his call on Abe's decisiveness, and what he sees as the success of Abenomics and Japan's foreign policy. Abe also needs to regain momentum while opposition parties are weak and divided, he wrote in a research note today.
Under Abe, the yen has fallen to a seven-year low, fueling a jump in Japanese exports and a surge in corporate earnings. The benchmark Topix stock index has gained more than 70 percent since Abe was elected in December 2012 and closed at a six-year high today.
Sales Tax
An early vote would also signal that Abe is considering postponing a planned increase in the sales tax to 10 percent due to take effect in October 2015. Abe has faced hostility from the nation's consumers over the increase, which he inherited from a previous government. Scrapping the unpopular increase would likely boost his support in an election. The first part of the increase, implemented in April, when the tax was raised to 8 percent from 5 percent led the economy to contract 7.1 percent in the second quarter.
With the decision on whether to go ahead with the tax increase looming, the approval rating of Abe's cabinet fell to 44 percent from 52 percent a month ago, according to a poll released yesterday by public broadcaster NHK. Seventy-four percent of respondents said the planned tax increase to 10 percent next year from 8 percent now should be postponed or canceled, while only 20 percent said it should proceed.
Election Timing
The prime minister is considering holding the election on Dec. 14 or Dec. 21 after first deciding on the tax, the Yomiuri newspaper reported today, citing senior members of the government and the ruling Liberal Democratic Party. Abe had previously said he would wait for final data on third quarter economic growth due on Dec. 8 before deciding on whether to go ahead with the increase. Preliminary GDP figures will be released on Nov. 17.
"In the near-term, a snap election and a delay in the sales-tax increase may be a plus for Abe's government politically," Hiroaki Muto, an economist at Sumitomo Mitsui Asset Management Co. in Tokyo. "It will hurt credibility on Japan's finances and fiscal reforms, which is negative for the nation and the future generations."
The yield on Japan's benchmark 10-year bond rose almost 4 basis points, to 0.492 percent, the biggest one-day gain since July 1, 2013.
The International Monetary Fund has warned of the risks if Japan fails to increase the levy, with Japan mission chief Jerald Schiff saying last month it's "really the only tool" for cutting the debt burden.
The IMF projects Japan's gross government debt to swell to the equivalent of 245 percent of GDP this year, the most in the world.
Before it's here, it's on the Bloomberg Terminal.
LEARN MORE