China Blocks Smog Data After Failing to Clean Skies Before APEC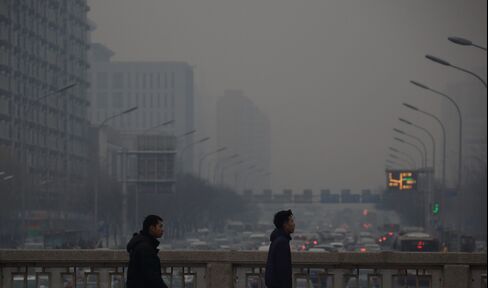 After failing to rid Beijing's skies of pollution before a gathering of world leaders this week, Chinese officials took a different approach to smog control -- limit the data.
Phone and Internet apps that display readings of air pollution started excluding a U.S. Embassy feed yesterday. Wang Jun, co-founder of the Air Quality Index app for Apple Inc.'s iOS, said authorities told him to stick to the city's data. "We had no choice," he said by phone.
Government efforts to control smog ahead of the Nov. 5-11 Asia-Pacific Economic Cooperation events in Beijing had gained so much attention that the clearer skies got a nickname, "APEC blue." President Xi Jinping mentioned the phrase when he spoke before other APEC leaders yesterday, saying he had checked the pollution each morning the last few days in hopes the smog wouldn't be too bad.
While skies cleared today, Xi didn't get his wish earlier even though China shut down factory production, limited traffic and outlawed outdoor fires. As of 2 a.m. today, levels of PM2.5, the smallest particles that pose the greatest risk to human health, were 289, according to the U.S. Embassy monitor readings displayed on Twitter. The World Health Organization recommends 24-hour exposure to levels no higher than 25.
The Embassy monitor has been a source of consternation in the past because its smog readings often surpass the government's. A municipal air-quality monitor nearby put the PM2.5 level at 255 at the same time.
Strong Wind
"Upon orders from higher-ups, this month's air quality index will use data provided by Beijing Municipal Environmental Protection Bureau," the owners of the website beijing-air.com said in an Internet statement. "Wishing APEC Summit great success!"
A woman who answered the phone at the city's Environmental Protection Bureau said she had no information about the issue.
By this afternoon, wind had blown out the smog and pollution levels improved. The U.S. Embassy PM2.5 reading was 38 as of 6 p.m. A government monitor said the figure was 33.
Chinese state media has defended the smog-control efforts as a sign the government was a good host to leaders from the 20 other APEC economies including President Barack Obama and Russia's Vladimir Putin.
"'To have friends come from away -- isn't that a joy?' is a famous saying attributed to Confucius," China Daily writer Wang Yiqing wrote in a commentary Nov. 7. "China believes in it and, hence, has taken all the necessary measures to ensure the 'APEC guests' enjoy their stay in Beijing."
The phrase "APEC Blue" began to catch on as the APEC leadership summit ended today. One shop on Alibaba Group Holdings Ltd.'s Taobao online mall offered a string of beads whose color it describes as APEC blue. The same description was given to a pair of GPS-equipped sneakers designed to track a child's whereabouts.
— With assistance by Yuling Yang
Before it's here, it's on the Bloomberg Terminal.
LEARN MORE