China to Debut Fighter Jet as U.S. Brass Attends Airshow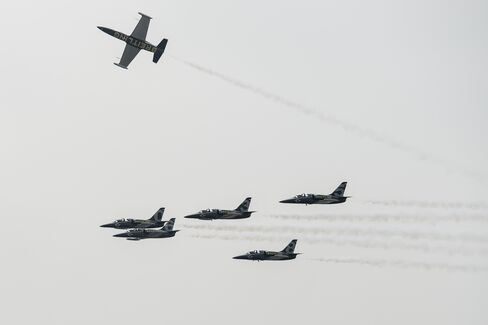 China's Air Force's newest fighter jet made its debut at an air show attended by senior U.S. officers in an effort to showcase its rising military clout.
The J-31 stealth fighter gave a public demonstration of its capabilities at the Zhuhai Air Show that started today in Guangdong province, according to state broadcaster CCTV and the official Xinhua News Agency. The airshow coincides with a meeting in Beijing of leaders of the Asia-Pacific Economic Cooperation forum, including U.S. President Barack Obama.
Manufactured by the Shenyang subsidiary of Aviation Industry Corp of China, also known as AVIC, the J-31 is a test of the country's ability to deliver cutting-edge defense technology. Still largely-shrouded in secrecy, the production of the fighter could add heft to China's sea and air expansion in the region and its push-back against decades of U.S. economic and military dominance.
"It appears to be a fifth-generation fighter and so far of course only the United States has been able to produce those," said Richard Bitzinger, a senior fellow at the S. Rajaratnam School of International Studies in Singapore. "So in a sense, it's kind of impressive on a superficial level."
Military Technology
Photos of pilots practicing in the J-31 have popped up on Chinese military blogs in recent weeks. The category known as fifth-generation fighters began with the service entry of the F-22 Raptor in 2005, according to IHS Jane's. Such jets have reduced visibility to infrared sensors and an ability to cruise at supersonic speeds, though little is known about the J-31 beyond reports suggesting they have Russian engines, said Bitzinger.
The J-31 is one of two known Chinese next-generation fighters, with the J-20 manufactured by a Chengdu AVIC subsidiary for the People's Liberation Army. The PLA Air Force will exhibit JH-7A and J-10 fighter jets, the Z-8KA helicopter and the H-6M bomber in Zhuhai, the PLA newspaper cited air force spokesman Shen Jinke as saying Nov. 5.
Moves by China to build more of its military hardware itself have raised questions about the risk of it borrowing technology from elsewhere. The country sent a surveillance vessel to Hawaii in July even as its Navy participated for the first time in the world's largest international naval exercise led by the U.S., and China boosted its defense budget for this year by 12.2 percent to 808.2 billion yuan ($132 billion).
First Participation
The U.S. military is taking part at Zhuhai for the first time. Pacific Air Forces chief General Lori Robinson will represent the U.S. Air Force, along with 15 airman and a Boeing C-17 Globemaster III, a large military transport aircraft.
In August the Obama administration formally protested what it described as a "provocation" by a Chinese fighter jet that buzzed within 20 feet of a U.S. Navy surveillance aircraft in international waters near Hainan Island.
"We're looking at what practical things can be done to build confidence and add more transparency," Deputy National Security Adviser Ben Rhodes told reporters today in Beijing. "The bottom line, the principle is, it's incredibly important that we avoid any inadvertent escalation and that we don't find ourselves again having an accidental circumstance lead into something that would precipitate a conflict."
APEC Meeting
The airshow comes as Obama meets with leaders including Chinese President Xi Jinping on the final day of the APEC summit in Beijing. Japanese Prime Minister Shinzo Abe and Xi held their first formal meeting yesterday since Abe took office in December 2012 as their countries seek to repair ties frayed by a dispute over islands in the East China Sea that has seen planes confront each other in the area.
"The Chinese still haven't really figured what they want out of these air shows," Bitzinger said. While China is seeking to impress with advancements in technology, it doesn't want to give too much away, he said.
This is in contrast to the Chinese approach toward commercial aircraft. Commercial Aircraft Corp of China Ltd. has scheduled press conferences on the opening day to announce deals, according to the Zhuhai Air Show website.
The company, also known as Comac, is targeting "no fewer than" 30 new orders for its narrow body airplane this year, Dang Tiehong, deputy general manager for sales and marketing, said at the Singapore Airshow on Feb. 12.
It has about 400 orders from 16 buyers for the 168-seat C919, aiming to complete the full assembly by August 2015 and the first test flight by the end of next year, Yu Zemin, deputy general manager of Comac Shanghai Aircraft Manufacturing Co., said at a conference in Shanghai in September.
"The ability to break into the international market is of major importance for China's aerospace industry," Xinhua said in its commentary on Oct. 25. "It is impossible to sustain the development of our defense technology if it is not internationally competitive and unable to tap on global capital markets."
— With assistance by Clement Tan
Before it's here, it's on the Bloomberg Terminal.
LEARN MORE