BlackBerry Seeks China Partnerships as CEO Meets Xiaomi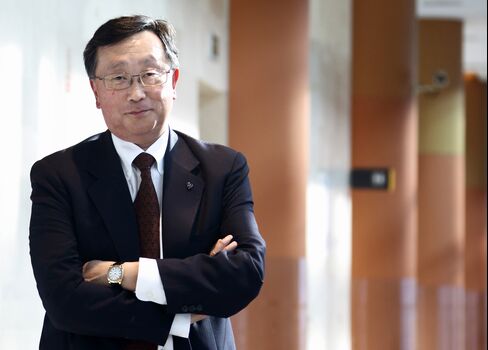 BlackBerry Ltd. Chief Executive Officer John Chen said he's interested in partnerships to expand in China, the world's largest smartphone market, after meeting the heads of Xiaomi Corp. and Lenovo Group Ltd.
BlackBerry's strengths in security, encryption and privacy are in demand in China and there may be opportunities for agreements on technology licensing, distribution or manufacturing, Chen said in an interview yesterday in Beijing, where he was attending the Asia-Pacific Economic Cooperation CEO Summit.
During the summit, Chen said he met with Xiaomi's CEO Lei Jun, and Lenovo's head Yang Yuanqing. These meetings with China's two largest smartphone vendors come at a time when BlackBerry is trying to return to growth after declining phone shipments dragged it to net losses in each of the past three years.
"It does seem that a more efficient way is to have a good partner to be here," Chen said in the interview. "I'm here this time to look at what opportunities there may be. We have not really focused on this market. It's a huge market but it's a very highly competitive market too."
Chen said he also met Cher Wang, chairwoman of Taoyuan, Taiwan-based HTC Corp.
Chen took the helm a year ago to lead a turnaround after shipments of its smartphones plunged in the past four years as it struggles to compete with touch-screen devices produced by Apple Inc. and Samsung Electronics Co. The Hong Kong native outsourced some production, sold property and focused on business customers by bringing back phones with signature physical keyboards and offering more software-based services.
Passport Smartphone
The changes have helped put the Waterloo, Ontario-based company on track for break-even cash flow by the end of this fiscal year and for a return to profit the next year, Chen reiterated yesterday.
Shares of BlackBerry rose 5.3 percent to close at $11.09 in New York trading yesterday, the highest since July 15. Lenovo gained 3.2 percent to close at HK$10.86 in Hong Kong trading today, the largest gain since Sept. 17.
In 2013, there were 19.2 million smartphones shipped with the BlackBerry operating system compared with 51.1 million units in 2011, according to data compiled by Bloomberg.
The company in September released its new square-screened Passport smartphone which sold 200,000 units in its debut. The device is designed for business users who write e-mails, study spreadsheets and read documents on their phones.
New Phone
Chen has said that he's already at work on a new concept for devices set to debut next year, including one at Mobile World Congress in March. Another version of the Passport is also in the works, he has said.
The company got 16 percent of its sales from the Asia-Pacific region during the fiscal year that ended in March, compared with 19 percent from the U.S., according to data compiled by Bloomberg.
This is Chen's first trip to China as CEO.
Chen said his talks in China don't imply the company is for sale.
"I'm not looking to sell the company," Chen said. "I'm very much looking to operate the company as an independent company."
Now that the company is returning to firmer financial footing, Chen said the China market is one area where he is looking for growth. Out of more than 40 million BlackBerry users worldwide, Chen estimates only a few hundred thousand units have been sold in China.
'Way Early'
Chen declined to provide details on the content of his conversations with Lenovo and Xiaomi. Jeffrey Shafer, a Lenovo spokesman, declined to comment on the talks and representatives of Xiaomi didn't reply to e-mailed requests for comment. The two companies are both based in Beijing.
Chen cautioned it is "way early" to be looking for results from the talks in China.
"What I'm doing is to explore what is the right approach to the market given what we do well and I'm not shutting any doors," Chen said. "This market is not an easy one to get deals done quickly. It's going to take a while, but I'm interested."
— With assistance by Edmond Lococo, and Christine Hah
Before it's here, it's on the Bloomberg Terminal.
LEARN MORE