Xi Dangles $1.25 Trillion as China Counters U.S. Refocus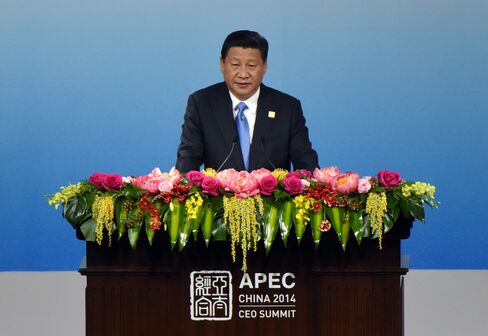 President Xi Jinping sought to counter U.S. efforts aimed at boosting influence in Asia by flexing China's economic muscle days before a Beijing summit with his counterpart Barack Obama.
Speaking to executives at a CEO gathering in Beijing, Xi outlined how much the world stands to gain from a rising China. He said outbound investment will total $1.25 trillion over the next 10 years, 500 million Chinese tourists will go abroad, and the government will spend $40 billion to revive the ancient Silk Road trade route between Asia and Europe.
"China's development will generate huge opportunities and benefits and hold lasting and infinite promise," Xi said. "As China's overall national strength grows, China will be both capable and willing to provide more public goods for the Asia Pacific and the world."
China has used the Asia-Pacific Economic Cooperation forum summit under way in Beijing to put forward its own trade and economic proposals to strengthen its sway in Asia. Those incentives complement a greater assertiveness in territorial disputes and moves to upgrade its military after decades of U.S. dominance in the region.
China is rolling out counteroffers for each promise made by President Barack Obama, whom he'll meet this week in Beijing as part of the summit. Xi is pushing the Free Trade Area of the Asia-Pacific in response to the U.S.-backed Trans-Pacific Partnership, which excludes China. An Asia Infrastructure Investment Bank mostly financed with money from Beijing is seen as an answer to the Asian Development Bank and other multinational lenders where the U.S. and Japan have the most influence.
Economic Rules
"Any time they have the chance to shape international economic rules or norms they are going to do that," said Andrew Polk, resident economist at the Conference Board China Center for Economics and Business in Beijing. "It's a bifurcated kind of response -- there's a reactive response to the developed world but trying to take a leadership role among other emerging economies."
While spelling out his message, Xi also made clear China is ready to accept a lower rate of growth, assuring executives that the economy is more resilient than ever and his government can safely guide the country through any slowdown. China's economy is targeted to grow at about 7.5 percent this year, the slowest since 1990, and Xi said a growth rate around 7 percent would still make the country a top performer.
Export Dependence
Calling a slowdown part of the new normal in China, Xi said his government is weaning the economy from a dependence on exports and infrastructure and making domestic consumption the key growth engine. He said the country expects to import over $10 trillion of goods over the next five years -- a further benefit to China's partners.
Without mentioning the Trans-Pacific Partnership, Xi said a key challenge in the region is that "various types of regional free trade arrangements mushroomed, creating puzzling choices." Underscoring the choice other nations must make, he said the region is at a crossroads.
Xi's proposal for the free-trade agreement won praise from leaders including Chilean President Michelle Bachelet and Australian Foreign Minister Julie Bishop, who said she didn't see it as "mutually exclusive to other arrangements."
The speech reflected how far China has come in the days since paramount leader Deng Xiaoping governed under the maxim of "Hide your brightness, bide your time." In his speech, Xi noted that China's economic growth last year was equivalent to the entire size of the economy in 1994, two years after Deng relinquished control.
"Xi Jinping has put aside Deng's approach in steering China to lay low and bide for time," said Steve Tsang, senior fellow of the China Policy Institute at the University of Nottingham. "Xi acts in a way that suggests he considers the time has come for China to assert itself and request and require the rest of the world to pay their due respect."
— With assistance by Kevin Hamlin
Before it's here, it's on the Bloomberg Terminal.
LEARN MORE