Paulson Event-Driven Fund Said to Plunge 14% in October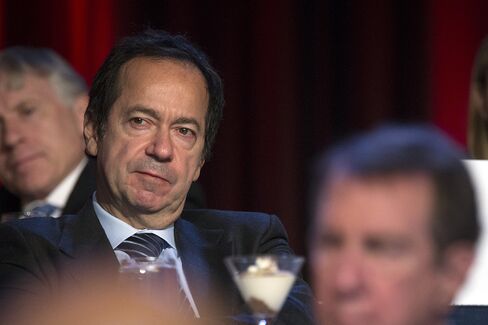 Billionaire John Paulson posted a 14 percent loss in his firm's event-driven hedge fund during October, adding to declines this year, two people with knowledge of the matter said.
The monthly drop left the Paulson Advantage fund down about 25 percent in 2014, said the people, who asked not to be identified because the information is private. Paulson Credit Opportunities lost 6.8 percent in October, leaving it down 3.4 percent in 2014.
Paulson's $20 billion namesake firm had some of its biggest declines this year in October as a drugmaker deal unraveled and investments in Fannie Mae and Freddie Mac preferred shares tumbled. Losses in the second half of 2014 have been a setback for Paulson, 58, who had staged a comeback last year from wrong-way wagers on the U.S. recovery, the European crisis and gold.
The hedge fund manager is best known for making $15 billion in 2007 betting against the U.S. housing market and is worth $12.2 billion, according to the Bloomberg Billionaires Index.
Armel Leslie, a spokesman for New York-based Paulson & Co. at Peppercomm, declined to comment on the returns.
The event-driven Advantage funds, which can bet on companies involved in situations such as takeovers, spinoffs or bankruptcies, make up about 16 percent of Paulson & Co.'s capital. Most of the money is Paulson's, and about a quarter is from clients, one of the people said. Last month, the funds posted the steepest declines of the firm's four main strategies, according to the person.
Merger Arbitrage
About half of the firm's assets are in Paulson & Co.'s merger-arbitrage funds and 25 percent is in the credit funds. The remainder is in other strategies, including the firm's Recovery funds.
Shire Plc, in which Paulson & Co. holds a stake, plummeted in October after agreeing to terminate a merger with AbbVie Inc. Fannie Mae and Freddie Mac shares declined after U.S. District Judge Royce Lamberth threw out a lawsuit at the end of September that would have forced the government to share the mortgage companies' profits with shareholders.
Many hedge-fund managers were blindsided last month as stock and credit markets slumped in the first two weeks because of concerns over global growth, a decline in oil prices and the surprise departure of Bill Gross from Pacific Investment Management Co. Markets rebounded in the second half of the month.
Hedge funds on average fell 0.3 percent during the month, paring yearly gains to 2 percent this year, according to the Bloomberg Global Aggregate Hedge Fund Index. Event-driven managers on average declined 1.5 percent in October, reducing returns in 2014 to 3 percent, Bloomberg data show.
Before it's here, it's on the Bloomberg Terminal.
LEARN MORE