Ebola in Mali 'Under Control' If No Case Next Week, MSF Says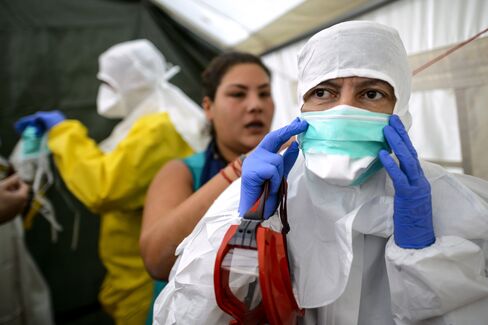 Mali will probably have limited the outbreak of Ebola to one case if there are no new patients next week, medical charity Medecins Sans Frontieres said.
Malian and international health workers reacted "much faster" after the first case was confirmed than in other West African countries, Teresa Sancristoval, head of the emergency unit for Ebola at Doctors Without Borders, said in an interview yesterday. Mali has the equipment to deal with a small outbreak and MSF is training workers, she said.
"We can say that if next week there are no cases, it's a one-case situation," she said by phone from Bamako, the capital of Mali. "This is the key. If you detect it on time, you can manage the outbreak."
Mali became the sixth country in West Africa to confirm a case of the deadly virus last month when a woman brought her infected two-year-old granddaughter from Guinea. The World Health Organization declares a nation Ebola-free if no new cases have been reported in 42 days, twice the incubation period. Senegal and Nigeria were cleared last month.
Ebola has killed about 5,000 people in Guinea, Liberia and Sierra Leone since December, making it the worst outbreak since the disease was identified in 1976 in what is now the Democratic Republic of Congo.
'Good Luck'
The medical charity expected to see more infections in Mali because the girl used public transportation from Guinea to Bamako and the rural town of Kayes in Mali, Sancristoval said. The toddler was admitted to a hospital on Oct. 23 and died the next day. Ebola is spread through contact with infected bodily fluids.
The grandmother hasn't been infected, which is "very surprising," she said. "It was very, very good luck."
The WHO estimated last week that Mali had been unable to trace about 40 people who were exposed to the disease. Sancristoval said that the missing people are thought to have had "light" exposure to the girl. Mali is monitoring 108 people by taking their temperature daily, including 33 health workers, according to the WHO.
Before it's here, it's on the Bloomberg Terminal.
LEARN MORE