Yellen Supports Bond Buying to European Central Bankers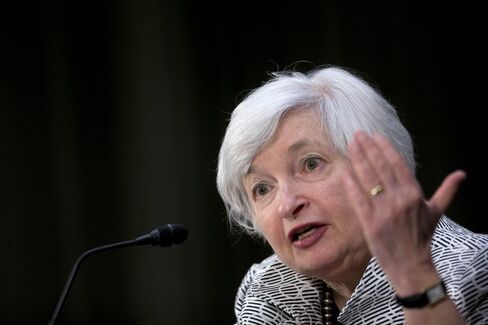 Janet Yellen has a message for European central bankers struggling to decide whether more bond purchases are needed to stave off deflation: Do whatever it takes.
"Central banks need to be prepared to employ all available tools, including unconventional policies, to support economic growth and reach their inflation targets," Federal Reserve Chair Yellen said in the text to be delivered today at a Bank of France event in Paris.
Yellen spoke as European Central Bank officials appeared divided over how far they should go in pursuing bond purchases. ECB President Mario Draghi said he intends to boost the bank's balance sheet back toward March 2012 levels, or about 1 trillion euros ($1.24 trillion) larger than today. Draghi has faced pushback from some ECB members.
"Given the slow and unsteady nature of the recovery, supportive policy remains necessary," Yellen said in a reference to the aftermath of the global financial crisis.
Earlier today, Bank of France Governor Christian Noyer, a member of the ECB's Governing Council, said policy makers have relied too heavily on central banks to boost economies struggling with low growth and low inflation.
"Central banks have been considered the only game in town," he said. "We all know central bankers do not act in a vacuum."
Yellen said that while fiscal policy has a role in stimulating growth, central bankers should be prepared to act if government support falls short.
Domestic Demand
"With policy rates at or approaching zero, central banks of necessity turned to unconventional policy tools such as large-scale asset purchases," she said. "These unconventional tools have, in my opinion, served to support a recovery in domestic demand and, as a consequence, global economic growth."
Yellen, who succeeded Ben S. Bernanke in February as Fed chair, said the global crisis and slow recovery have underlined the importance for governments of improving their finances in good times so they can spend money stimulating their economies during downturns.
Another lesson, she said, was the importance of a stable financial industry backed by "effective regulation and supervision."
Yellen was optimistic about the economic outlook, saying that "headwinds associated with the financial crisis will wane."
As central banks step away from extraordinary policies, markets may see more volatility.
"The Federal Reserve will strive to clearly and transparently communicate its monetary policy strategy in order to minimize the likelihood of surprises that could disrupt financial markets," she said.
Before it's here, it's on the Bloomberg Terminal.
LEARN MORE