China Goes From Supplicant to Power Player as APEC Host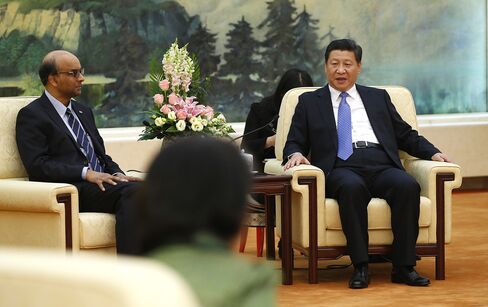 Last time China hosted the Asia-Pacific leaders' summit, in 2001, then-President Jiang Zemin vowed to follow international rules as his nation was on the cusp of joining the World Trade Organization.
As leaders from the 21-member Asia-Pacific Economic Cooperation forum gather in Beijing next week, they'll visit an economy that's about eight times larger and be hosted by a leader now seeking to reshape global rules and organizations.
Trumpeting China's "great rejuvenation," President Xi Jinping has been pushing regional maritime claims and expanding its economic clout with neighbors via trade and investment. In the days leading up to the meeting, China has sought to set the agenda, backing a regional free-trade zone over U.S.-led trade pact talks, signing agreements on a $50 billion regional bank to finance infrastructure and announcing a new fund to rekindle the historic Silk Road trading route.
"Back in 2001, China was asking humbly to get into the room; in 2014, China wants to take center stage," said Chen Fengying, a senior fellow researcher with the China Institute of Contemporary International Relations, a government research agency, in Beijing. "China is now playing offensive, not defensive."
As China's GDP, by dollar terms, expanded from $1.2 trillion in 2000 to more than $9 trillion in 2013, the country is poised to seek greater influence, Chen said.
Massive Wealth
"China has accumulated massive national wealth under Deng Xiaoping, Jiang Zemin and Hu Jintao, and now Xi Jinping can turn the wealth into power," she said.
When the APEC leaders' forum was held in Shanghai in 2001, a month after the Sept. 11 terror attacks, Jiang offered support to U.S. President George W. Bush. Jiang said then that China would "strictly follow international market rules" and implement "open, transparent and fair" trade and investment policies.
That stance paid off: China's export machine ran full steam, expanding eight times from $266.1 billion in 2001 to $2.2 trillion in 2013; foreign exchange reserves ballooned to almost $4 trillion from $212 billion at the end of 2001 and China received an influx of investment flows that brought new technologies and expertise.
"The APEC meeting in 2001 gave a chance for China to fit into the regional and global trade system," said Liu Chenyang, director of APEC Study Center in Nankai University in the northern Chinese city of Tianjin, who attended the event then. "As the No. 2 economy now, China has to play a more proactive role in defining new goals and paths in regional integration."
Chinese Investment
It's time for China to focus on outbound investments, according to Xi's comments made at a leadership meeting to develop land and maritime routes connecting China and Europe, Xinhua reported yesterday. Outbound investment has swelled from $2.1 billion in 2003, the earliest year of official data, to $75 billion in the first nine months of this year.
Last month, China led a group of 21 countries, including India, to sign a memorandum to set up the Asian Infrastructure Investment Bank with an initial capital base of $50 billion. Unlike the World Bank and the Asian Development Bank, AIIB will be mainly funded by China, based in Beijing and led by Jin Liqun, a former Chinese vice finance minister.
"We should be aware that the road ahead for APEC is not smooth," Commerce Minister Gao Hucheng said at the opening of an APEC ministerial meeting today. He cited a slowdown in the global economic recovery, sluggish global demand and rising trade protectionism.
Trade Zone
China will seek to progress an Asia-Pacific free-trade zone at the APEC summit, an official said at a briefing this week, downplaying U.S.-led Trans-Pacific Partnership talks.
U.S. President Barack Obama will arrive in Beijing after his Democratic allies lost control of the Senate to Republicans.
"Obama is weakened at home, so he won't be in a position to challenge China," said Shi Yinhong, director of the Center for American Studies at Renmin University in Beijing. "However, the U.S. still has a diplomatic and strategic advantage over China with its allies and semi-allies in the region."
The jostle for power between the U.S. and China "has not ended and will not end," he said.
"China has grown into the largest producer of the world, and is increasingly frustrated by the dominance of the U.S. in the global economy and financial system," said Shen Jianguang, chief Asia economist at Mizuho Securities Asia Ltd. "China has shown the intention to reshape global rules now."
— With assistance by Xin Zhou
Before it's here, it's on the Bloomberg Terminal.
LEARN MORE