VTB Said to Woo Global Financiers at Sanctions Burlesque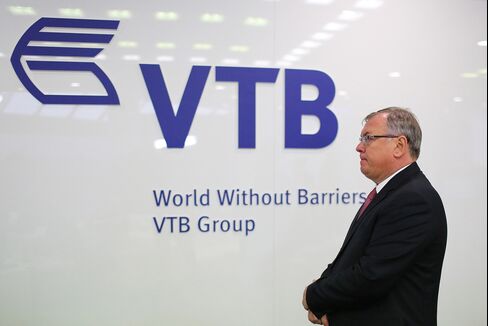 As international sanctions hit Russia, some of Moscow's bankers have continued partying on to keep business flowing.
The investment banking unit of Russia's state-owned lender VTB Group last month treated several hundred U.S., European and Russian financiers to a six-hour party at the Moscow Crowne Plaza that included turns from British pop diva Sophie Ellis-Bextor, dancers and a charade making light of sanctions, according to three people who attended.
As the vodka flowed, VTB showed a film of Andrey Kostin, a former Soviet diplomat who is now the top VTB executive, sitting at a desk and dressed in a white conductor's outfit, said the people, who asked not to be identified because the event was private.
The camera zoomed in, showing Kostin, 58, penning an "Anti-Sanctions" concerto, the people said. At that point, the screen retreated to reveal Kostin, his deputy Yuri Soloviev and a troop of VTB bankers in person, pretending to play musical instruments, the people said. In the finale, Soloviev gave a speech touching on the need to be true to oneself -- before removing a wig and flinging it into the audience, two people said.
Those who attended the Oct. 2 party said they were left bemused by the spectacle, which they interpreted as showing the bank remains a financial powerhouse amid deteriorating relations between Russia and Europe and the U.S. Among the guests were representatives of UBS AG and Los Angeles-based investment firm Oaktree Capital Group LLC, two people said.
'Business Flowing'
VTB Group's press service declined to comment, saying it was a matter for the securities unit, VTB Capital. An official for VTB Capital said details were incorrect, without elaborating.
Spokesmen for UBS and Oaktree declined to comment, and a representative for Ellis-Bextor didn't return an e-mail and a phone call in London.
The party, with Ellis-Bextor performing songs from her latest album, capped a day of panel discussions and speeches at the event. Soloviev hosted about 2,000 foreign and domestic delegates at VTB Capital's sixth annual Russia Calling forum in Moscow, where President Vladimir Putin also spoke.
"This is all about keeping business flowing in Russia," said Tom Kirchmaier, a fellow in the financial-markets group at the London School of Economics, who didn't attend the party. "A lot of international firms repatriated profits when things went sour in Ukraine, there was capital flight and that's continuing. The investment levels won't be there in the coming years because the money is going."
Crippled Economy
Russia is entangled in the worst confrontation with the U.S. and European Union since the collapse of the Soviet Union in 1991. Accused of aiding separatists in the conflict in eastern Ukraine, and condemned for annexing Crimea in March, Russia teeters on the brink of recession with international sanctions, a falling currency and sliding oil prices crippling its economy. VTB Capital, the No. 1 ranked Russian merger adviser last year, is among banks that are taking the EU to court over sanctions.
VTB's evening gathering offers a glimpse into the relations Russian companies and international firms are seeking to maintain while balancing the financial curbs. The measures have curtailed domestic-debt and stock-market activity, squeezing income streams for local and international securities firms.
Oaktree invests in emerging-market equities including Russia through a fund which has around $3.6 billion in management, according to its website. Zurich-based UBS, like other international securities firms, has worked with VTB in the past including organizing a July 2012 bond sale for the bank to raise $2.3 billion, according to data compiled by Bloomberg.
'Hyper-Sensitivity'
Most U.S. banks want to maintain working relationships with VTB, Kostin told reporters in Washington on Oct. 10.
"This hyper-sensitivity in the banking sector, it's having an effect today," on VTB's operations, he said. "We are getting good feedback from our Western partners," Kostin said, but "there are some that today prefer to avoid intensive contact."
VTB, along with OAO Sberbank, Russia's largest bank, were sanctioned over Russia's involvement in the Ukraine conflict. Investment banks in Russia led by its international securities unit VTB Capital saw a 50 percent slide in fees to $277 million this year to Aug. 31, according to data by Freeman & Co., a New York-based consulting firm.
'Trade-Off'
VTB Capital ranks first for arranging debt deals in all currencies for Russian companies, data compiled by Bloomberg show. The market for initial public offerings in Russia, in which VTB Capital dominates among the nation's firms, has been closed since Russia annexed Crimea.
"For the banks and investors, it's a trade-off," said Thorsten Beck, professor of banking and finance at Cass Business School in London, who wasn't at the gathering. "They may want to keep in the game once things calm down and they want to be in good standing with Moscow. We've seen the whole Russian system is moving towards where a good connection and network is the only thing that counts and guarantees a piece of the pie. That's the thinking behind it," for international funds and securities firms.
Before it's here, it's on the Bloomberg Terminal.
LEARN MORE