First-Time Jobless Claims in U.S. Fell More Than Forecast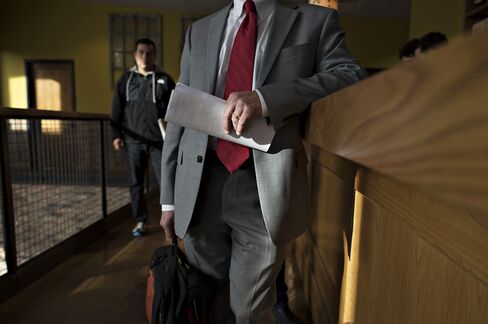 Fewer Americans are being fired and productivity is showing signs of life, pointing to an improving job market that is helping boost consumer confidence.
The number of claims for jobless benefits dropped by 10,000 to 278,000 in the week ended Nov. 1, the Labor Department reported today in Washington. Other figures showed workers were more efficient in the third quarter than economists projected and household sentiment firmed last week as family finances improved.
Increasing productivity is keeping a lid on labor costs, making it possible for companies to limit price increases and take on staff as sales strengthen. Contained inflation gives Federal Reserve policy makers more room and more reason to keep interest rates near zero to further invigorate the job market and economy.
"The news on wage costs is good for the Fed overall because it gives us a sign of better prospects for the labor market and the numbers aren't high enough to be problematic for inflation," said Michael Englund, chief economist at Action Economics LLC in Boulder, Colorado, who correctly projected the gain in productivity. "Many of the recent numbers have beat expectations and claims have led the march."
Stocks fluctuated between gains and losses after benchmark indexes closed at records yesterday as investors scrutinized comments by European Central Bank President Mario Draghi to gauge the odds for additional stimulus overseas. The Standard & Poor's 500 Index climbed 0.1 percent to 2,025.57 at 11:43 a.m. in New York.
Draghi faces pressure to do more to support a slowing euro-area economy after the Bank of Japan last week unexpectedly announced additional measures to revive growth.
ECB Outlook
Draghi said policy makers unanimously support further stimulus measures if needed and signaled officials may cut growth forecasts next month. The ECB kept rates unchanged.
The U.S. Labor Department's report on jobless claims showed the four-week moving average, a less-volatile measure of job cuts than the weekly readings, declined to 279,000, the lowest since April 2000.
"The labor market continues to strengthen," said Ward McCarthy, chief financial economist at Jefferies LLC in New York. "It's going to continue to gain momentum."
Applications last week were lower than the median forecast of 50 economists surveyed by Bloomberg which projected 285,000. Estimates ranged from 275,000 to 300,000 after a previously reported 287,000 in the previous week.
Worker Productivity
Another report showed productivity increased at 2 percent annualized rate, after a revised 2.9 percent gain in the prior three months that was larger than previously estimated. Economists forecast a 1.5 percent advance, according to the Bloomberg survey median.
Labor costs rose 0.3 percent in the third quarter after a 0.5 percent annualized decline, the agency said.
"The productivity numbers are respectable," Ian Shepherdson, chief economist at Pantheon Macroeconomics Inc. in White Plains, New York, said in a research note. The labor costs data indicate there is "no inflation risk," he said.
Improving efficiency helps economic growth gain momentum in the longer term. The pace at which an economy can grow without stoking inflation, which economists term its speed limit, reflects the rate of growth of the labor force plus how much each worker can produce.
Recent reports indicate the economic expansion remains on track in its sixth year since the recession ended in June 2009. The job market also is strengthening while inflation has stayed below the Fed's goal.
Economic Growth
The U.S. expanded at a 3.5 percent annualized rate from July through September, after growing 4.6 percent in the second quarter, according to Commerce Department data. It marked the strongest back-to-back readings since the last six months of 2003.
Employers added 248,000 workers in September, while the unemployment rate fell to 5.9 percent, the lowest since July 2008. Job gains this year are poised for the best performance since 1999. The October jobs report, due from the Labor Department tomorrow, may show the gain in payrolls exceeded 200,000, according to the Bloomberg survey median.
The improving employment picture is helping brighten consumers' moods. Sentiment advanced last week to the second-highest level since 2008, another report today showed.
The Bloomberg Consumer Comfort Index climbed to 38.1 in the period ended Nov. 2, just short of the five-year high of 38.3 reached in August 2013. It rose almost 1 point from the prior week. The report's personal finances gauge was the strongest since mid-September.
Gasoline Prices
The cost to fill up a car's fuel tank is less now than at any time in the past four years, giving Americans some extra spending money as the holiday-shopping season approaches. Fatter paychecks that coincide with progress in the labor market would make it even easier for households to boost purchases.
"The broad base of the CCI's recent advance is a positive sign for further gains," Gary Langer, president of Langer Research Associates LLC in New York, which produces the data for Bloomberg, said in a statement.
FedEx Corp. and United Parcel Service Inc. are boosting staffing as they prepare for the holiday-shopping season. Atlanta-based UPS is adding as many as 95,000 temporary workers, 10,000 more than last year, in anticipation that it will deliver 11 percent more packages, even as U.S. export markets cool, according to Chief Executive Officer David Abney.
"Overall, the global economic outlook has been mixed," Abney said on an Oct. 24 earnings call.
Before it's here, it's on the Bloomberg Terminal.
LEARN MORE