U.S. Stocks Climb as Treasuries Drop While ECB Sinks Euro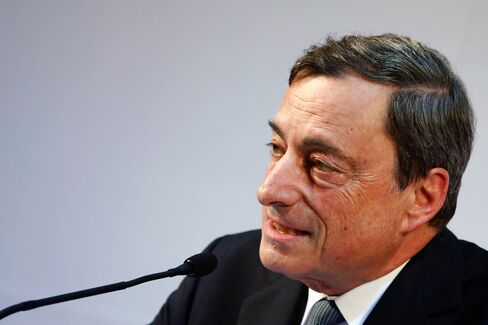 U.S. stocks rose, with benchmark indexes extending record highs, while Treasuries retreated before monthly payrolls data. The euro slid to a two-year low and the dollar gained versus major peers after European Central Bank President Mario Draghi deepened his commitment to stimulus.
The Standard & Poor's 500 Index and Dow Jones Industrial Average were both up 0.4 percent by 4 p.m. in New York at fresh all-time highs. Yields on 10-year Treasury notes rose four basis points to 2.39 percent. The euro dropped to its weakest level since August 2012 versus the greenback as the Bloomberg Dollar Spot Index climbed 0.6 percent to extend a 5 1/2-year high. Oil in the U.S. and London fell for the fifth time in six days after OPEC cut its demand outlook and Libya said it will resume pumping crude soon from its biggest field. The ruble sank.
Fewer Americans than economists projected filed for unemployment benefits last week, adding to signs of a strong recovery in the U.S. jobs market before tomorrow's October payrolls report. ECB officials were unanimous in their commitment to use "additional unconventional instruments within its mandate" to support the euro-area economy, Draghi told reporters today after keeping key interest rates unchanged. The comments came almost a week after the Bank of Japan unexpectedly increased its monetary stimulus to ward off deflation.
"The policy and macro news were both positive, and that's giving the market something of a positive bias," Alan Gayle, who helps oversee about $50 billion as a senior strategist at RidgeWorth Capital Management, said by phone from Atlanta. "The Draghi announcement was not a huge surprise, but it's indicative that more stimulus is coming from the ECB, and this comes on top of what we're already seeing in Japan."
Facing Pressure
Draghi faces pressure to do more to bolster the slowing euro-region economy after the BOJ's surprise move, which saw it expand the monetary-base target. Draghi said policy makers will be ready to implement further stimulus measures if needed as he signaled officials may cut growth forecasts next month.
In stressing unanimity, Draghi is seeking to smooth over divisions in his own ranks about the precise way the ECB can aid the economy more, as pessimism about the outlook builds. While the central bank is already expanding its range of asset purchases, it has yet to commit to broad-based bond buying, or quantitative easing.
The S&P 500 and the Dow rose to records yesterday after mid-term election results shifted control of the U.S. Senate from Democrats to Republicans while a private report indicated improvement in the labor market. The benchmark index has rebounded 9.1 percent from a six-month low reached Oct. 15. S&P 500 companies are beating analysts' earnings estimates at the fastest pace in four years.
Jobs Data
First-time jobless claims dropped 10,000 to a three-week low of 278,000 in the week ended Nov. 1, the Labor Department reported today in Washington. The median forecast of 50 economists surveyed by Bloomberg called for claims of 285,000. The four-week moving average, a less-volatile measure of job cuts, reached the lowest level in more than 14 years.
Government data tomorrow may show nonfarm payrolls rose by 235,000 last month and that the jobless rate probably held at a six-year low.
Tesla Motors Inc. rose 4.4 percent after it predicted "several years" of 50 percent sales growth amid a surge in orders. Whole Foods Market Inc. advanced 12 percent after posting better-than-forecast quarterly profit. Genworth Financial Inc. plunged 38 percent as the insurer predicted a tougher path ahead after a record loss. Qualcomm Inc. slipped 9 percent after saying a Chinese government probe will curb 2015 profit.
European Stocks
The Stoxx Europe 600 Index ended the day up 0.2 percent, trimming a 1 percent advance. Adidas AG rose 4 percent after posting third-quarter profit that beat analysts' estimates.
Credit Agricole SA fell 5.8 percent as slow economic growth led to a decline in quarterly retail-banking profit at France's third-largest lender. Cable & Wireless Communications Plc dropped 7.4 percent, the most since May 2012, after saying it will sell new shares to pay for its $1.85 billion acquisition of Columbus International Inc.
The Bloomberg dollar gauge, which tracks the greenback against 10 major peers, climbed to 1,097.86, its highest close since April 2009. The euro fell against all but five of its 16 major counterparts, losing 0.9 percent to $1.2373. The pound also declined 0.9 percent against the dollar after the Bank of England kept key rates on hold. The yen depreciated 0.2 percent against the U.S. currency to a seven-year low.
OPEC Forecasts
Traders raised expectations for currency price swings to the highest level in more than a year after the BOJ stimulus boost roiled markets and prompted speculation the ECB would also step up to the plate. Deutsche Bank AG's Currency Volatility Index climbed to 8.6 percent yesterday, its highest level since September 2013.
West Texas Intermediate crude fell 1 percent to $77.91 a barrel, after earlier retreating as much as 2 percent. OPEC lowered every published forecast for crude demand through 2035, except for next year.
OPEC members face mounting competition in the U.S., where technological breakthroughs -- hydraulic fracturing and horizontal drilling -- have caused a surge in domestic production. Oil prices slumped into a bear market last month amid speculation OPEC won't do enough to tackle a glut when it meets on Nov. 27 to discuss output.
Libya's Sharara field was shut as a precaution after gunmen stormed the on-site production compound, Mansur Abdallah, director of oil movement at the Zawiya refinery and oil port, said by phone.
The MSCI Emerging Markets Index fell for a fourth day, slipping 1 percent to the lowest level since Oct. 27. Brazil's Ibovespa slid 2 percent after the central bank signaled in minutes of its last meeting that it will continue to raise rates to curb inflation.
The ruble slumped 3.8 percent to a record low against the dollar. The Bank of Russia shifted its intervention policy yesterday, saying it would offer as much foreign currency as it deemed necessary to stem ruble declines.
Before it's here, it's on the Bloomberg Terminal.
LEARN MORE