Gross Says Deflation a 'Growing Possibility' Threatening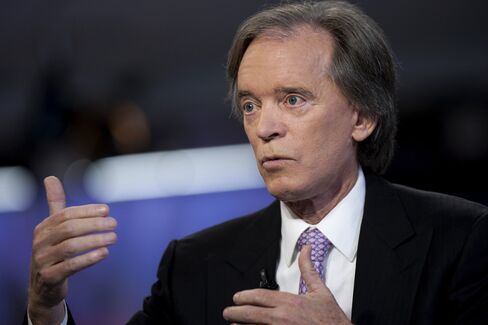 Bill Gross, in his second investment outlook since joining Janus Capital Group Inc., said deflation is a "growing possibility" as governments worldwide are struggling to create inflation and stimulate growth.
Central banks around the world have made "a damn fine attempt" at fueling inflation, yet their efforts have pushed up financial assets, rather than prices in the real economy, Gross wrote in his outlook titled "The Trouble with Porosity and Prosperity."
"The real economy needs money printing, yes, but money spending more so, and that must come from the fiscal side –-from the dreaded government side –- where deficits are anathema and balanced budgets are increasingly in vogue," he wrote. Until then, the possibility of deflation is a challenge to wealth creation, according to Gross.
The 70-year-old Gross, who last month started managing Janus Global Unconstrained Bond Fund, has forecast subdued market returns in what he calls the 'new normal,' a view he and Pimco first expressed in 2009 coming out of the financial crisis.
At Pimco, Gross ran the $201.6 billion Total Return fund, the world's biggest bond mutual fund, which had trailed peers since the beginning of 2013 as he misjudged the timing and impact of the Federal Reserve's tapering of its stimulus. Gross left the firm he co-founded in 1971 after his deputies threatened to quit and management debated his ouster, according to people familiar with the matter.
'Philosophical Nomad'
Gross, whose investment commentaries are known for their colorful anecdotes and comparisons, in today's outlook called himself a "philosophical nomad" with a foundation formed from sand. The 21st century economy is built on the sand of finance instead of the firmer foundation of investment and innovation, he wrote.
"Stopping the printing press sounds like a great solution to the depreciation of our purchasing power but today's printing is simply something that the global finance based economy cannot live without," he wrote.
U.S. government bonds maturing in 10 or more years have returned 18 percent this year, beating the Standard & Poor's 500 Index. The personal consumption expenditures price index has been below 2 percent for more than two years, resisting policy makers' attempt to maintain a minimum level of inflation. The threat of falling prices can cause businesses and consumers to be reluctant to spend.
Deflation Ogre
At the start of the year, International Monetary Fund Managing Director Christine Lagarde warned policy makers in advanced economies to fight the "ogre" of deflation.
Stimulus is "not working like it used to," and "the trillions seem to seep through the sandy loam of investment and innovation straight into the cement mixer of the marketplace," Gross wrote. Even as prices rise, "wages simply sit there for years on end. One economy (the financial one) thrives while the other economy (the real one) withers."
In last month's outlook and a broadcast conversation with Janus Chief Executive Officer Dick Weil, Gross said investors should bid "bye-bye" to double-digit returns as growth worldwide is slowing down.
"We're doing the best of them all," Gross said of the U.S.,"but frankly it's not like the old normal, it is the new normal where global growth proceeds at a very slow pace."
Before it's here, it's on the Bloomberg Terminal.
LEARN MORE