Ebola Dominates WHO Vote in Struggling Africa Office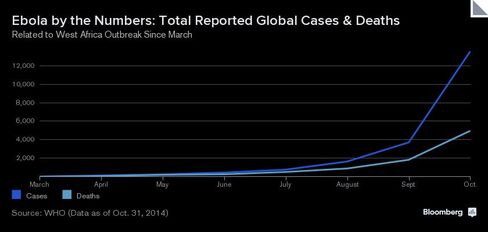 The World Health Organization, criticized for responding too slowly to Ebola, is holding an election this week for a new regional leader in Africa. Good luck finding out who the candidates are.
They're not listed on the WHO's website, and communications staff in the Africa regional office haven't responded to e-mails and messages asking for them. Though some names can be found after deep digging via Google, the election of a successor to regional director Luis Sambo is emblematic of the dysfunction and lack of transparency that ails the organization, according to interviews with former WHO officials and internal WHO documents.
"This is the most important regional election in many years," said Nils Daulaire, the U.S. representative on the WHO's executive board from 2010 until last February. "Clearly the slow and inadequate response of WHO in the Ebola outbreak was very heavily influenced by the poor functioning of the African regional office."
Ebola went undetected for months in West Africa before mushrooming into the worst outbreak on record, with almost 5,000 deaths on three continents. The crisis shows how weak health systems not only hurt the poorest, most disease-burdened populations in Africa, but are also a threat to global security.
Poor communication, a lack of leadership and underfunding plagued the WHO's initial response, allowing the disease to spiral out of control, people familiar with the agency said last month. Even before the outbreak, the African regional office in Brazzaville, in the Republic of Congo, and the WHO offices in Liberia, Sierra Leone and Guinea -- the three countries worst affected by Ebola -- breached accounting and management procedures, WHO audits show.
Weakest Office
"This should be the strongest regional WHO office, but it's the weakest," said Peter Piot, director of the London School of Hygiene and Tropical Medicine and a co-discoverer of the Ebola virus in 1976.
The new regional director will be chosen by secret ballot on Nov. 5 in Cotonou, Benin, during the 64th session of the WHO Regional Committee for Africa. The meeting was originally scheduled for September but was postponed because of Ebola.
The African regional director oversees the largest of the WHO's six regional offices, with a budget of $1.2 billion for 2014 and 2015 -- just shy of the $1.4 billion earmarked for headquarters in Geneva.
Those vying for the job include Jean-Marie Okwo-Bele, a 25-year WHO veteran from the Democratic Republic of Congo, and Sambo's deputy, Matshidiso Moeti, from Botswana, Internet postings show. Another, Mali's Fatoumata Nafo-Traore, is director of the Roll Back Malaria Partnership, a collaboration between UN agencies and the World Bank. Sambo, who took over as regional head in 2005, isn't seeking a third term.
Operational Action
The WHO received its first report about Ebola in Guinea on March 21, though it took more than three months to convene a meeting of regional health ministers or open a regional coordination center. Sambo, an Angolan physician, didn't visit the affected countries until late July.
Neither Sambo nor his office responded to e-mails requesting a response to criticisms of his work on Ebola.
"There has been a lack of leadership, a problem of governance," Therese N'Dri-Yoman, a former health minister from Ivory Coast who is seeking the leadership post, told reporters in Abidjan on Oct. 24. In the Ebola epidemic, "operational action has been neglected."
An audit of the WHO's Brazzaville office in 2012 found an "urgent need" to fix the accuracy and timeliness of its accounting. An report the same year on Liberia found unreliable risk controls and "significant deficiencies in compliance with WHO rules." Audits of WHO offices in Sierra Leone and Guinea in 2013 found similar problems.
Failed Catastrophically
The Africa regional office "failed catastrophically in its mandate to monitor emerging health threats," The Lancet medical journal wrote in a Nov. 1 editorial. "Some WHO country offices in west Africa simply did not recognize the importance of Ebola."
A spokesman for the WHO in Geneva, asked to respond to the Lancet's comments, referred to a document on the regional office's website outlining the election process.
Okwo-Bele said he's aware of reports of bribery and corruption, though doesn't believe they will be a factor in this week's election. He's following his government's rules for campaigning, and none of the heads of state or health ministers he's lobbied have tried to bargain for their vote, he said.
No Pennies
"Honestly, I am not a politician and I will never become a politician," Okwo-Bele said by phone from the Togolese capital, Lome. "We made changes in Africa on immunization, truly big ones, without paying any bribes. I don't have any pennies in my pocket to give to anyone to buy a vote."
WHO regional directors can distribute favors in the form of jobs within the organization, said Charles Clift, an economist in the Centre on Global Health Security at Chatham House, a London research group. A WHO posting can pay 10 times as much as a similar position in a candidate's home country, Clift said.
In several WHO regions, "these are plum jobs and the extent to which merit applies is variable," said Clift. "There's a lot to be gained by appointing your friends and colleagues to a regional office or country office."
WHO Director-General Margaret Chan has tried to reform the organization, but regional offices aren't required to take orders from her. They often have very different agendas than headquarters and "may obstruct what Geneva wants to do," Clift said. "They get in each other's way."
In the past, Africa has followed in line with the priorities and strategies defined by global health initiatives, and not always as defined by the region's own governments and health needs, Chan said today in a speech at the meeting in Cotonou. Now Africa needs to lead, she said.
"For this regional office, the next big challenge is to ensure that WHO reform is credible and efficient," Chan said.
Before it's here, it's on the Bloomberg Terminal.
LEARN MORE