Ukrainian Premier Gets Backing From President Poroshenko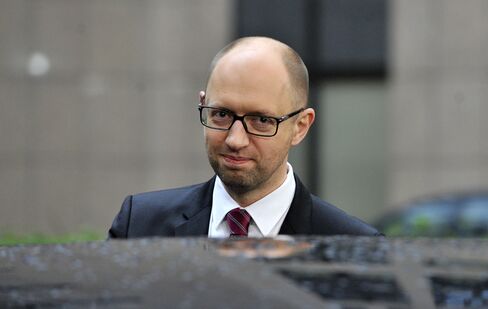 Ukrainian President Petro Poroshenko suggested his party back Arseniy Yatsenyuk for premier after Russia agreed to terms for restoring natural-gas exports to its conflict-torn neighbor.
The president made the announcement less than a week after his and Yatsenyuk's parties finished neck-and-neck as the top vote winners in Oct. 26 parliamentary elections.
"This is a good first step, but there will be many more issues to resolve," Joerg Forbrig, a senior program officer at the German Marshall Fund of the U.S., said by phone today. "I certainly think that it's a good idea to build the coalition as quickly as possible and resolve personnel issues as quickly as possible, although I'm not sure it will remove all the bones of contention, as the devil is in the detail."
Pro-European parties may have won enough seats in Kiev for a two-thirds constitutional majority, defeating Russian-leaning political forces. Yatsenyuk's party led the Poroshenko Bloc 22.16 percent to 21.82 percent, with 99.53 percent counted of the party-list voting that makes up half of the legislature, according to the Central Electoral Commission. Coalition talks are planned for later today.
Winter Nears
The gas negotiations, brokered by the European Union, came as pro-Russian rebels stepped up attacks on Kiev government forces. They violated the wobbly truce 45 times in the past 24 hours, the Defense Ministry said on Facebook today. One civilian and one soldier were killed, according to state authorities. European leaders said they hoped the agreement would help mend ties between the two countries and ensure some comfort for citizens as winter nears.
The 28-nation EU sought to avoid a repeat of 2006 and 2009, when disputes between the former Soviet republics over gas debts and prices led to fuel transit disruptions and shortages across Europe amid freezing temperatures. Shipments of gas to Ukraine may resume within 48 hours of receiving Kiev's first payment, OAO Gazprom Chief Executive Officer Alexey Miller said in an interview aired today on the state-run Rossiya 24 TV channel.
"This is a technical arrangement that will work in the next five months," Arkady Moshes, the head of the EU's Eastern Neighborhood and Russia research program at the Finnish Institute of International Affairs, said by phone. "Ukraine isn't necessarily on the winning side here, but economically, it is an agreement it can live with."
Gas Drops
U.K. gas for December, a European benchmark, fell as much as 2.7 percent on the ICE Futures Europe exchange, the most for a front=month contract since Sept. 19. The contract dropped to 54.08 pence a therm ($8.64 a million British thermal units), the lowest since it started trading in Aug. 2010, and was 2.1 percent lower at 54.4 pence a therm by 12:54 p.m. London time.
The yield on Ukraine's dollar-denominated bonds due in 2017 dropped 15 basis points to 13.33 percent by 2:35 p.m. in Kiev. The bonds headed for the biggest monthly gain since May.
Tensions remained even as the sides made progress on fuel supplies. The EU yesterday rebuked Russia for an announcement by Foreign Minister Sergei Lavrov that the country would recognize separatist elections planned for Nov. 2 in Ukraine's rebel-held territories. The conflict in east Ukraine has killed at least 3,700 people, the United Nations estimates.
German Chancellor Angela Merkel won't recognize the upcoming vote in east Ukraine, Georg Streiter, the deputy government spokesman, said in Berlin today.
'Big Picture'
The separatist elections "matter a lot more in terms of the big picture than the gas deal," Moshes said. "While the cease-fire, the military part of the Minsk agreements, was dead already from the beginning, now the political part will be killed."
Under yesterday's agreement, Russia said it would resume sending natural-gas to Ukraine -- halted since June -- after receiving the first tranche of debt repayment and upfront payments for future deliveries.
Ukraine agreed to pay $3.1 billion to Russia by the end of this year to partially cover what Russia estimates is $5.3 billion owed by NAK Naftogaz Ukrainy to OAO Gazprom. The first tranche, $1.45 billion, "may come through by the end of next week," Gazprom's Miller said.
Ukraine has funds to pay for 4 billion cubic meters of gas purchases in November and December, Ukrainian Energy Minister Yuri Prodan said. The EU and the International Monetary Fund will help Ukraine make payments. The EU depends on Russian gas piped across Ukraine to meet about 15 percent of its demand.
New Government
Poroshenko and Yatsenyuk have vowed to create a government of pro-European parties to steer the nation of more than 40 million people as it struggles with the seven-month insurgency in the east.
A humanitarian aid convoy from Russia entered into Ukraine today and the country hasn't been able to inspect it, military spokesman Andriy Lysenko said in Kiev. Russia was still sending personnel and arms to the rebels, according to Lysenko.
The U.S. and the EU blame Russian President Vladimir Putin's government for instigating the conflict. While Russia denies involvement, it will recognize elections rebel-held in the Donetsk and Luhansk regions, Lavrov said in an Oct. 28 interview with Izvestia newspaper. His ministry said in a statement that Russia thought tensions would ease after last week's ballot, but that wasn't happening.
The EU said Lavrov's comments would exacerbate the conflict and undermine a cease-fire agreed on Sept. 5.
"We deplored the comments made by Russian Foreign Minister Lavrov regarding the forthcoming elections on the territory of the self-proclaimed Luhansk and Donetsk People's Republics," Maja Kocijancic, spokeswoman for EU foreign-affairs chief Catherine Ashton, said yesterday. "It would disrupt progress that would lead to the finding a sustainable political solution."
Before it's here, it's on the Bloomberg Terminal.
LEARN MORE