Kuroda Jolts Markets With Assault on Deflation Mindset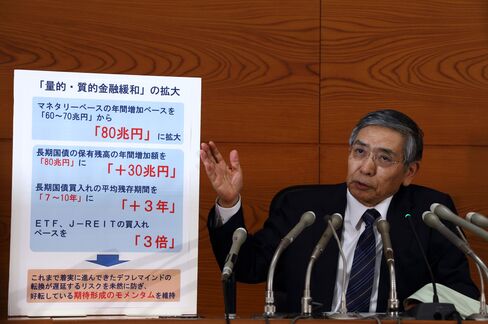 Today's decision to expand Japan's monetary stimulus may be regarded as shock treatment in the central bank's effort to affect confidence levels.
Bank of Japan Governor Haruhiko Kuroda's remedy to reflate the world's third-largest economy through influencing expectations saw the yen sliding and stocks climbing. Kuroda led a divided board in Tokyo in a surprise decision to expand unprecedented monetary stimulus.
Bank officials hadn't provided any hints in recent weeks that additional easing was on the cards to help reach the BOJ's inflation goal. Kuroda, 70, repeatedly indicated confidence this month that Japan was on a path to reaching his 2 percent target in the coming fiscal year. Just three of 32 economists surveyed by Bloomberg News predicted extra easing.
"We have to admit that this is sort of a second shock -- after we had the first shock in April last year," said Masaaki Kanno, chief Japan economist at JPMorgan Chase & Co. in Tokyo, referring to the first round of stimulus rolled out by Kuroda in 2013. Kanno, who used to work at the BOJ, said "this is very effective," especially because it comes the same day as the government pension fund said it will buy more of the nation's stocks.
Currency Communicator
The BOJ chief, a former Finance Ministry bureaucrat who at one time was in charge of currency affairs, had repeatedly said that the central bank wouldn't hesitate to expand asset buying if necessary. At the same time, his public confidence in Japan being on a path to reach the inflation target left the idea that no stimulus was coming today, Kanno said.
"Kuroda loves a surprise -- Kuroda doesn't care about common sense, all he cares about is meeting the price target," said Naomi Muguruma, a Tokyo-based economist at Mitsubishi UFJ Morgan Stanley Securities Co., who correctly forecast more stimulus today. "Kuroda knows that when he moves it must be big and surprising."
The BOJ is aiming to pre-empt any risk of a delay in ending Japan's "deflationary mindset," it said in today's policy statement. Kuroda later told reporters that surprising the markets wasn't his intention.
Snuffing out expectations of price declines has been core to Kuroda's strategy to end Japan's two decades of malaise. The BOJ has been counting on rising inflation expectations and a narrowing gap between demand and supply to boost inflation to a 2 percent goal.
Easing Inflation
A decline in demand following April's sales-tax increase and the tumble in oil prices are putting downward pressure on prices in Japan. Today's decision came hours after a government report showed that core inflation eased to the slowest pace in six months in September.
The 3 percent gain in core consumer prices -- the BOJ's main gauge -- was just 1 percent with the effects of April's sales-levy hike stripped out.
The BOJ today reduced its estimate for the core consumer price index, which excludes fresh food and increases to sales tax, to 1.7 percent for the fiscal year through March 2016, from 1.9 percent previously. The bank kept its forecast at 2.1 percent for the following year.
The central bank won't hesitate to act again if needed, Kuroda said, pointing out there's still room for additional measures.
The BOJ acted as skeptical views mount over the effect of quantitative easing, according to Citigroup Inc. economists Kiichi Murashima and Naoki Iizuka.
"If the impact of today's action on the economy and prices proves limited, the impact on financial markets may also prove short-lived," they wrote in an e-mailed note.
Before it's here, it's on the Bloomberg Terminal.
LEARN MORE