HSBC Board Member Regrets Likening Protesters to Freed Slaves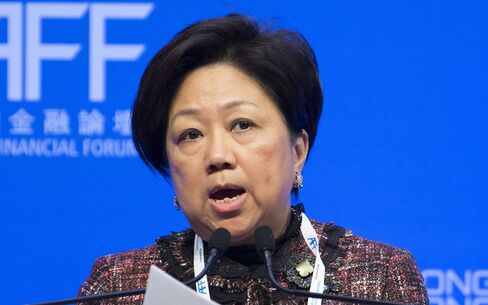 An HSBC Holdings Plc board member said she regrets causing concern with comments that Hong Kong pro-democracy demonstrators must be prepared to wait for full voting rights just as emancipated slaves in the U.S. did.
"American slaves were liberated in 1861 but did not get voting rights until 107 years later, so why can't Hong Kong wait for a while?" Laura Cha, who also serves on the city's governing executive council, said at an Oct. 29 event in Paris to promote Hong Kong, the Standard newspaper reported.
The remarks led to an online petition that had garnered almost 5,000 electronic signatures by 3:30 p.m. in Hong Kong today. "We the Hong Kong people will not stand for these remarks likening our rights to slavery, nor will we stand for the kind of voter disenfranchisement her and her associates attempt to perpetuate on the Hong Kong public," the petition states.
"Mrs. Cha's comment on the Civil Rights Act and the Voting Rights Act was by way of example that every country's path to democracy was evolved in its own historical context," she said in an e-mailed response to a questions. "She did not mean any disrespect and regrets that her comment has caused concerns."
Pro-Democracy demonstrators have been occupying a large swathe of Hong Kong for more than a month to try to pressure the government in Beijing for a free and open election for chief executive in 2017. The protest was triggered by a decision by the National People's Congress in August that candidates for the post would have to be vetted by a committee, a mechanism likely to guarantee loyalty to China, the demonstrators say.
Right to Vote
Slavery was abolished in all of the U.S. after the end of the Civil War in 1865 and black people were granted the right to vote by the 15th Amendment to the Constitution, which was ratified in 1870. The Voting Rights Act was passed in 1965 to prohibit racial discrimination in voting.
"The 107-year plight of African-Americans to the Civil Rights Act, enacted in 1964 to protect African-Americans from voter intimidation, disenfranchisement and unfair voting requirements and restrictions, is not entirely dissimilar to the kind of voter disenfranchisement her and the governments she represents are trying to force on the Hong Kong public," the petition said.
It also questioned whether Cha was fit to continue to serve on HSBC's board. "We do understand her work in the public sector may not reflect her work at HSBC, but we do feel strongly that her insensitivity and disregards for the general public may affect her judgment in handling the governance of HSBC."
The bank has no comment on the Hong Kong protest movement, spokesman Gareth Hewett said by e-mail.
Political Issues
"I will stick to the bank's principle and refrain from commenting on political items and issues, including Occupy Central," Peter Wong, HSBC Asia Pacific chief executive officer, said at an event today. "I noticed the speech that Laura Cha made the other day. I will not comment on it."
Wong also signaled that the protests could harm Hong Kong.
"Social instability in any country undermines investor confidence, and Hong Kong in not an exception," he said.
Before it's here, it's on the Bloomberg Terminal.
LEARN MORE