China's Clandestine Submarine Caves Extend Xi's Naval Reach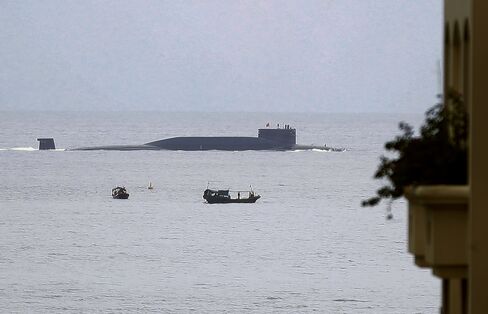 Beneath the surface of the South China Sea off the tropical Chinese resort island of Hainan, an underwater tunnel guides submarines into a lair reminiscent of a James Bond spy movie.
From this pen the subs can venture in and out of the contested South China Sea hidden from the prying eyes of reconnaissance planes deployed by the U.S. Navy, which for the past half century has enjoyed almost unfettered access to the waters, say military watchers who cite satellite images of the area.
The fleet of diesel and nuclear-powered submarines reflects President Xi Jinping's efforts to ensure the security of sea lanes vital for feeding the economic growth on which the nation's stability rests. It's also provoked discomfort among neighbors bruised by China's approach to territorial disputes.
As countries from India to Australia and Vietnam spend tens of billions upgrading their underwater fleets, cluttering the sea as well as the sky with the reconnaissance craft that follow, the risk is that a clash that previously might have been limited to coast guard and fishing boats spills into military conflict.
"Countries are saying: we need to put into place some kind of credible force that puts doubt into the mind of a Chinese admiral," said Bill Hayton, author of "The South China Sea: The Struggle for Power in Asia." "They are clearly thinking about that because otherwise why are they buying submarines and anti-ship missiles?"
Defense spending in Asia and Oceania rose 3.6 percent to $407 billion in 2013, according to the Stockholm International Peace Research Institute, making it the only region where spending increased every year since SIPRI began collecting the data in 1988. That was led by a 7.4 percent rise in China's spending, with a 5 percent increase for Southeast Asia.
China's Fleet
The People's Liberation Army Navy has 56 attack submarines, of which 51 are conventional diesel-electric and five are nuclear powered, according to a U.S. Department of Defense report to congress published in April.
China also has three nuclear-powered submarines that can launch ballistic missiles, and may add five more, according to the Pentagon report. The report said these subs will this year carry the JL-2 ballistic missile, which has an estimated range of 7,400 kilometers (4,600 miles) and will "give the PLA Navy its first credible sea-based nuclear deterrent."
A range of that distance would allow the missiles to reach Hawaii if launched from the Western Pacific, and California if fired from the mid-Pacific, according to Dean Cheng, a research fellow on Chinese political and security affairs at The Heritage Foundation in Washington.
'Local Wars'
The subs, armed with anti-ship cruise missiles and torpedoes, will help Xi as he seeks to realize another goal: readying the military to fight and win "local wars" in the information age. Under that scenario China would let loose its submarines, air force and surface and sub-surface missile power, managed by a state-of-art command system that integrates everything from computers to intelligence.
"The level of improvement they have achieved over the past 20 years in platforms - ships, aircraft, missiles, land vehicles, tanks, submarines - isn't matched by the integration that the Americans are so good at," said Sam Roggeveen, an analyst at the Lowy Institute in Sydney who specializes in China's military technology.
Xi continues to call on the military to get into shape, saying on Sept. 22 the PLA should improve combat readiness and sharpen its ability to win a regional war.
First Blood
The need to glean just how prepared they are explains the U.S. surveillance flights near China's coast, one of which led to an Aug. 19 encounter that the Pentagon described as ''unsafe and unprofessional'' after a Chinese fighter jet flew within 20 feet of a U.S. P-8 Poseidon aircraft near Hainan.
"China's advance in submarine capabilities is significant," Admiral Samuel Locklear, head of the U.S. Pacific Command, told the U.S. Senate in March. He later told Senator Kelly Ayotte that it was unfortunate that defense budget cuts meant the U.S. attack submarine fleet would shrink from 55 to 42 by 2029, according to DefenseNews, a security publication.
"Submarines are probably the most powerful weapon, apart from nuclear bombs, because they are stealthy and quiet and potentially omnipresent," said Cheng. "In a naval conflict they are most likely to draw first blood."
Territorial Tensions
China's modernization program is reflected in the presence of missile-bearing submarines in the South China Sea, where it claims about 90 percent of the area and has disputes with countries such as Vietnam and the Philippines. About half of the world's merchant tonnage flows through the South China Sea, carrying about $5.3 trillion of goods each year.
Tensions flared in May when China moved an oil rig into waters claimed by Vietnam and again after it completed an upgraded airstrip in the contested Paracel Islands. China's artificial island project in the Spratly Islands is another irritant to countries in the region that have territorial claims in the area.
When asked about reports that PLA Navy chief Admiral Wu Shengli last month toured land reclamation work in the South China Sea, defense ministry spokesman Yang Yujun replied that China has indisputable sovereignty over the islands.
"We have come past the point in the past 12 months where China can explain its own behavior as a reaction to what others are doing," said Roggeveen. "The oil rig wasn't a response, it was a preemptive Chinese move."
Colombo Stopover
Forays by Chinese submarines through the Malacca Strait and into the Indian Ocean are cause for unease in India. Its navy unveiled its first home-built anti-submarine warship in August and Prime Minister Narendra Modi vowed to bolster the country's defenses so that "no one dares to cast an evil glance at India."
Those concerns were fueled when a diesel-electric Type 039 Song Class submarine docked at the Chinese-funded International Container Terminal in the Sri Lankan capital of Colombo in September, days before a visit by Xi to New Delhi. The Indian Ocean is home to shipping lanes carrying about 80 percent of the world's seaborne oil, mostly headed to China and Japan.
"If you are dependent upon seaborne commerce and if you're not comfortable with your dependence on another power's ability to dictate your access to the seas, then you're going to want to develop your own capabilities to protect the sea lanes yourself," China's state-run Global Times said in an Oct. 20 article.
The submarine stopped in Colombo en route to the Gulf of Aden off the coast of Somalia to join a navy escort mission, China's defense ministry said in response to faxed questions.
Regional Buildup
As China extends its range, regional navies are responding. India is beefing up its fleet of 15 submarines, saying Oct. 25 it will spend 800 billion rupees ($13 billion) to build them locally. India took delivery of its fifth Boeing's P-8I maritime patrol aircraft last month.
Vietnam has received three kilo-class submarines from Russia and is scheduled to get another three by 2016, Thanh Nien newspaper reported in March. The subs are diesel-electric and are part of a deal signed in 2009 worth $2 billion, the paper reported.
Indonesia plans to field 12 submarines and is buying two from Daewoo Shipbuilding & Marine Engineering, according to IHS Jane's Defence Weekly.
Australia is looking to replace and expand on its six aging Collins Class diesel-electric guided missile submarines, according to the government. It may spend about A$20 billion ($17.6 billion) on as many as 12 new submarines, the Australian Financial Review reported Oct. 28.
Hainan Hub
Singapore, which has six submarines, has ordered two more from ThyssenKrupp Marine System GmBH. Taiwan has four submarines, two of which are outdated for operations and are used for training, according to GlobalSecurity.org, a Virginia-based security website. It plans to build its own and will need help from the U.S. and others, according to the Ministry of National Defense.
The development of Hainan sits at the center of China's submarine strategy, according to Felix Chang, a senior fellow at the Foreign Policy Research Institute in Philadelphia. The island has been home to a submarine base since World War II on the southeast area of Sanya, now an upscale tourist destination.
'Relatively Cramped'
As Sanya become more built up, the PLA Navy started to develop new sites. One to the south west that will probably be for conventional submarines, and two areas on the western side of Yalong Bay to Sanya's west: a surface vessel base with two long piers capable of mooring an aircraft carrier to the north, and to the south a base probably designed for nuclear-powered submarines with only one road link, which Chang said indicates its high security level.
Jutting from the shore four piers are discernible, enough to moor 8 submarines. To the south of those piers is the underwater tunnel, about 16 meters wide, leading to a cave dug out from under a hill, said Chang.
"I don't imagine the submarine tunnel at Yalong Bay to be as spacious as the James Bond villain's lair," he said. "It's probably relatively cramped. Excavating rock and building structural supports are expensive in the real world."
Before it's here, it's on the Bloomberg Terminal.
LEARN MORE