Norway's $860 Billion Wealth Fund Bets Big on Modi's India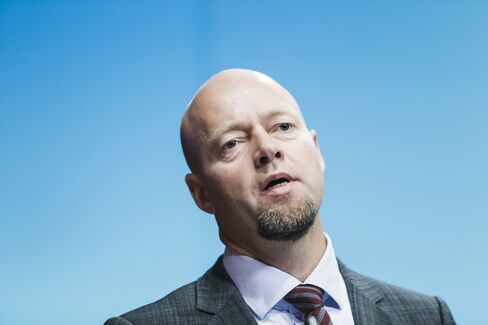 Norway's sovereign wealth fund, the world's largest, will increase its holdings "significantly" in India as Prime Minister Narendra Modi opens Asia's third-largest economy to investments and competition.
The fund today revealed that it raised its holdings of Indian bonds and stocks to 0.9 percent of its fixed-income and equities portfolios, as part of a broader plan to increase its presence in emerging markets and generate bigger returns.
"India is one of those markets where you should expect that we will continue to increase our investments over time, significantly," Yngve Slyngstad, chief executive officer of the Oslo-based fund, said in an interview after a press conference today. "Relative to the size of the economy our investments are smaller than you would expect."
Foreign investors are increasing investments in India at a faster pace than in any of the seven other Asian markets tracked by Bloomberg. The Sensex index has jumped 28 percent this year, rallying after Modi in May won elections by the biggest margin in three decades on promises to create more jobs and lift growth. Since taking power, Modi has shifted toward more market-based energy pricing, allowed more foreign investment in the defense industry and pushed to revive the manufacturing sector.
"The changes that we have seen have given us more confidence that we will have good investment potential in the coming years," Slyngstad said. "We will continue to increase our investments there, both on the fixed-income side and in regards to our company investments."
Indian Growth
At the same time the fund is being blocked from investing more in China and is now again seeking to increase the allocation it has been allotted, according to Slyngstad.
India's $1.9 trillion economy will grow 5.5 percent in the fiscal year through March 2015, its central bank predicts. While that would exceed the previous period's 4.7 percent, it's still slower than the average 8.7 percent pace during the period in 2006 to 2010. Standard & Poor's upgraded its outlook for India's credit rating last month, citing reduced price pressures and a government plan to narrow the budget deficit to a seven-year low of 4.1 percent of gross domestic product.
The Government Pension Fund Global, the wealth fund's official name, rose 0.1 percent in the third quarter, its smallest return since mid-2013, it said today.
Bond Shifts
Slyngstad warned it will become more difficult for the fund to generate high returns after interest rates plunged amid sluggish global economic growth. The fund lost 4.3 percent last quarter on its stock holdings in Europe, which represented 43.6 percent of its equity portfolio. Its North American stocks gained 3.4 percent, while equity holdings in Asia and Oceania rose 2.3 percent.
The biggest government bond increases in the quarter were in Japanese, Indian and Austrian bonds, while the biggest decreases were in government bonds issued by the U.S., France and Germany, the fund said.
Norway generates money for the fund from taxes on oil and gas, ownership of petroleum fields and dividends from its 67 percent stake in Statoil ASA, the country's largest energy company.
Before it's here, it's on the Bloomberg Terminal.
LEARN MORE