U.S. Stocks Rise, Gold Sinks on GDP Report; Oil Declines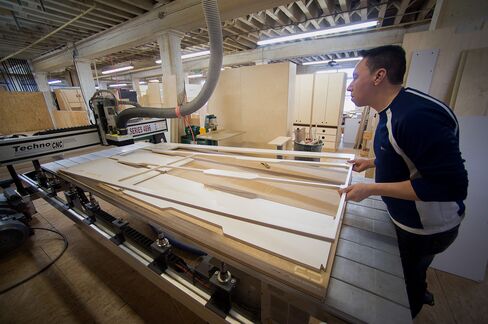 U.S. stocks rose, sending major indexes toward monthly gains amid better-than-expected earnings, while gold erased its advance for the year after data showed the American economy grew faster than forecast. Oil slid as U.S. production surged to the highest level since the 1980s.
The Standard & Poor's 500 Index rose 0.6 percent to close at 1,994.65 in New York, pushing it up 1.1 percent in October. The Dow Jones Industrial Average climbed 1.3 percent to erase its loss for this month, as Visa Inc. rallied the most in three years on plans to boost processing fees. Yields on 10-year Treasuries were little changed at 2.31 percent. Gold fell below $1,200 an ounce and silver tumbled to a 55-month low. Russia's ruble surged the most since at least 2003 against the dollar.
The world's largest economy expanded at a more-than-estimated annualized rate of 3.5 percent last quarter, capping its strongest six months in a decade, while other data showed fewer Americans filed applications for unemployment benefits over the past month than at any time in more than 14 years. MasterCard Inc. to Kellogg Co. posted higher-than-projected profits, fueling stock gains even as an unexpected slowdown in German inflation stoked concerns Europe will slip into a recession just as U.S. bond buying ends.
"Job growth has picked up and the GDP report was a little stronger than consensus," Bob Doll, chief equity strategist at Nuveen Asset Management, said by phone. "That buttresses the view that the economy's getting a little better, so stocks will continue to grind their way higher. It's now about the economy and earnings, we've all overanalyzed the Fed to death."
U.S. Growth
The S&P 500 fell 0.1 percent yesterday after the Fed said it would end its quantitative easing program. Officials said labor market conditions "improved somewhat further," and that a range of indicators suggests that "underutilization of labor resources is gradually diminishing." The central bank reiterated its commitment to keep key interest rates low for a considerable time.
Visa rallied 10 percent, the most since 2011, and MasterCard added 9.4 percent as the two largest U.S. payment networks reported results that topped analysts' estimates. About 80 percent of S&P 500 companies that have posted quarterly earnings this season have topped analysts' estimates for profit, while 59 percent beat sales projections, data compiled by Bloomberg show. Kellogg gained 2.5 percent today.
Energy producers in the S&P 500 were the only group decliners today as crude oil resumed its selloff. Avon Products Inc. plunged 9 percent as revenue fell short of forecasts.
Visa Weighting
The Dow climbed 221.11 points to 17,195.42, the highest level in a month. The gauge is within 85 points of a record close. Visa trades above $200 a share, giving it the biggest weighting in the 30-member index that ranks stocks by price rather than market capitalization. The credit-card company has the 16th largest weighting in the S&P 500.
"The price-weighting thing is kind of strange," Bob Landry, a portfolio manager who helps oversee $22.3 billion at USAA Investment Management Co. in San Antonio, said by phone. "It's an index that's been in existence for so long and a staple of the industry, but when I talk about the market I talk about the S&P."
The computer system that carries prices for thousands of equities listed on the New York Stock Exchange malfunctioned today, sowing confusion among traders. The issue was later resolved.
Citigroup Falls
Citigroup Inc., the third-largest U.S. bank, dropped 2 percent in extended U.S. trading after saying third-quarter profit was $600 million less than previously reported because of an increase in legal costs. The lender also said the U.S. Department of Justice and the Commodity Futures Trading Commission, as well as other jurisdictions including the U.K. and Switzerland were probing its foreign exchange business.
The Bloomberg Dollar Spot Index rose 0.1 percent to touch a three-week high as central banks around the world give investors the green light to buy the U.S. currency.
The greenback rose 0.2 percent to $1.2613 per euro after earlier appreciating to $1.2548, the strongest level since Oct. 6. The shared currency is headed for its biggest annual drop since 2005. The dollar added 0.3 percent to 109.21 yen, and reached three-week intraday high of 109.47.
Slower-than-expected inflation in Germany may not bode well for the euro area, where price gains have been less than the European Central Bank's goal. Data tomorrow will show euro-area consumer prices rose 0.4 percent this month from a year earlier, according to a survey of analysts.
'Net Negative'
"Most of the data over the last month has been net negative coming out of Germany, and this is just another example of that," Michael James, a Los Angeles-based managing director of equity trading at Wedbush Securities Inc., said in a phone interview. "Europe in general remains a headwind."
Greek bonds fell, sending 10-year yields up 48 basis points, or 0.48 percentage point, after Minister of Administrative Reform Kyriakos Mitsotakis said investors face a rollercoaster ride as the government tries to contain the risk of snap elections.
The Stoxx Europe 600 climbed 0.6 percent, erasing an earlier drop of 1.1 percent, as 16 of the 19 main groups advanced. European shares have fallen 5.3 percent since a September high as concern increased that European Central Bank stimulus measures won't be enough to spur growth, while China's economy is slowing.
Gold Rout
The Bloomberg Commodity Index sank 1 percent as gold futures for December delivery tumbled 2.1 percent to settle at $1,198.60 an ounce, leaving prices down 0.3 percent in 2014. Silver futures plunged 4.9 percent to $16.42 an ounce, the biggest drop since Sept. 20.
"Gold dipped further on the stronger-than-expected GDP print and weekly claims" for jobless benefits, Tai Wong, the director of commodity product trading at BMO Capital Markets Corp. in New York, said by phone. "The market was already under pressure as the Fed ended the QE, and there are no worries about inflation."
West Texas Intermediate oil fell 1.3 percent to settle at $81.12 a barrel, retreating from a one-week high after U.S. crude production surged to the highest level since the 1980s. Brent futures slid 1 percent to $86.24 per barrel.
The Russian ruble strengthened as much as 5.1 percent to 41.0005 per dollar, the biggest increase on record, according to Moscow Exchange data. The currency slid 5.2 percent over the previous six days, even as the central bank ramped up interventions to slow its decline. One-month non-deliverable forwards on the currency added 3.9 percent to 41.8548 per dollar.
Before it's here, it's on the Bloomberg Terminal.
LEARN MORE