Gasoline Price Study to Fuel Debate on U.S. Oil Exports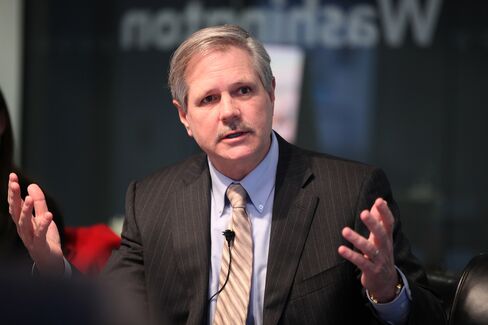 The push to end a four-decade limit on exporting U.S. oil may get a boost from a government study set for release as soon as today that will explain the relationship between crude oil and domestic gasoline prices.
Supporters of lifting the ban anticipate the Energy Information Administration analysis will affirm what they suspect: that overseas sales won't raise the price Americans pay at the pump because the price of gasoline is tied to the global oil supply.
While some recent studies have reached a similar conclusion, the analysis from the non-partisan EIA could make a stronger impression with lawmakers.
"We don't have to prove gas prices are going to go down," Robert Dillon, a spokesman for Senator Lisa Murkowski, an Alaska Republican, said in an interview. "We just have to prove they aren't going to go up."
The EIA analysis is being released at a crucial time. Next week's midterm elections could give Republicans control of the Senate, and Murkowski, a big backer of exports, leadership of the committee with jurisdiction over energy policy.
"It legitimizes the debate," said David Goldwyn, president of energy consultant Goldwyn Global Strategies LLC, said of the EIA study in a phone interview. "It's politically significant when EIA says it because that's who the government quotes."
Jonathan Cogan, an EIA spokesman, said there's a "very good chance" the report will be released today.
Global Prices
Goldwyn said he thinks the EIA analysis will back earlier assessments showing that U.S. crude sold overseas will force down global oil prices and therefore might even lower domestic gasoline costs.
Lifting the restrictions faces steep political challenges, lobbyists and energy analysts said. Democratic Senators Edward Markey of Massachusetts and Robert Menendez of New Jersey have led calls in Congress to keep the export limits in place.
It isn't clear how many Republicans want to end or ease the restrictions.
Senator John Hoeven of North Dakota, the nation's No. 2 oil-producing state, has said he wants more assurances that any exports wouldn't significantly raise gasoline prices. House Energy and Commerce Chairman Fred Upton, a Michigan Republican, is still studying the issue, said spokeswoman Charlotte Baker.
Some recent studies have supported lifting the limits, which Congress adopted as law in the 1970s in response to the Arab oil embargo that sharply cut supplies and raised prices. The law requires licenses under restrictive conditions for exports, in effect banning the practice.
Record Production
With U.S. production on the rise -- EIA says it may reach its highest point in four decades next year -- critics of the ban say it does more harm than good. A glut of domestic oil could push prices lower and discourage companies from investing in new wells.
The debate focuses on whether higher U.S. oil costs lead to higher gasoline prices. A Government Accountability Office report Oct. 20 showed lifting the oil-export limits may cut the per-gallon U.S. retail gasoline prices by 1.5 cents to 13 cents even as the West Texas Intermediate, the U.S. oil benchmark, rises.
Other studies this year, including those from the Brookings Institution and consultancy IHS Inc., have drawn similar conclusions.
"We have free trade of gasoline, but we do not have free trade of crude," Kurt Barrow, a vice president in IHS's energy division, said in a phone interview. "If prices are weak in the U.S. -- below international levels -- the refiners will start sending more overseas," where they can fetch a higher price for gasoline, he said.
Refined Products
Refined products such as diesel or jet fuel aren't subject to the restrictions.
Crude and gasoline prices have declined this year. Per-barrel Brent futures are down 24 percent, to $86.80 yesterday on the Intercontinental Exchange from $115.06 on June 19, in part because of weakening global demand, according to the EIA. Gasoline futures on the New York Mercantile Exchange declined to $2.22 a gallon yesterday from this year's high of $3.13 a gallon on June 20.
The EIA report will be the first of at least three the agency is preparing on crude that policymakers will consider in the debate over crude exports, said Patrick Hughes, an analyst at Height Securities LLC in Washington. EIA also is studying the technologies and costs associated with processing crude and preparing a detailed analysis of production forecasts.
Crude, Gasoline
"The gasoline price question is something that needs to be addressed from a political standpoint because many consumers, I think, have a fear that crude exports equal higher gas prices," Hughes said in a phone interview.
"In general, domestic gasoline prices are priced off of the global benchmark," he said. "More oil in the global system allows for a lower gasoline price."
The U.S. last year produced about 7.4 million barrels of crude per day, according to the EIA. The nation exported about 134,000 barrels a day, almost entirely to Canada, under exceptions to the export prohibition.
A group of 14 oil producers including Anadarko Petroleum Corp., ConocoPhillips, Hess Corp. and Pioneer Natural Resources Co. on Oct. 24 announced a lobbying coalition to end the crude-export limits.
A refiners' group including the U.S. unit of Alon Israel Oil Co. and PBF Energy Inc. is lobbying against lifting the restrictions. The U.S. has the refining capacity to handle as much as 4.3 million barrels per day of light oil from shale regions through 2020, the group said, citing a study Dallas-based consultancy Baker & O'Brien Inc. prepared for the coalition.
'Good Brand'
"EIA has a very good brand on Capitol Hill," said Stephen Brown, a lobbyist at Tesoro Corp., a San Antonio-based refiner that is not part of the refiners' lobbying group.
A study from the agency linking looser export restrictions, lower Brent prices and lower U.S. gasoline prices would "provide more comfort to lawmakers than any of the other industry-sponsored studies already completed," Brown said. "That said, constituents will ultimately have to signal acceptance of this dynamic before lawmakers are ready to jump off the abyss by taking a vote."
Before it's here, it's on the Bloomberg Terminal.
LEARN MORE