P&G-Whirlpool Skunkworks Cleans Your Smelly Shirts Fast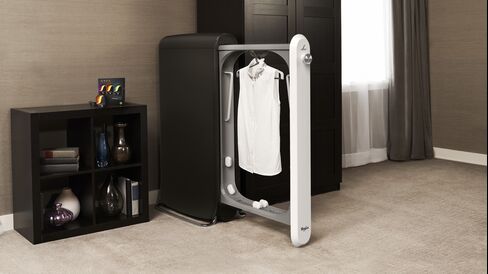 The new product pitched to Whirlpool Corp. executive Marc Bitzer three years ago wasn't all that new. Whirlpool had tried to sell two previous versions of the device, which was designed to clean clothes that didn't need much cleaning. Both flopped.
So, when about 20 designers and technicians came to Bitzer in July 2011 to propose yet another iteration of the same gadget, he was prepared to nix it.
"I was lukewarm, very honestly, because I had seen excitement before," recalls Bitzer, who oversees North America, Europe, Africa, and the Middle East for the home appliance giant.
Within two hours, Bitzer was a cheerleader for something called a Swash. He was converted by devotees who'd traveled from the Cincinnati headquarters of Procter & Gamble Co.
Three months ago, Swashes developed jointly by Whirlpool and P&G started showing up in select Bloomingdale's stores and Delta airport lounges. Salespeople explained how the Swash, a four-foot-high, steel-and-plastic box shaped like a radiator, could in just 10 minutes unrumple a cocktail dress or whisk cigar stench from a sport jacket, almost as if they'd gone through a wash cycle or a trip to the dry cleaner.
Online ads and videos said the Swash would cut dry cleaning bills in half by letting people re-wear dress shirts, sequined dresses, wool sweaters, and other clothes they'd normally toss in a hamper after one wearing or, in the case of $300 designer jeans, never wash at all.
'Personal Miracle'
"Laundry-averse slobs, rejoice," wrote a reviewer on Fast Company's design website.
For the $499 price of a Swash -- now available nationwide - - consumers could buy a new smartphone or an actual washing machine. As executives from both companies say, the Swash serves a need that many people aren't aware they have, or might decide they don't have.
Scott Cooke could be the perfect customer -- or not. A principal at marketing firm GCK Partners, he says he's meticulous about his clothing.
"Swash sounds like my own personal miracle," Cooke says. "I have a pair of A.P.C. jeans that only got wet once when I swam in salt water as the label says. I have similar rituals for shirts I don't want to fade, sweaters by Martin Margiela that I don't want to hurt by dry cleaning." He's less certain about needing a Swash. "It's a luxury," he says. "It's like something for single guys or Orange County housewives with a closet the size of my New York apartment."
Symbiotic Relationship
The companies declined to disclose specific Swash sales numbers. The product is hardly make-or-break for Whirlpool, with $18.8 billion in revenue last year, or P&G, with $83 billion. Even if it's a washout, the Swash succeeded in inducing the companies to firm up a historically symbiotic relationship that had weakened.
Go Unlimited, a joint venture the two quietly formed to bring the Swash to market, is working on additional products. The Swash is a platform for other, entirely new ways to care for clothes, Whirlpool and P&G executives say, declining to provide more details.
Bryan Aown, Whirlpool director of new business creation and innovation, still keeps one of the Swash precursors in his basement. He uses it to delouse his hockey gear. He attended the 2011 pitch meeting with Bitzer and has led Whirlpool's Swash team. "I'm concerned we're not going to be able to produce enough," he says.
Kate Upton Ancestors
Even though Whirlpool and P&G each introduce upwards of 50 products each year, they no longer leap to mind as innovators. About the sexiest thing you can say about either is that Whirlpool was founded by ancestors of model Kate Upton.
The age-old Rust Belt companies, which rose to prominence last century on sturdy brands like Kitchen-Aid, Crest, and Amana, have collaborated on-and-off for decades. Newspaper ads from the 1960s show a smiling woman in a red-and-white dress extolling the virtues of using P&G's Tide detergent with a Whirlpool washer. Executives regularly ferry between Cincinnati and Whirlpool headquarters in Benton Harbor, Michigan. Whirlpool leans on P&G for consumer insight, while P&G relies on Whirlpool's manufacturing chops.
In the late 1990s, the companies had gathered research indicating Americans increasingly were wearing clothes more than once between cleanings. More remarkable, they were admitting it. Michael Grieff, P&G's research-and-development director for new business creation, says when he started at the company 23 years ago, "Nobody would ever talk about re-wearing their clothes. It was almost like talking dirty."
Already-Worn Shirt
Whirlpool and P&G thought people might go for an appliance that would freshen up already-worn clothes with a minimum of hassle. The two product failures followed.
The first, developed jointly and introduced in 2001, was a large, wardrobe-like piece of furniture that sold for as much as $1,200 and took half an hour to spruce up a shirt. In 2005, Whirlpool tried again on its own with a collapsible garment bag that used distilled water to freshen fabrics.
"Customers would be walking by it on the floor at a Lowe's or a Sears and they wouldn't know what it was," says Brett Dibkey, a Whirlpool vice president.
When Dibkey assumed responsibility for global new business creation at Whirlpool in 2010, the relationship with P&G had become "hot-and-cold," he says, partly because of the product flops. He flew to Cincinnati "a little bit hat in hand," he says. "We felt the need to redefine the relationship." A series of meetings between Whirlpool CEO Jeff Fettig and then-P&G CEO Bob McDonald followed.
Re-Wear Market
Soon a group of Whirlpool and P&G people were assembling in a Chicago conference room before the skeptical Bitzer. Although exploiting the re-wear market had become "almost toxic" at Whirlpool, according to Dibkey, P&G wanted to take another crack. Grieff, who has spent virtually all of his P&G career in laundry, did most of the talking.
He showed Bitzer a series of slides. One said 91 percent of Americans were now saying they regularly wore clothes more than once between cleanings, up from 76 percent in 2007. Another showed 43 percent of men's pants had fabrics suited to re-wear, up from 14 percent in 2008.
Almost 70 percent of consumers had told P&G that they avoided buying clothes requiring excessive care. The company calculated that there were almost 40 billion re-wear occasions in the U.S. each year.
"That was an opportunity," Bitzer says.
Prototypes Tested
P&G had given a few dozen non-working prototypes built on foam cores to consumer testers. Some devices were tall and thin with vertical drawers that pulled out of the front. Others more closely resembled dressers. Company researchers arrived in test homes at 6 a.m. to observe morning routines.
Grieff told Bitzer that P&G had also distributed working prototypes to about 200 consumers in the Cincinnati area. By then it was clear that most people choose their daily outfit around the time they shower. If consumers were going to use a Swash to freshen something already worn, the machine would have to do its work in 10 minutes or less.
The appliance also would need to be nice-looking enough that consumers wouldn't mind stowing it in their bedrooms rather than laundry rooms where it might be forgotten, Grieff said. And it had to be a simple, one-button device. P&G wanted Whirlpool's help in making the thing both practical and pretty.
'A Little Humbling'
"It was a little humbling," Dibkey says, "because they were taking what were our failures and learning from them."
An issue from past collaborations nagged: The companies didn't want to waste time haggling over how to split Swash revenue or seeking approvals up and down company hierarchies. Executives also wanted to do away with the P&G-this-Whirlpool-that mindsets of previous ventures and have the companies behave as one, with a singular goal: creating something entirely new to both.
They incorporated Go Unlimited, a separate entity owned 51 percent by P&G, 49 percent by Whirlpool, and staffed by a few dozen Whirlpool and P&G employees, some full-time, some part-time, all working together. Whirlpool ensconced its Swash team in a vacant building half a mile from the company's main campus in Michigan.
A black-and-white sign outside identifies it as the Garage. It's a high-ceilinged cavern of concrete floors and corrugated steel walls that decades ago housed a shipbuilding company. Birds and raccoons squatted there until Whirlpool's Swashers moved in.
Playground Slide
Engineers, designers, marketers, and salespeople work side-by-side amid high-topped tables and rolling tool boxes. A 3-D printer and wood-modeling gear help churn out prototypes. Workers take meetings on a scruffy mezzanine where they can whoosh down a playground slide transplanted from a contractor's backyard. "We really wanted a slide," Dibkey says.
Go Unlimited also leased a bare-bones office near Indianapolis where the Swash teams from Ohio and Michigan regularly meet for a few days at a time, bonding after work at a nearby sports bar.
"I don't believe too much resources help with innovation," Bitzer says. "If they knew the companies were going to put $100 million into a marketing campaign, they would've acted differently."
The earlier Swash prototypes would not do for paying customers. Some of P&G's early versions drew so much electrical power that they blew fuses. Spray nozzles inside the box, as many as 32 in some versions, left unsightly wet spots.
Spritz-and-Dry Cycle
More prototypes were dispatched to test homes. Inside the boxes, consumers could hang an item of clothing, securing it with plastic clips attached to stretchy cords. Testers then inserted into the device a small cup -- similar to a Keurig coffee pod -- filled with a water-based chemical solution, and pushed a button to start the spritz-and-dry cycle.
A big challenge was figuring out how to get garments uniformly wet and then dry them within the 10-minute shower deadline. Proper wetting depended on variables including the viscosity, or thickness, of the solution inside the pod, and the relative size, number, and placement of nozzles dispersing it.
There had to be enough liquid to ensure coverage of a piece of clothing, though not so much that leftover would drip into the bottom of the machine. Drying heat had to be sufficient to remove wrinkles and restore fit without shrinkage.
Nozzle Configuration
"Every time you would change a nozzle configuration, you had to change the liquid, and vice versa," says Lauren Thaman, associate director of communications for P&G global innovation.
Swash team members consulted with agricultural spraying experts at the University of Leuven in Belgium. They experimented with different liquids and nozzle plans, then fed the results into computers that modeled the system now in the Swash: two nozzles on each inner wall, about three inches from the hanging garment.
The pod solution spreads about 30 times faster than water and contains pH-altering agents that neutralize body odor and other acidic aromas. It comes in three scents dubbed Awaken, Recharge, and Unwind.
Back at the Garage, Whirlpool engineers developed a system of recycling air within the device so it would retain heat at 140 degrees Fahrenheit (60 degrees Celsius) while connected to a standard 120-volt outlet. The power draw came down to about that of a blow dryer. The teams made changes based on testers' suggestions, such as making the device taller to accommodate larger garments and shifting the pod slot to the top.
Enthusiastic Testers
Most encouraging to Whirlpool and P&G was the testers' enthusiasm. Some stopped returning calls when it was time to return the prototypes, says Megan Chase, a Whirlpool employee who leads Swash engineering. "That's when we felt we had something really powerful."
Standing next to a Swash set up near a basketball hoop in the Garage, Chase brandishes a plastic vial containing a few ounces of bluish liquid.
"That's how much color is lost when you wash your jeans the regular way," she says.
Of course her company makes machines that wash jeans that way. Chase says the Swash isn't intended to replace washers or dry cleaners. "We think of it like a microwave," she says. "You still use your stove and oven."
Swash production began at a Whirlpool factory in Mexico in July. The companies won't say how many have been built.
Sony's Walkman
"You can't really get through life without a washing machine, but you can get through life without this," says Lloyd Shefsky, a professor at the Kellogg School of Management and author of a new book on innovation.
Cristina Baus, a Euromonitor analyst, says the device will sell better to hotels than households. "I don't see it becoming the next 'it' thing," she says.
Yet the problem of persuading people to buy things they don't know they need has been solved before, perhaps most spectacularly by Sony with its Walkman. Whirlpool and P&G so far are relying on online ads, YouTube videos, Facebook, and Twitter to get the Swash message out.
"People don't know there's a better way. It's our job to teach them," says Corey Moles, Go Unlimited's 34-year-old head of sales, who has a Swash in his bedroom and uses it daily. At $499, Moles says, "We're competing against an iPad." Swash pods cost an additional $6.99 for a box of 12.
The target buyer is "Sam," a hypothetical, androgynous 30-something who has annual income of $80,000 and spends heavily on clothing. Whirlpool and P&G have sought their first Sams in discrete niches at three chains: the fashion-conscious at Bloomingdale's, techie first-adopters at Best Buy, and home improvement enthusiasts at Bed Bath & Beyond.
The Swash might be a squeeze for Sams who live in pricey urban markets. A Bloomingdale's vice president and housewares merchandise manager, Michelle Israel, said in August that Swash was perfect for her upscale chain, but she wasn't sure about getting one herself.
"I live in an apartment in Manhattan, so I'm thinking about it, but space is precious," she said then. Now she has a Swash.
Before it's here, it's on the Bloomberg Terminal.
LEARN MORE