Home Prices in U.S. Show Slower Year-to-Year Increase in August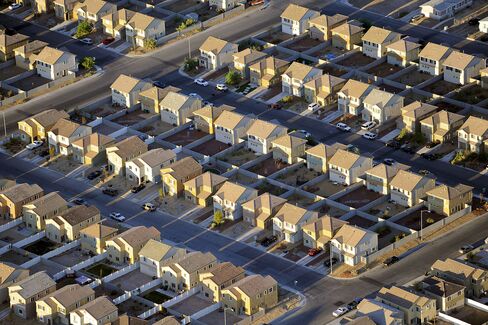 Home prices in 20 U.S. cities rose at a weaker pace in the year ended in August as borrowing standards remain tight and wage gains fail to accelerate.
The S&P/Case-Shiller index of property values increased 5.6 percent from August 2013, the smallest gain since November 2012, after rising 6.7 percent in the year ended in July, a report from the group showed today in New York. The median projection of 32 economists surveyed by Bloomberg called for a 5.7 percent advance. Nationally, prices rose 5.1 percent year-to-year after a 5.6 percent gain in July.
Property costs are appreciating more gradually as investor participation wanes and still-tight credit restrains first-time home buyers from entering the market. The fastest pace of payroll growth since 1999 may help bring stronger wage advances, helping to keep homeownership in reach for more Americans.
"We're going to see a slower pace of increase, prices still going up, but at a slower pace, and that will help pull some of that sideline demand in," said Lindsey Piegza, chief economist at Sterne Agee & Leach Inc. in Chicago. "I do expect prices to continue to slow in order to allow for new demand to come into the marketplace."
Economists' estimates in the Bloomberg survey ranged from gains of 4.9 percent to 10 percent. The S&P/Case-Shiller index is based on a three-month average, which means the August figure was also influenced by transactions in June and July.
Home prices in the 20-city index adjusted for seasonal variations decreased 0.1 percent in August from the prior month, weaker than the Bloomberg survey median that called for a 0.2 percent increase. Unadjusted prices rose 0.2 percent.
The year-over-year gauge, based on records dating back to 2001, provides better indications of trends in prices, the group has said. The panel includes Karl Case and Robert Shiller, the economists who created the index.
National Prices
Nationally, prices rose 0.4 percent in August from the prior month and increased 0.2 percent in unadjusted terms.
Each of the 20 cities in the index showed a year-over-year gain, led by a 10.5 percent advance in Miami and a 10.1 percent pickup in Las Vegas. Cleveland showed the smallest year-over-year increase, with prices rising 0.8 percent.
Borrowing costs flirting with record lows may help draw more buyers into the market. The average rate on a 30-year, fixed mortgage fell to 3.92 percent in the week ended Oct. 23, the lowest since June 2013, according to Freddie Mac data. The rate has dropped by 0.27 percentage point over the past three weeks of reported data.
Lower Rates
"The deceleration in home prices continues," David Blitzer, chairman of the S&P index committee, said in a statement. "Continued labor market gains, low interest rates and slower increases in home prices should support further improvements in housing."
September reports show residential real estate posting modest gains as the industry heads into quieter winter months.
The pending home sales index increased 0.3 percent after dropping 1 percent in August, the National Association of Realtors said yesterday in Washington. The median projection in a Bloomberg survey of economists called for a 1 percent gain.
Contracts climbed 3 percent in the 12 months ended in September after a 4.1 percent annual decline in August, marking the first year-over-year increase since September 2013.
Home Sales
Economists consider pending sales a leading indicator because they track purchase contracts. Existing-home sales are tabulated when a deal closes, usually a month or two later.
Those resales rose last month to a 5.17 million annual rate, the highest level in a year, NAR data showed last week. Demand topped out at a 5.38 million pace in July 2013, an almost four-year high.
Homebuilders such as Westlake Village, California-based Ryland Group Inc. are pointing to economic issues that are supporting the industry, while acknowledging the pace of improvement has been modest.
The industry is seeing advances "thanks to a strengthening employment picture, a favorable affordability dynamic and a low level of housing inventory," Chief Executive Officer Larry Nicholson said on an Oct. 23 earnings call. At the same time, the housing market "still has a long way to go before returning to long-term norms."
Federal Reserve officials meeting today and tomorrow also will consider progress on the employment outlook as they weigh changes to monetary policy. Policy makers will probably bring an end to the bond-buying program while keeping their benchmark interest rate near zero, according to the median forecast of economists surveyed by Bloomberg ahead of the Oct. 29 statement.
Payroll gains on pace for their best year since 1999 are supporting the Fed's normalization of policy and bolstering potential home buyers. Employers have added an average 227,000 jobs per month through September and the unemployment rate has fallen to 5.9 percent from 6.7 percent at the end of last year. The Labor Department will release October figures Nov. 7.
Before it's here, it's on the Bloomberg Terminal.
LEARN MORE