Wal-Mart Apologizes for 'Fat Girl Costumes' Web Page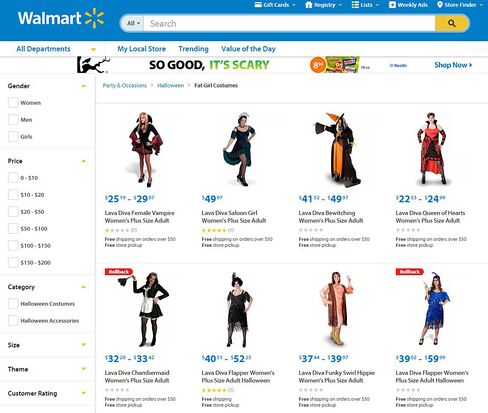 Wal-Mart Stores Inc. apologized for labeling some Halloween outfits on its website as "Fat Girl Costumes" after it drew criticism on social media.
The Web address now redirects customers to a page listing "Women's Plus Size Halloween Costumes." Wal-Mart removed the original page, and teams are working to make sure the title is fully scrubbed from its site, Ravi Jariwala, a spokesman for the Bentonville, Arkansas-based retailer, said in an interview.
"This never should have been on our site in the first place," Jariwala said. "It's unacceptable that it appeared, and we apologize."
Outrage over Wal-Mart's misstep spread throughout Twitter today, prompting the company to reply with apologies to individual users on the micro blogging site.
"This could be 1 reason Walmart's sale are down," one user wrote, while another commented, "Not sure a 'Fat Girl Costume' section is going to win you any repeat customers."
The incident comes as Wal-Mart's online store tries to play catch-up with Amazon.com Inc. Wal-Mart, the world's largest retailer, redesigned its website this year to be more compatible with tablets and mobile devices. The company is also contending with discount rival Target Corp., which is offering free shipping for all online orders through Dec. 20.
Before it's here, it's on the Bloomberg Terminal.
LEARN MORE