Gold Drops as ETP Assets Extend Decline to Five-Year Low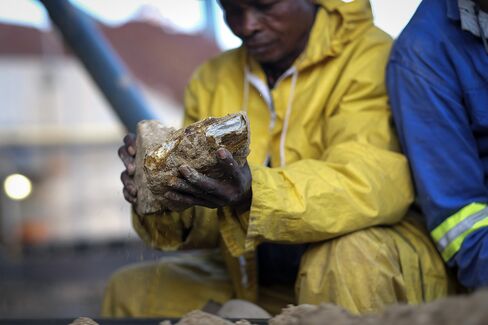 Gold futures fell for the third time in four sessions as holdings in exchange-traded products backed by the metal dropped to the lowest in more than five years.
Last week, assets in global ETPs fell 0.8 percent to 1,654.2 metric tons, the lowest since September 2009. The metal's 30-day historical volatility has climbed in the past month as investors followed economic data to predict how quickly the Federal Reserve will begin raising borrowing costs. Policy makers begin a two-day meeting tomorrow.
Futures slumped 8.4 percent in the third quarter, touching the cheapest this year on Oct. 6, as U.S. equities surged to a record amid signs the recovery was strengthening. Prices rebounded as much as 6.1 from the low after the Fed cited slowing foreign economies as a risk to the U.S. That prompted some investors to push back estimates for an increase in interest rates.
"The market is in a wait-and-watch mode ahead of the Fed meeting," Bart Melek, the head of commodity strategy at TD Securities in Toronto, said in a telephone interview. "The Fed's guidance on interest rates will determine the future price direction."
On the Comex, gold futures for December delivery fell 0.2 percent to settle at $1,229.30 an ounce at 1:36 p.m. in New York. Trading was 37 percent below the 100-day average, data compiled by Bloomberg show.
Money Supply
The Fed is expected to end monthly asset purchases at its meeting this week. Gold climbed 70 percent from December 2008 to June 2011 as the U.S. central bank bought debt and held borrowing costs near zero percent in a bid to shore up growth. Prices tumbled 28 percent last year, the most in three decades, as the increased money supply failed to spark inflation.
Rising interest rates reduce gold's allure because the metal generally only offers investors returns through price gains.
"We continue to view rallies as opportunities to sell," Barclays Plc wrote in a report. "Some of the gloom regarding the global-growth outlook is improving. Fed watchers should keep a keen eye on any future changes to forward rate guidance."
Silver futures for delivery in December fell 0.1 percent to $17.161 an ounce on the Comex.
On the New York Mercantile Exchange, palladium futures for December delivery rose 0.8 percent to $787.15 an ounce. The price gained for the seventh straight session, the longest rally in 10 weeks.
Platinum futures for January delivery gained 0.3 percent to $1,254.50 an ounce. On Oct. 24, ETP holdings backed by the metal fell to 83.5 tons, the lowest since May, according to Bloomberg data.
Before it's here, it's on the Bloomberg Terminal.
LEARN MORE