Bribery Plot in Austria Lands Money Printers in Dock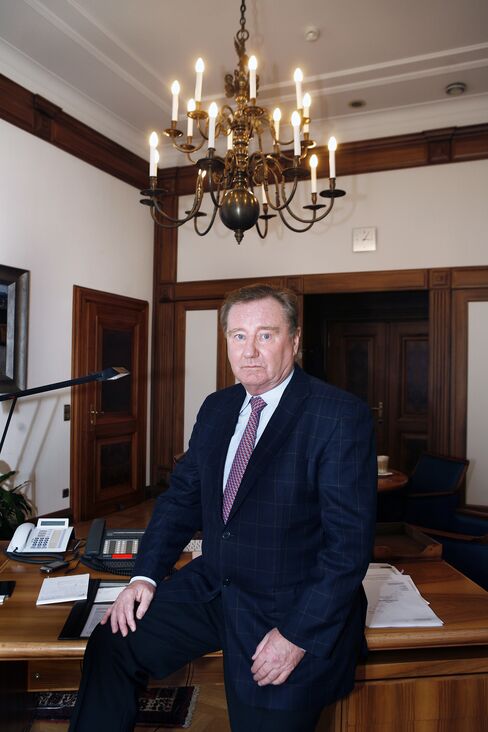 One day in December 2005, a few hours before dawn, employees of the Austrian central bank, dressed in blue overalls, began stacking about 30 million bank notes onto wooden pallets. They loaded the manat bills, the currency of Azerbaijan, into 38-ton trucks, according to people familiar with the shipment. Escorted by police in unmarked BMWs, the convoy rumbled past Vienna's centuries-old churches and Habsburg palaces, crossed the Slovakian border and arrived at Bratislava Airport. There, the shrink-wrapped pallets were loaded onto a plane destined for Baku, Azerbaijan's capital on the shores of the Caspian Sea.
It looked like any other transaction in the international money-printing market, where bills are bought and sold amid tight security, Bloomberg Markets magazine reports in its December issue. In fact, Austrian prosecutors say, the sale was part of a corrupt bargain between officials at the Austrian central bank and their Azerbaijani counterparts.
Prosecutors put nine people on trial earlier this year, with charges including bribery and money laundering. The defendants included the co–chief executive officers of Oesterreichische Banknoten-und Sicherheitsdruck GmbH, or OeBS, the printing subsidiary of Oesterreichische Nationalbank, Austria's central bank.
Austrian prosecutors said the central bank employees jacked up the price of the currency so the surplus could be used for bribes. A total of 14 million euros ($18 million) was paid through offshore accounts to officials at Azerbaijan's and, later, Syria's central banks to win printing contracts, prosecutors say.
Two Acquitted
On Oct. 3, seven of the defendants were convicted in Vienna's criminal court. Two of the accused, including the former chairman of OeBS and ex–deputy governor of the bank, Wolfgang Duchatczek, were acquitted. By the time of the verdict, the former co-CEOs of the printing firm, Michael Wolf and Johannes Miller, had already pleaded guilty.
The Austrian case affords a rare glimpse inside an industry shrouded in secrecy and mystique. Currency scandals have blown up periodically since the Lydians first minted coins in about 650 B.C. In 1278, an Englishman named Philip de Cambio was convicted of adding more than the legal amount of copper to pound coins; he was hanged and dismembered.
In the 1920s, a Portuguese scam artist, Artur Virgilio Alves Reis, persuaded a British currency-printing firm that he was an envoy from Banco de Portugal, and the company printed and delivered to him several million Portuguese escudos before the fraud was discovered, according to "Moneymakers: The Secret World of Banknote Printing," by German journalist Klaus W. Bender.
Tons of Money
Today, the business of printing bank notes is a large and highly technical enterprise. Government agencies and their private contractors produce 165,000 tons of currency annually, and the bills must be adorned with holograms, special inks and raised print so they are as difficult as possible to counterfeit.
The job is beyond the capacity of many countries, so about half of the world's bank notes are produced by private companies. Three dominate the market, accounting for about 60 percent of sales: Basingstoke, England–based De La Rue Plc, the company that prints the British pound; Germany's Giesecke & Devrient GmbH; and France's Arjowiggins SAS, according to a 2011 report by California-based consulting firm Impacts.Ca. The industry was worth about $1.3 billion in 2011.
(All U.S. dollars are produced by the government-owned Bureau of Engraving and Printing.)
Global Printer
OeBS is a minor player, yet still churns out as many as 600 million bank notes a year for Austria and its neighbors in the euro zone. It has also printed money for central banks as far away as Africa. OeBS was struggling when the Austrian central bank board appointed Duchatczek chairman in 2003, prosecution documents from the trial show. It had fumbled attempts to sell its products outside Europe and was losing money, the documents show.
Duchatczek, 65, named Wolf, now 70, and Miller, 51, to turn things around. Wolf was an accountant and lifelong employee of the central bank, while Miller had worked for a consulting firm and specialized in production efficiency.
Late in 2004, according to the prosecution, the Central Bank of the Republic of Azerbaijan decided to redesign and replace the nation's currency. OeBS saleswoman Raluca Tanasescu flew to Baku to try to win the deal. Bank officials asked OeBS to add 20 percent to the Austrians' proposed price and, after it was paid, give the difference back to the Azerbaijanis as "commissions," according to the indictment. Tanasescu, 55, testified that, after getting approval from her superiors, she agreed. The Baku bankers would thus, in effect, be funding their own bribes.
Azeris Pay
"It's the Azeri people who had to pay," prosecutor Volkert Sackmann said in February as the trial got under way.
Two characters in the saga were named in the indictment as receiving bribes yet never appeared in court. Elman Rustamov, Azerbaijan's central bank governor, and Central Bank of Syria Governor Adib Mayaleh were never charged with crimes in Austria. Rustamov, 62, didn't respond publicly to allegations by witnesses at the Vienna trial that he and other officials of his bank took a bribe.
Several Azerbaijani bank employees also did not respond to requests for comment from Bloomberg News.
Austrian prosecutors allege that OeBS paid bribes to Mayaleh, 59, and other Syrian officials while negotiating a 2007 contract to supply that war-torn country with currency. Mayaleh denied the allegations when the Austrians made them public in June 2013.
'No Truth'
"There's no truth whatsoever to this," he told Bloomberg News. "We don't need to print in Austria. We have contracts with Russia."
The Syrian currency order was never completed amid escalating violence in the country, prosecutors say.
Wolf and Romania-born Tanasescu pleaded guilty to bribery and money laundering before the trial began, and Miller did the same two weeks into the prosecution. Tanasescu testified that the Azerbaijanis gave her a list of people to which to pay the "commissions." She wouldn't name them in court, saying she had been threatened and was afraid.
Miller told the judge that without bribes, OeBS wouldn't have gotten the contracts, and that would have threatened the company's future. The central bank had considered closing the unit down.
Called to give evidence in March, former OeBS Chairman Duchatczek, wearing a dark suit, answered questions calmly. He said he thought the payments were legitimate commissions and trusted the managers working beneath him.
20 Percent
"Didn't you ever wonder what kind of services that 20 percent was paying for?" Judge Georg Olschak asked him.
"I relied on the controls," Duchatczek replied. "I've added it up: There were over 20 audits during that time and not a single one ever found anything."
It was in one of those audits that the examiners found OeBS had paid millions of euros to offshore shell companies and received nothing in return, according to the prosecution. The auditors handed the information to police and prosecutors, who followed a money trail through Panama, Lebanon, Abu Dhabi and the British Virgin Islands.
One of the bribes, prosecutors said, consisted of several hundred tons of malt, which was delivered to Azerbaijan in 2005. Who received it and what it was used for was not disclosed at the trial.
Plastic Money
Before the Austrian proceedings began, another money-printing bribery case emerged, in Australia. Australian police alleged in 2011 that Securency International Pty paid kickbacks to government officials in Indonesia, Malaysia, Nepal and Vietnam to persuade them to buy the company's weather-resistant plastic bank notes. Securency was at the time a joint venture between privately owned, U.K.-based Innovia Group and Note Printing Australia Ltd., a wholly owned subsidiary of the Reserve Bank of Australia.
In one instance, Securency employees delivered suitcases full of cash to Indonesian officials, The Age newspaper in Melbourne reported in December 2013. At least eight former managers and other employees at Securency and Note Printing Australia have been arrested and face court hearings in Melbourne next year to determine if there's enough evidence for a trial under Australian bribery laws.
Bribe taking by central bank employees isn't surprising, says John Burbidge-King, CEO of U.K.-based anti-fraud consulting firm Interchange Solutions Ltd. and a former De La Rue executive, speaking generally of the industry.
'It's About Greed'
"It's all about greed," he says. "These people aren't archcriminals. They see an opportunity to make way beyond a civil servant's salary."
The industry has moved to fight corruption. At a conference in Athens in May 2013, executives of leading private bank note printers, including De La Rue, Giesecke and Arjowiggins, adopted the Banknote Ethics Initiative, a pledge to stamp out corruption and adhere to strict rules in bidding for contracts.
"Of course, you can argue that the industry is guilty," says Antti Heinonen, a former executive at the European Central Bank who is chairman of the initiative. "But you have to look at the customer side, too. In certain countries, it's very difficult to do business without bribes."
Miller, Wolf and Tanasescu escaped prison; they each got a two-year suspended sentence. Duchatczek paused before leaving court a free man to address the television cameras.
Acquittal Appeal
"Just as I hoped and as I expected," he said. His acquittal has been appealed by prosecutors, which is permitted under Austrian law.
Trucks laden with cash can still be seen leaving the OeBS building in Vienna and making their way to central bank vaults around the euro zone. The bank notes just don't have as far to go as they once did, according to a person familiar with the printer's operations. The company, the person says, no longer seeks contracts outside Europe.
Before it's here, it's on the Bloomberg Terminal.
LEARN MORE