Euro-Area Manufacturing Grows as Risk of Recession Eases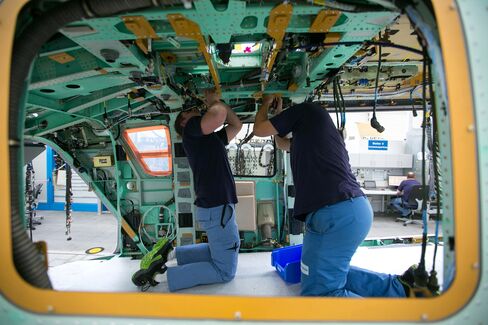 The euro-area economy may have moved one step away from another recession.
A Purchasing Managers' Index showed manufacturing in the region unexpectedly grew this month, while Spain's economy showed signs of a further recovery, with third-quarter unemployment dropping to the lowest level since 2011. In Germany, factories rebounded from a slump in September.
"The euro-zone recovery still has some legs," said Martin van Vliet, an economist at ING Bank in Amsterdam. "However, even if the recovery has not ground to a complete halt, growth remains much too weak for anyone's comfort."
The 18-region economy failed to grow in the second quarter, and European Central Bank President Mario Draghi has warned of a deflationary spiral of falling prices, with households postponing spending. While the PMI reports lifted stocks and the euro, they also highlighted weak spots as manufacturing demand fell and French factories continued to struggle.
The euro-region factory PMI rose to 50.7 in October from 50.3, London-based Markit said. Economists surveyed by Bloomberg News predicted a drop to 49.9. A reading below 50 indicates contraction. The measure for services held at 52.4.
The euro rose 0.1 percent against the dollar and was at $1.2664 as of 11:57 a.m. Frankfurt time. The Stoxx Europe 600 Index pared its decline after the report and was little changed.
Anemic Growth
A composite gauge for manufacturing and services rose to 52.2 in October from 52 in September, beating the median estimate of economists. Within the survey, manufacturers reported a second straight drop in new orders, while new services business showed the smallest increase since January.
The numbers suggest the euro area "has so far avoided a slide back into recession this year," said Chris Williamson, chief economist at Markit in London. At the same time, "growth is so anemic that increasing numbers of companies are being forced into laying off staff and slashing prices."
In Germany, the factory gauge unexpectedly jumped to 51.8 from 49.9, indicating that Europe's largest economy may avoid a deeper slump. Oliver Kolodseike, an economist at Markit, said there are "still some uncertainties about the near-term."
In France, both services and manufacturing shrank more than estimated in October.
Separate data from Spain today showed the unemployment rate fell to 23.7 percent in the three months through September from 24.5 percent in the previous quarter. That compares with the median estimate of 24.1 percent in a Bloomberg News survey.
The Bank of Spain published its estimate for third-quarter economic growth and put it at 0.5 percent. That follows a 0.6 percent expansion in the previous quarter.
ECB Response
With the euro-area economy still at risk, the European Central Bank is in the midst of a new round of stimulus to revive growth and inflation. The Frankfurt-based institution started buying covered bonds on Oct. 20 and plans to purchase asset-backed securities before the end of the year in an attempt to boost growth and prices in the region.
Inflation in the currency bloc was 0.3 percent in September, far from the ECB's goal of just below 2 percent. Today's PMI report showed that companies cut prices by the most since February 2010 to try to boost demand.
The ECB lowered its 2014 and 2015 growth forecasts to 0.9 percent and 1.6 percent last month. It predicts inflation rates of 0.6 percent in 2014 and 1.1 percent next year.
Today's data "suggest the talks of another recession have been premature, though the picture of weak economic performance remains," said Jan Von Gerich, a fixed-income analyst at Nordea Bank AB in Helsinki. "The numbers do not change the outlook materially, and should not lead to a lasting rise in bond yields or the euro."
Before it's here, it's on the Bloomberg Terminal.
LEARN MORE