ECB Said to Expand Covered Bond Purchases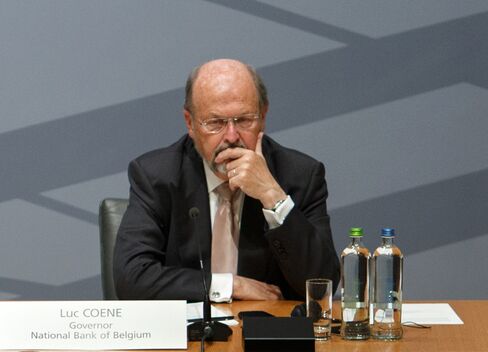 The European Central Bank bought Spanish covered bonds in a third day of asset purchases that has seen it acquire notes from Italy to Germany, according to people familiar with the matter.
The ECB is adding to French and Portuguese securities it bought this week, said the people, who asked not to be identified because they're not authorized to talk about it. The central bank, which will reveal the amount of debt purchased on Oct. 27, has been buying bonds in parcels from 5 million euros ($6.3 million) to 20 million euros, according to Societe Generale SA.
The ECB entered the 2.6 trillion-euro covered bond market as part of efforts to improve companies' and households' access to financing. While policy makers could embark on further stimulus after purchasing the securities, there's no specific plan to buy corporate bonds, ECB Governing Council member Luc Coene said in an interview with L'Echo newspaper today.
"The ECB's purchases appear to be widespread across different maturities and jurisdictions, and we have even heard of 10-year bonds being bought," said Tobias Meyer, a covered bond analyst at NORD/LB in Hanover, Germany. "The ECB's trying to reduce refinancing costs for banks and increase lending to the real economy, but we're doubtful as to whether this will work."
Health Check
The Frankfurt-based central bank, which is currently finishing a health check of the region's lenders to be released on Sunday, started buying covered bonds on Oct. 20 . The program, together with planned purchases of asset-backed securities later in the year, complement two interest-rate cuts since June and a long-term loan offer to banks to boost growth and prices.
"We could extend our interventions to other instruments, such as corporate bonds," Coene, who also heads the Belgian central bank, said in an interview with L'Echo newspaper today. "There is no concrete proposal on the table for the moment."
Reuters reported yesterday that the ECB is considering corporate-bond purchases to fight the threat of deflation in the 18-nation currency bloc. A decision may come as soon as December, with a view to begin purchases early next year, it said, citing people familiar with the deliberations.
Policy makers aren't currently debating buying corporate bonds, two euro-region central bank officials with knowledge of the discussions told Bloomberg.
"The very last thing we need is another marginal buyer of corporate bonds," Suki Mann, a strategist at UBS AG in London, said in a note to clients yesterday. "Why would the ECB want to get involved and how much unsecured risk would they want?"
Quantitative Easing
With inflation in the euro area at 0.3 percent, far from the ECB's goal of just below 2 percent, ECB President Mario Draghi said that policy makers are unanimous in their commitment to act again if necessary. Even so, German politicians warned against buying government bonds on a large scale, also known as quantitative easing, and Bundesbank President Jens Weidmann said such a move comes with risks.
"Introducing government bond QE is probably just too difficult an objective for the ECB to achieve just yet," said Gary Jenkins, a strategist at LNG Capital LLP, a London-based hedge fund that focuses on credit markets in western Europe. "That makes a corporate bond program more likely in my opinion, as Draghi may feel that they have to be seen to be doing something."
Before it's here, it's on the Bloomberg Terminal.
LEARN MORE