Washington-Baltimore 15-Minute Trip Pushed in Maglev Plan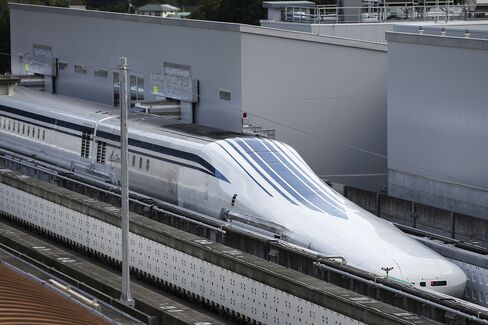 Imagine whisking past some of the densest road congestion in the U.S. at 311 miles per hour.
That's the vision of Northeast Maglev, a company seeking to bring a $10 billion Japanese magnetic-levitation train line to the 40-mile (64 kilometer) Washington-Baltimore corridor for 15-minute trips. Chairman and Chief Executive Officer Wayne Rogers said he plans to ask for federal funds next year.
"We have been working with the Japanese government and they have said that they will provide half of the money for the first leg and we have private investment that we're mobilizing as well," Rogers said yesterday in Tsuru, Japan. "We hope the U.S. government will be submitting some of the funds to finish it out."
Japan is looking for an overseas customer for maglev technology as the country works toward opening its first line in 2027. Prime Minister Shinzo Abe has said the government may provide financing to support Central Japan Railway Co.'s bid to provide trains for a Washington-Baltimore line.
The Japanese railway's shares jumped 4.2 percent to 14,485 yen as of the close of trading in Tokyo, compared with a 2.6 percent gain in the benchmark Nikkei 225 Stock Average. The stock is up 17 percent his year, while the Nikkei 225 has dropped 6.7 percent.
Floating Cars
Maglev trains rely on magnetic power to float the cars above the ground, eliminating the friction of steel tracks. The trains start off running on wheels, the same as used on F-15 fighter jets, until they're going fast enough for the magnets to kick in and create lift.
Northeast Maglev is led by former transportation officials and executives. A Washington-Baltimore starter line eventually may be extended to New York, putting the biggest U.S. city within reach of the capital in 60 minutes by train, Rogers said.
A separate Maryland Department of Transportation-backed group had proposed a similar line, costing about $5.8 billion, which would cut the journey to 18 minutes and could eventually be extended to New York and Boston.
The Maryland department had sought $1.75 billion in stimulus funds for the Baltimore-Washington plan, a bid that was rejected. The Federal Railroad Administration said the project was "not ready," Maglev Maryland said in 2010.
The Maryland group's proposed line could carry about 9.2 million passengers a year, according to a Baltimore-Washington maglev website.
Congested Roads
A maglev train may help ease traffic that has made roads in Maryland's Montgomery County, which lies between Washington and Baltimore, the fourth-most-congested in the country, according to digital-mapping company TomTom NV. Washington ranks seventh.
Japan's backing for maglev sales is part of wider government efforts to help trainmakers compete with Germany's Siemens AG, France's Alstom SA, Bombardier Inc. of Canada and China South Locomotive & Rolling Stock Corp. in the U.S.
"We want to strengthen our alliance with the U.S.," said Yoshiyuki Kasai, chairman emeritus of JR Central, as the rail operator is known. "The U.S. could begin maglev operations around the same time as Japan or earlier."
The Nagoya, Japan-based rail operator will ask for a consulting fee for the project, while not charging a licensing fee for the technology, Kasai said. "We're not doing this to make a profit."
Japan Maglev
JR Central last week got approval by Japan's government to go ahead with plans to build a maglev line linking Tokyo and Nagoya. The plan will cost 5.5 trillion yen ($52 billion), including trains, the company said last week.
The maglev will more than halve travel time between the capital and Nagoya, Japan's third-largest city, to 40 minutes for the 286-kilometer journey when it opens in 2027. The line will enable travel at almost double the 270 kilometers per hour of current bullet trains between the two cities.
Backers of the plan for a U.S. maglev line include former U.S. Senate Majority Leader Tom Daschle, who attended a briefing yesterday in Tsuru.
"In 1961, Kennedy pledged to get a man on the moon by the end of the decade," Daschle said, referring to former U.S. President John F. Kennedy. "I think we should build the maglev in a decade."
Before it's here, it's on the Bloomberg Terminal.
LEARN MORE