Toys 'R' Us Comes Under Fire for Selling 'Breaking Bad' Line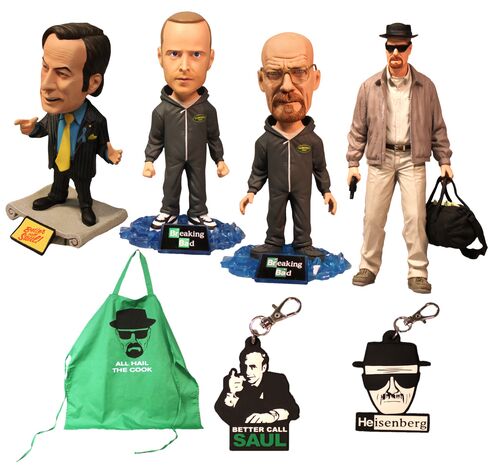 Just say no.
That's a Florida mother's response to a new line of "Breaking Bad" action figures selling at Toys "R" Us Inc. She's gathered more than 7,500 signatures for a petition to remove the toys, which come with gun and drug accessories.
The product line, made by Mezco Toyz LLC, features characters from the popular show, a drama about a chemistry teacher who turns into a drug kingpin that aired on AMC until last year. It includes a $30 figure of Walter White, the main character, holding a gun and a bag of cash and crystal meth.
The chain's decision to sell the action figures alongside children's toys "is a dangerous deviation from their family friendly values," said Susan Schrivjer, who posted the petition on Change.org under the name Susan Myers of Fort Myers, Florida.
As the petition gains supporters, the "Breaking Bad" figures have disappeared from the Toys "R" Us website. A customer-service representative said the toys are still available at stores, though. Kathleen Waugh, a spokeswoman for the Wayne, New Jersey-based retailer, didn't immediately return a call seeking comment.
With the controversy growing, individual stores are opting to remove the toys from shelves. A salesperson from a Toys "R" Us in Queens, New York, said the product line was pulled yesterday after parent complaints. The toys had been located in a section that featured more adult-oriented products, including figures from "The Walking Dead" series.
'Expect Unexpected'
Mezco, based in Queens, sells other figures from popular TV shows, including "South Park" and "Family Guy." The closely held company was founded about 15 years ago by Michael "Mez" Markowitz.
"Always expect the unexpected from Mezco Toyz," the company says on its website. Mezco declined to comment on the "Breaking Bad" controversy.
Comments on the Change.org petition site castigated Toys "R" Us for poor judgment.
"You have a choice of what to sell and a responsibility to families and children since your primary target is children," Carol Mordi of Snohomish, Washington, wrote on the website.
"Come on, DRUGS aren't something you PLAY with," said Robert Malloy of Buffalo, New York.
The Facebook page of Toys "R" Us, meanwhile, had both pro and con responses. While Pam Mattern suggested the company "get rid of the meth dolls and fire the moron who approved them," others said that shoppers could simply bypass them.
"If you remove the Breaking Bad toys from your stores then next you will have to remove any toy responsible for a negative act," Nicholas Arbia wrote on the page. "Then soon kids all over the world will be able to buy Batman, but not The Joker.''
Bryan Cranston, the star of the series, also weighed in on the controversy.
"I'm so mad," he wrote on Twitter. "I'm burning my Florida Mom action figure in protest."
Before it's here, it's on the Bloomberg Terminal.
LEARN MORE